If you purchase an independently reviewed product or service through a link on our website, we may receive an affiliate commission.
The more electronics and devices you buy, the smaller they seem to get. Whether they become more compact or they are sleeker and thinner, they will likely become a larger part of your life than you're willing to admit. But when it comes to having to try and fix these or replacing a battery, that is an entirely different ballgame. In order to even open these kinds of machines up, you're going to need a precision screwdriver kit. Precision screwdriver kits come with a wide selection of tools for you to repair your devices with. Tablets, phones, laptops, speakers, and other electronics all can be tinkered with by using these types of screwdrivers. We've highlighted five great sets of screwdrivers to help you if you need to open up any of your electronics. Take a look and don't waste your time sending your devices into a repair shop when you can do it yourself.
Give yourself plenty of pieces to work with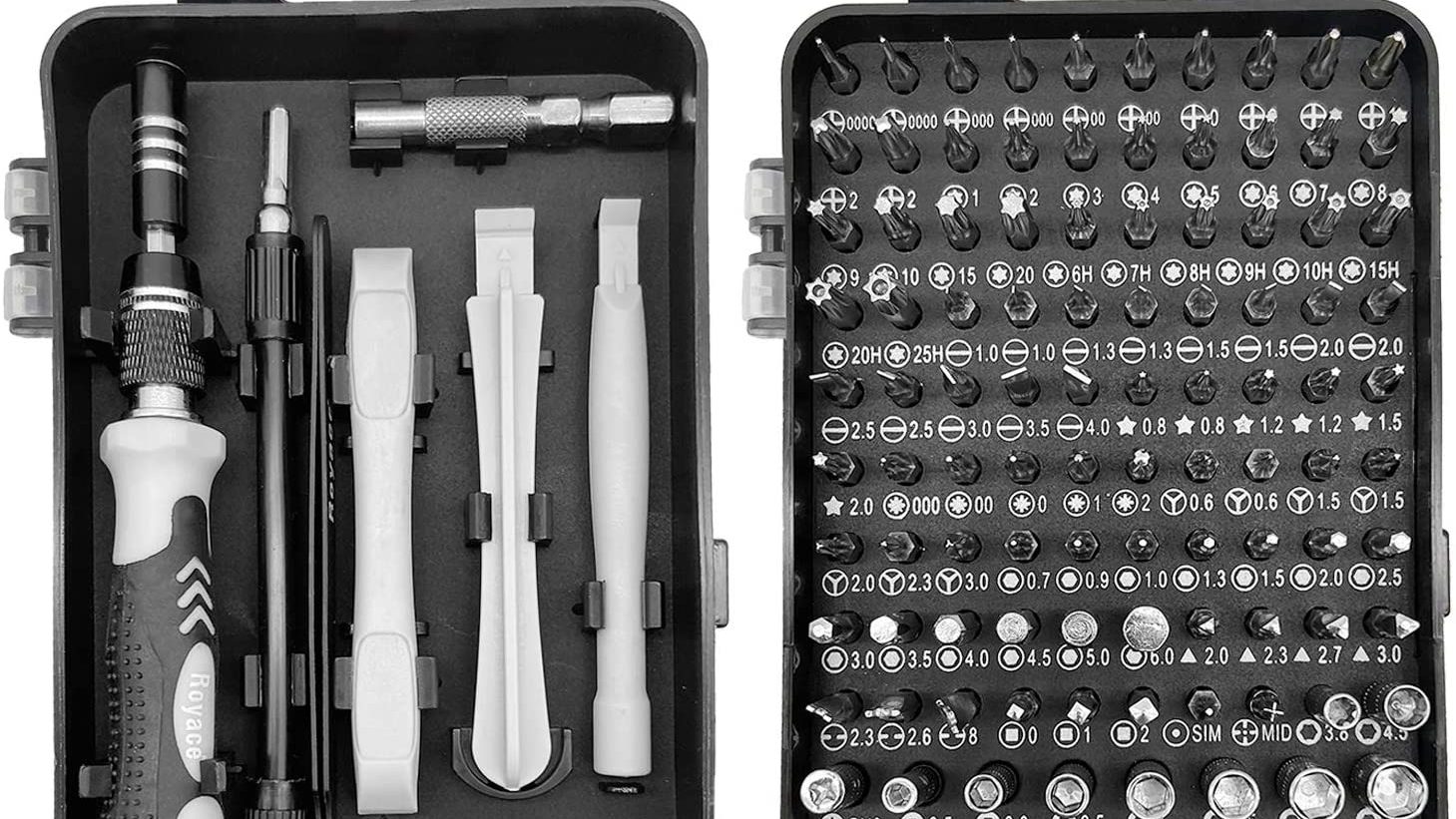 The Royace Screwdriver Kit packs a large punch in a small package. There are 119 pieces to work with in this kit, giving you a wide selection. This can be used for electronics, watches, glasses, jewelry, and home appliances. The plastic storage box is shockproof and the micro magnetic pad is arranged and designed accordingly. The items will stick in place, even when you are picking it up and moving it around. Avoid having your screws missing by using the pad for collecting small screws. The electronic screwdriver comes with soft and hard extensions for narrow corners. It is equipped with antiseptic tweezers and non-slip silicone handles for all occasions.
Key Features:
119 pieces to work with
Shockproof plastic storage box
Magnetic pad collects small screws
Royace Small Screwdriver Set,Micro Tools,119 in 1 Screwdriver Kit Laptop Screwdriver Kit Tiny S…
Price:
$19.99
Available from Amazon, BGR may receive a commission
A choice that's easy to carry with you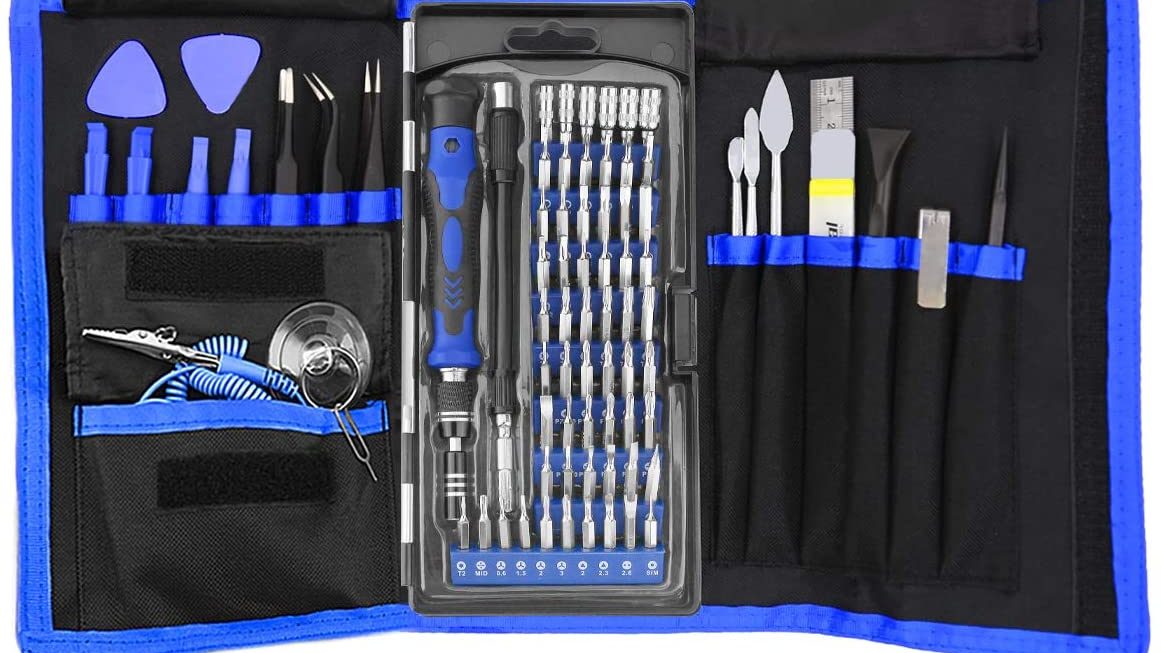 You can hold the XOOL 80 in 1 Precision Set with Magnetic Driver Kit easily in the palm of your hands. This has 80 pieces, including 58 bits made out of 52 steel, which is high on hardness and good on toughness. This kit will help you service iPhones, iPads, PCs, watches, glasses, laptops, phones, gaming consoles and other electronics. You won't be able to easily break these and there is an anti-static wrist straps as well as a utility knife. There are more specialty tools you can use for a variety of tasks. They all come in an extremely portable storage bag that's made from Oxford fabric that's light. There is a multi-magnetic driver that makes it easy to fix bits and pull out screws.
Key Features:
80 pieces
Comes in a portable storage bag made from Oxford fabric
58 bits made out of 52 steel
Precision Screwdriver Kit, XOOL 80 in 1 Electronics Repair Tool Magnetic Driver Kit with Anti-S…
List Price:
$21.95
Price:
$20.95
You Save:
$1.00 (5%)
Available from Amazon, BGR may receive a commission
Reach the tough areas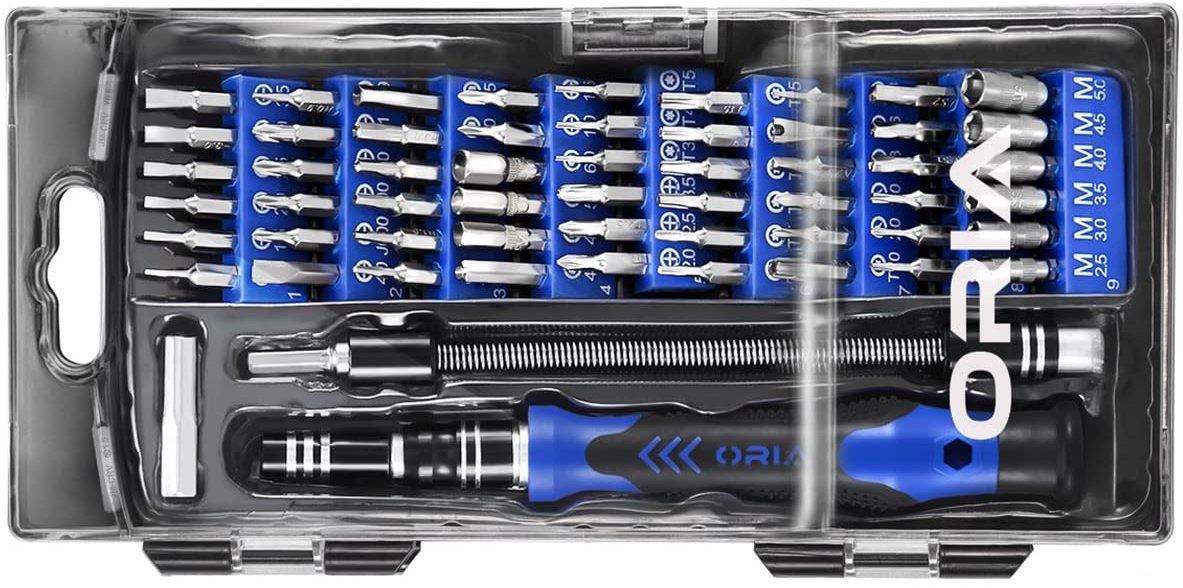 Thanks to a flexible shaft, you'll be able to use the ORIA Precision Screwdriver Kit for many difficult jobs. This has 60 pieces in it and the professional set can be used to repair laptops, smartphones, game consoles, and other electronics. It comes with a variety of specialty bits that are made of chrome vanadium steel. There is a flexible shaft included to work intricately in stereos and other hard-to-reach places. The non-slip driver is machined from a single piece of aluminum and covered with silica gel.
Key Features:
Flexible shaft included
Non-slip driver
60 pieces
ORIA Precision Screwdriver Kit, 60 in 1 with 56 Bits Screwdriver Set, Magnetic Driver Kit with…
List Price:
$20.99
Price:
$14.99
You Save:
$6.00 (29%)
Available from Amazon, BGR may receive a commission
A smaller set will do just fine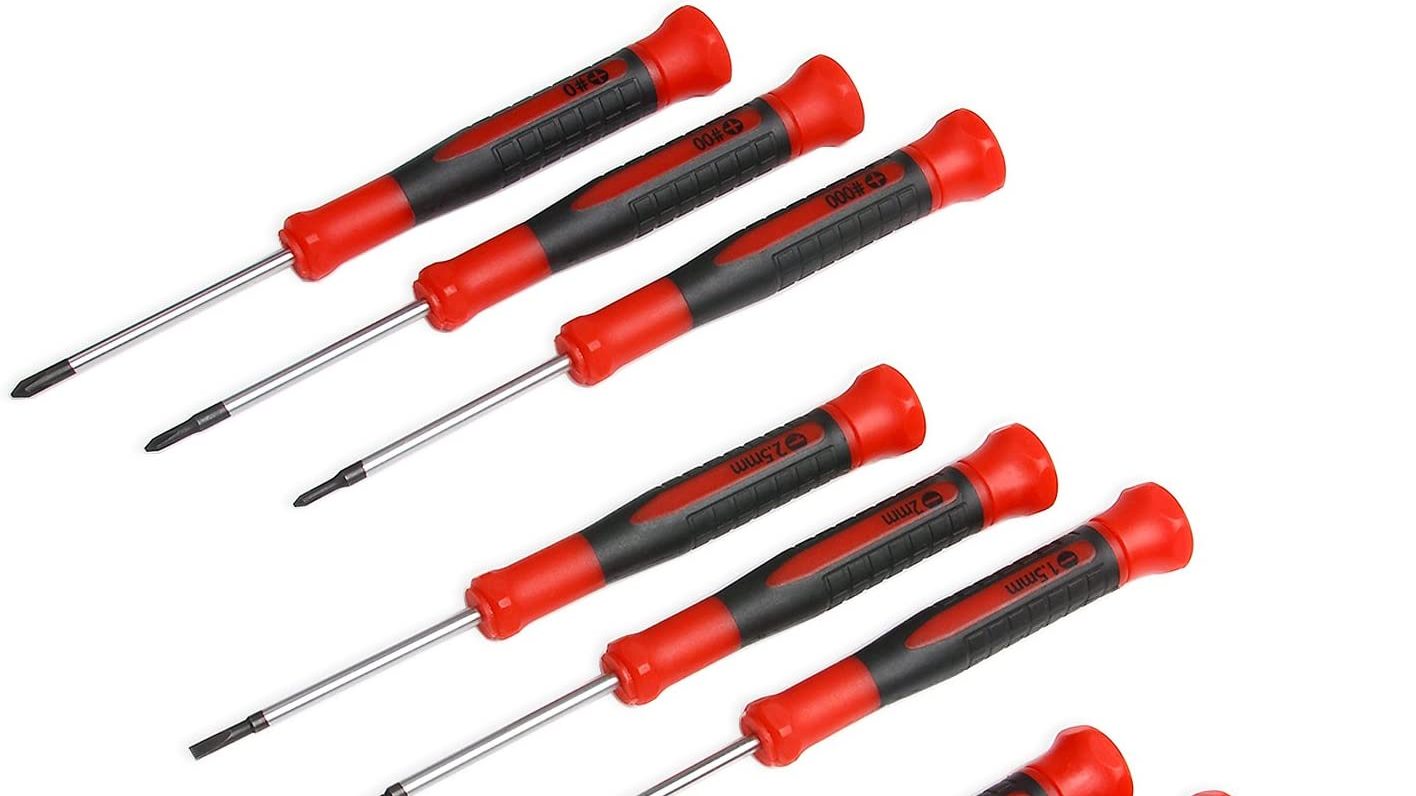 The Best Choice 9-Piece Precision Screwdriver Set from EFFICERE has multiple heads of screwdrivers in its small inventory. This has high strength chrome vanadium steel shafts that reduce wear-outs and stripping for longer. The finish is from corrosion and rust-resistant chrome plating. You'll get nine mini screwdrivers, three Phillips head, three Torx star, and three flat head. The swivel end cap allows for constant finger pressure while driving.
Key Features:
Nine screwdrivers
Chrome vanadium steel shafts reduce wear-outs and stripping
Three Phillips head, three Torx star, three flat head screwdrivers
EFFICERE 9-Piece Precision Screwdriver Set | Phillips #0, 00, 000 | Flat 1.5mm, 2.0mm, 2.5mm |…
List Price:
$13.99
Price:
$9.99
You Save:
$4.00 (29%)
Available from Amazon, BGR may receive a commission
Don't struggle getting the lid open
The JAKEMY Screwdriver Set 43 in 1 is a solid choice. This includes 36 types of bits with multiple screwdriver shafts and heads. Made from chrome vanadium steel, the hardness and toughness means this set will last a long time. Tiny but professional, you'll get a wide variety of usable bits for all kinds of tasks. It only weighs 8.8 ounces and the open button enables you to easily open the case.
Key Features:
Only weighs 8.8 ounces
Open button enables you to easily open the case
36 types of bits
Screwdriver Set 43 in 1 Precision Screwdriver Kit JAKEMY Magnetic Replaceable Bits Repair Tool…
List Price:
$19.99
Price:
$12.99
You Save:
$7.00 (35%)
Available from Amazon, BGR may receive a commission