If you purchase an independently reviewed product or service through a link on our website, we may receive an affiliate commission. Learn more.
Despite having been around for about three and a half years, I feel like not nearly enough people know about the Cube Escape games. These exceptionally clever puzzle games are somehow a perfect combination of creepy and funny, and the tenth entry in the series just hit the App Store this week. Do yourself a favor and pick it up (for free!), along with the seven other titles on this list. There are worse ways to spend your weekend.
Brave Frontier: Last Summoner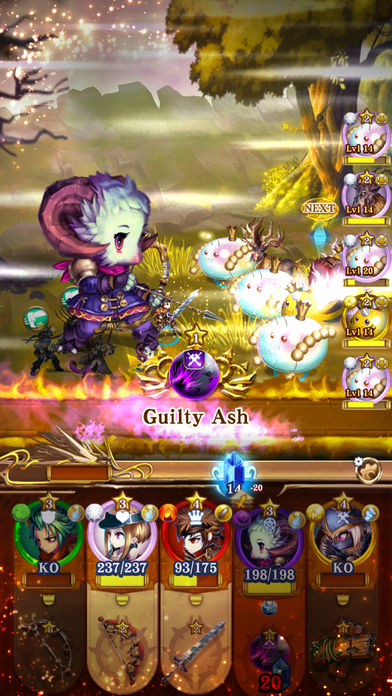 Embark on a fantastic adventure in the Brave Frontier universe – icon game played by millions – build an army, fight tyranny and reveal the mystery behind a new world of fantasy in this epic turn-based JRPG!

Brave Frontier: The Last Summoner lets your wildest JRPG dreams come true as you get full control over up to 25 characters in a single battle! Feel the freedom of a completely customizable experience as you obtain fantastic weapons, unlock exceptional skills and obliterate enemies with style thanks to an impressive cast of stylish characters! Jump into a brave new world and become the legendary general you were always meant to be!

STATE-OF-THE-ART HD 2D JRPG
Immerse yourself in the rich and vibrant fantasy world of Vask and meet charming characters brimming in style, handcrafted and animated with love to offer you the most thrilling battles ever seen in a mobile RPG!

BUILD AND LEAD AN ARMY
Engage in turn-based battles of epic proportions where up to 50 characters fight each other as you launch synchronized attacks, unleash special Brave skills and summon mighty Spirits to destroy your opponents, no matter their size!

COLLECT HUNDREDS OF CHARACTERS
Assemble a huge cast of charismatic heroes and villains ready to take arms for you as you train, specialize and evolve them to unleash their true potential, completing a vast collection of 7 different species – Humans, Giants, Undines & more!

MILLIONS OF WAYS TO PLAY
Become a master of strategy as you experiment with 9 Weapon Types, from hard-hitting to buff-empowering, enhanced by upgradable specialty skills to obliterate anything in your path – the possibilities really are endless!

PLOT TWISTS AT EVERY CORNER
Put together the puzzle pieces of the last summoner's untold story as you witness history defining events from different points of view, all interwoven into a story of loss, courage and honor! Will you find the truth behind the bifrosts, Summoner?

Embark on your most extraordinary adventure featuring intense battles, high-end graphics, complex customization and content-rich stories! Made for JRPG fans, by JRPG super fans!
Download Brave Frontier: Last Summoner
---
Cosmobot – Hyper Jump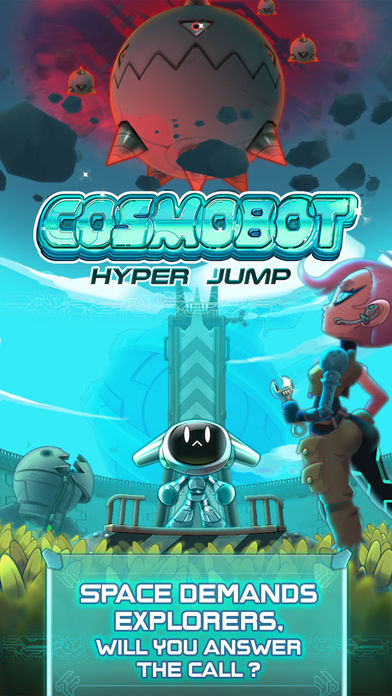 It's Time for Space Exploration!
Control your best space robots, the cosmobots, and send them off to discover the infinite expanse of space. Gravitate around thousands of planets while venturing ever farther into this infinity.

– TIME FOR HYPER-JUMPS
To explore space, you'll need to gain altitude… At the speed of light!

– 1… 2… 1,000 COSMOBOTS
How many machines will you need to go farther? Compare your results with your friends and become the greatest pilot or, instead, a real scourge for your little robots!

– AVOID OBSTACLES
Strange enemies confronting you? No problem! You're a talented pilot; you'll get past them easily. But could this herald a greater peril?

– DOZENS OF BONUSES
Humanity has placed its trust in you, but still, you won't refuse little boosts to reach unexplored horizons!

Gravity will be both your best ally to navigate and your reference point so as not to lose yourself in the frozen reaches of the universe.
Download Cosmobot – Hyper Jump
---
Cube Escape: Paradox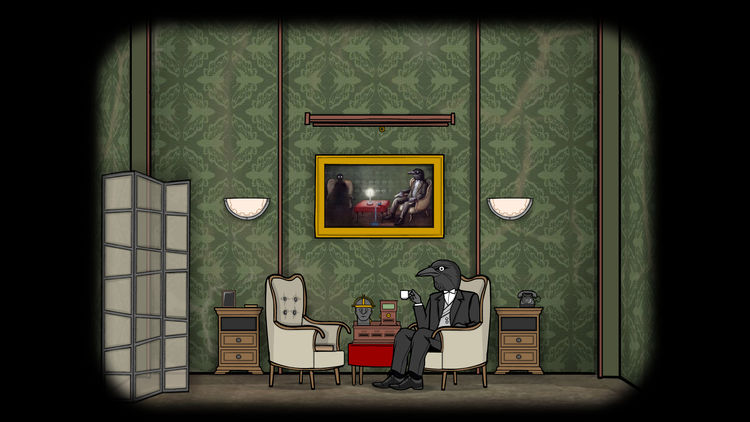 When the infamous detective Dale Vandermeer wakes up in an ominous room without any recollection of his past, he soon finds himself part of a bizarre game orchestrated by an old foe. Dale must solve increasingly challenging puzzles to escape the room and recover his memories.

Cube Escape: Paradox Features:

– A unique, never-before-seen, game/film crossover experience
– The absorbing gameplay, atmosphere and wealth of puzzles fans would expect from the tenth Cube Escape game
– A ton of connections and interactions with Paradox – A Rusty Lake Short Film
– There will be two different chapters available (one for free and one premium) with multiple endings
– Beautiful paintings handmade by Johan Scherft
– Immersive and atmospheric soundtrack by Victor Butzelaar
– Powerful voice-overs by Bob Rafferty and lead actor David Bowles

Cube Escape: Paradox is the tenth episode of the Cube Escape series and a continuation of the Rusty Lake story. We will unfold the mysteries of Rusty Lake one step at a time. So check RustyLake.com every day for new content and follow us @rustylakecom
---
Hooked Inc: Fisher Tycoon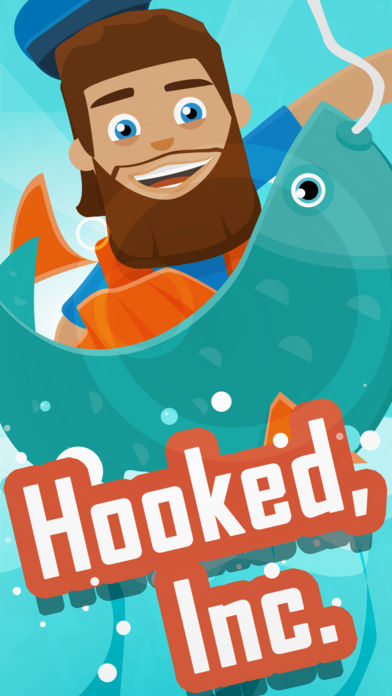 Do you have what it takes to become the best fisherman? In this addictive clicker game you will travel the seas on an adventure to catch fish and grow your crew while earning cash to upgrade your boat and gear!

– Upgrade your boat and build your Fishing Empire.
– Recruit and upgrade your own Crew.
– Search the seas for Rare and Epic Fishes
– Brawl for Stars to increase your Value
– Try your Fishing Luck on the Wheel
– Join multiplayer fishing tournaments

Now go and explore the ocean and all it's hidden treasures! You'll get hooked before you know it!
Download Hooked Inc: Fisher Tycoon
---
Loud House: Ultimate Treehouse
Help Lincoln Loud build the ultimate towering treehouse! Design and build your very own one-of-a-kind ever-expanding retreat.

BUILD
Build cool rooms in the treehouse for Lincoln, his sisters, and his best friend Clyde.

CUSTOMIZE
Add fun items to your treehouse. Customize the look of each floor. Access each floor with awesome items like bean bags, guitars, comic books, and video games.

COMPLETE QUESTS
Send your treehouse dwellers on fun challenges and epic quests. Level up and earn virtual currency to buy new rooms and cool decorations.

EXPAND
Expand your treehouse, unlock new levels, and build to new heights!

Get started today. Move in a new treehouse community and don't forget to build rooms for Lincoln and his best friend Clyde!
Download Loud House: Ultimate Treehouse
---
Phantomgate: The Last Valkyrie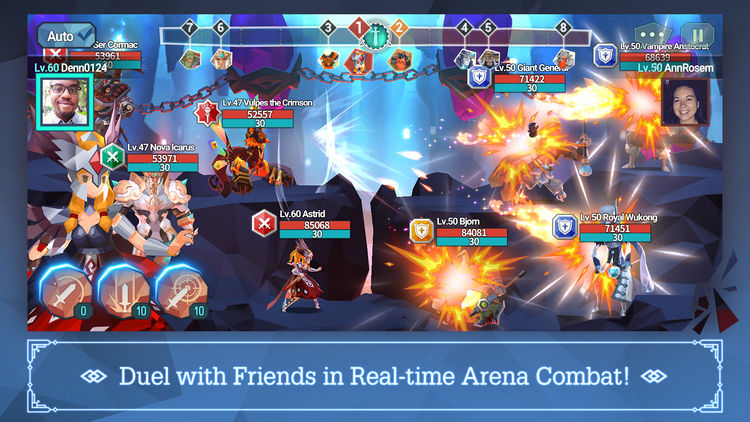 Enter Phantomgate, where a mystical adventure RPG awaits you in the fabled land of Midgard! Help Astrid, a daring young Valkyrie, save her mother from the clutches of the mad god, Odin, and discover her true hidden powers along the way. Explore a strange, new realm in this Norse Mythology-inspired game, befriending and collecting hundreds of unique Phantoms to help fight by your side.
Journey between worlds, solving challenging puzzles and engaging in strategic turn-based battles with Phantoms ranging from small, cat-like critters to intimidating Orc warriors. Take down the darkness that threatens Midgard and all who inhabit it!
Rekindle the excitement of classic RPG adventure titles, and discover the secrets that lie beyond the mysterious Phantomgate!

GAME FEATURES:
• Explore lush, Nordic-inspired landscapes while unlocking the magical powers hidden deep within the ancient world.
• Help unravel the story of Astrid's mysterious past as you uncover an unforgettable, emotional tale.
• Solve puzzles to unlock long-forgotten secrets as you journey across the 6 regions of Midgard, from icy tundras to deep forests.
• Engage in epic combat against Odin's dark forces! Strategically drag buff bubbles to teammates and enemies alike to turn the tide of battle in this unique twist on classic turn-based RPG combat.
• Collect over 300 unique Phantom companions to fight alongside you. Choose how your Phantoms evolve into powerful new forms with special elemental items. Choose what will shape your adventure, your Phantoms, and help save the land of Midgard!
Download Phantomgate: The Last Valkyrie
---
Rise of Civilizations
8 Civilizations, 27 Heroes, Real Warfare

From the depths of obscurity to the peaks of legend, you will be the author of your civilization's history. Will you launch epic wars and conquer the entire world? Or rise up as a virtuous leader renowned for your sagacity? Will you set off to explore the unknown as a pioneer? Or dedicate yourself to helping your own people?

Only time will tell…

***Features***

#Real-Time Battles#
Battles are not pre-calculated but happen in real time on the map. Anyone can join or leave a battle at any time, allowing true RTS gameplay. See an ally being attacked right in your backyard? Send some troops to help your buddy out, or launch a surprise counterattack on the attacker's city.

#Seamless World Map#
All in-game action takes place on a single, enormous map inhabited by players and NPC characters. No isolated bases or separate battle screens. Never before seen on mobile "infinite zoom" feature allows you to transition freely between the world view and individual cities or barbarian outposts. Map features include natural obstructions such as rivers and mountain ranges and strategic passes that must be captured to gain entrance to neighboring regions.

#Eight Unique Civilizations#
Choose from one of 8 historical civilizations (more to come!) and guide your civilization from a lone clan into a great power. Each civilization has its own architecture, unique units, and special advantages.

#Exploration & Investigation#
The world of Rise of Civilizations is covered in thick fog. Dispatch scouts to explore this mysterious land and uncover the hidden treasure within. Investigate lost temples, barbarian fortresses, mysterious caves, and tribal villages, gather intelligence on your enemies, and prepare yourself for the ultimate clash!

#Unrestricted Troop Movements#
New orders can be issued to troops at any time, offering limitless strategic possibilities. Launch a feint at an enemy city, then circle back and meet up with your alliance army to capture a pass. Dispatch troops to collect lumber from a nearby forest and have them pick off a few barbarian clans along the way. Forces can also be split up between multiple commanders so that you can engage in multiple actions simultaneously.

#Alliance System#
Full set of alliance features allow players to help one another: alliance chat with built-in translation function, officer roles, map indicators to coordinate strategies, and more! Alliances can expand their territory to gain resources, capture mountain passes and barbarian outposts to strengthen their position, and work together to unlock group achievements.

#Conquer the Kingdom#
Fight alongside your alliance to take control of this vast kingdom. Clash with other players and use superior tactics to emerge victorious in a MMO strategy battle royale. Rise to the top and you and your civilization will be written down in your kingdom's history!

#RPG Commanders#
Call upon dozens of historical figures who will serve as your trustworthy commanders, from Julius Caesar and Sun Tzu to Joan of Arc and Kusunoki Masashige. Level up your commanders by defeating barbarians and sending them into battles, then upgrade their abilities using an RPG style talent tree and skill system.

*Expedition Mode
*Infinite Zoom–never before seen on mobile!
*Scouting
*Espionage
*Kingdom Progression
*Civilization Specific Cities
*Stunning Graphics
*3D Character Models
And more…
Download Rise of Civilizations
---
Warhammer AoS: Realm War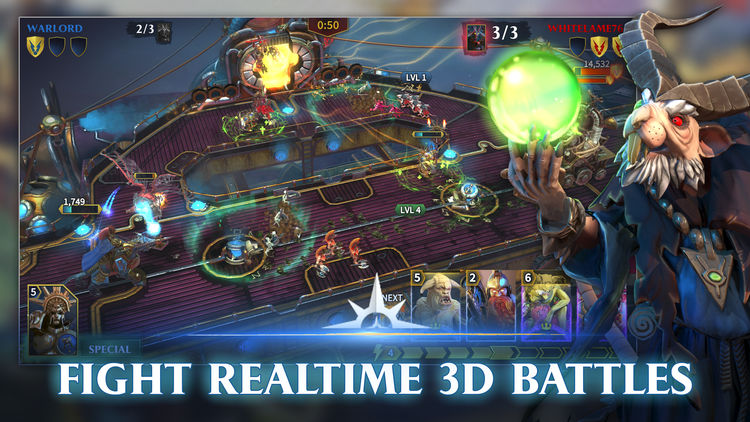 Experience exciting, tactical, live multiplayer battles with stunning visuals and audio based on the epic fantasy universe, Warhammer: Age of Sigmar.

Fight and battle in an ultimate challenge to rule the Mortal Realms!

Amass an army of powerful cards including Generals, Heroes and Summons. Collect cards, level them up and use their power to crush your opponents.

Choose from many unique cards to create your own deck strategies. Deploy your powerful units to the battlefield. Enhance your tactics by deciding when to unleash game changing General and Hero Special Powers, designed to combine with infinite potential.

Send your heroes to take control of the of the mighty Realmgate and boost your deck with unique and super powered cards. These legendary cards can be played without cost, so choose your moment wisely.

Rise to become the ultimate Warlord!

Warhammer Age of Sigmar: Realm War is a true fusion of MOBA and PvP card battler.

FEATURES

• Command mighty Generals from Stormcast Eternals to Orruk Megabosses
• Collect a wide range of powerful, unique cards and power them up in multiple ways
• Build your deck to win based on unique tactics and strategy
• Unleash mighty Hero Powers and unique General Special Abilities
• Combine cards, powers, abilities and strategy for victory
• Defeat opponents, win battle rewards and power your way up the ranks
• Experience short, explosive action-packed battles
• Gain access to new cards and battle arenas as you move up the ranks
• Best-in-class next-gen 3D visuals on mobile
• Log-in daily to collect mystical comets and complete quests with valuable treasure
Download Warhammer AoS: Realm War
---
Our deals and product reviews are picked by BGR's expert editors and team.

Follow @BGRDeals on Twitter to keep up with the latest and greatest deals we find around the web. Prices subject to change without notice and any coupons mentioned above may be available in limited supply.