Another killer week of iOS game releases has arrived, featuring a new battle royale game (with blocky pixel fighters), a snowboarding adventure and a 3D chess game you can play with your friends. The mobile version of Tekken has arrived as well, if you want to hone your fighting skills on the go as well as at home.
Arena: Galaxy Control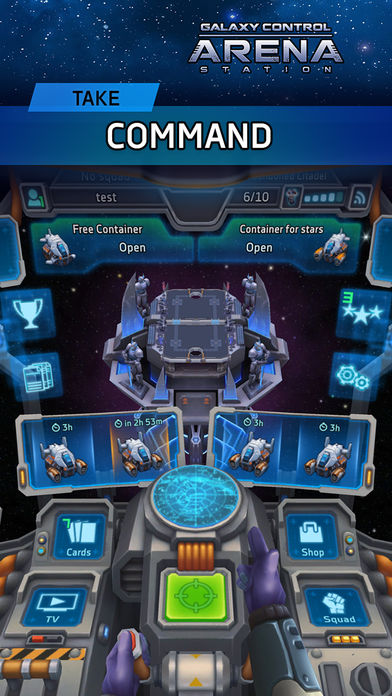 Enter the Arena! Join with friends in a free-to-play, real-time PvP multiplayer online battle arena (MOBA). He who win the Arena controls the Galaxy!

Collect and upgrade ever-growing number of cards featuring the sci-fi troops, perks and defenses. Destroy enemy Spacecruiser Towers with your army to defeat your opponents and win Fame, Stars and glory in the Arena. Form a Squad to share cards and build your very own battle community.

FEATURES
– Full 3D space battles!
– Duel players from all around the world in real-time clashes and take their Fame
– Form a Squad to share cards, build your very own battle community and making fun with your friends
– Earn Tech Containers to unlock cool rewards, collect powerful new cards and upgrade existing ones
– Destroy opponent's towers and win Stars to earn epic Star containers
– Build and upgrade your card collection with new Units along with dozens of your favorite Galaxy Control troops, perks and defenses in eve of the battle
– Craft your ultimate Battle Deck to defeat your opponents
– Progress through multiple Arenas all the way to the top
– Learn different battle strategies and tactics by watching the best fights

PLEASE NOTE! Galaxy Control: Arena is free to download and play, however, some game items can also be purchased for real money. If you do not want to use this feature, please setup password protection for purchases in the settings. Also, under our Terms of Service and Privacy Policy, you must be at least 13 years of age to play or download Galaxy Control: Arena.

A network connection is also required.
Download Arena: Galaxy Control
---
Battle Boom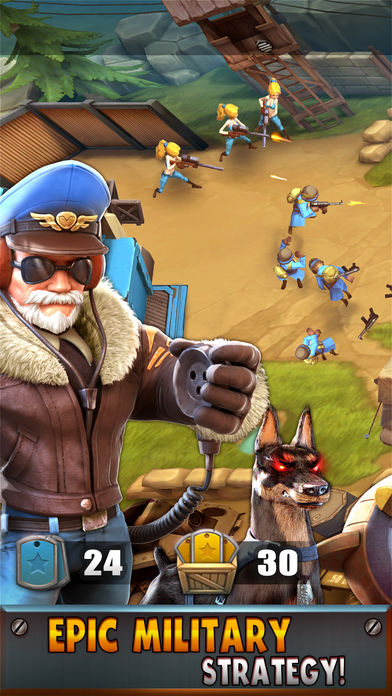 Enemies up ahead Commander!
Plan out your strategy and the use of Battle Point to outstrip your opponents with your troops in the extended battlefields!

Go all out BOOM with the newest RTS type mobile game! Be the commander to your always ready for action troops and epic units and lead them to glory!
Take control of the battle and be ready to bring on the BOOM with over 70 different types of units. Whether it is swarming the opponent with infantry troops, blasting your way through enemy defenses with tanks or surprising the enemy with exploding rats!
Do whatever it takes to be the one with the best strategy and to emerge victorious!
Battle it out and become the most feared commander and expert strategist.

FEATURES
– Global real-time strategy battle!
– Enjoy the vast and panoramic battlefield and adapt your strategy.
– Bring on the BOOM with over 70+ units and weapons at your disposal!
– Join forces with your Legion members and battle your way to the top of the world!
– Enjoy the face melting graphics!
– Limitless strategy to blow up your enemies with the use of tanks or unit-producing buildings.
---
ChronoBlade
Put your fighting skills to the test. ChronoBlade is the only side-scrolling RPG brawler featuring explosive arcade-style combat, and real-time synchronous PvP action.

Explosive Skill-Based Combat
Each character has over 30 punishing ground and air attacks for you to chain together for insane combos. Master the controls to dodge, block and counter attacks.

Dominate in Real-Time Synchronous Battles
Crush your competition in synchronous PvP battles. Your skill and timing are key in this competitive action game.

Your Character. Your Style.
Play as any of the four main characters throughout the game. Outfit your hero with custom equipment for strategic upgrades. An open-ended progression system lets you build the ultimate character personalized to your play style.
---
Grand Battle Royale: Pixel War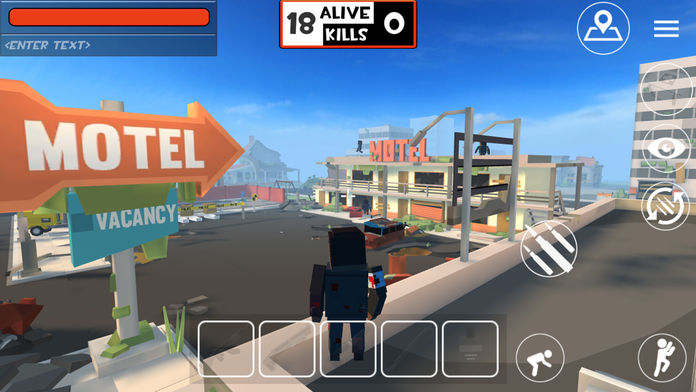 Grand Battle Royale Season 2018! If you like military blocky pixel games and battle royale games then you will definitely like Grand Battle Royale!

BATTLE in online multiplayer games when you play the new massive open world game! Survive the battlegrounds, improve your shooting skills, and develop new PVP tactics for FREE!
Jump out of the survival plane on the dead island, find the best loot, kill the enemies. Players are spread around the island unarmed and must find and use various weapons and items to eliminate opponents. Find the best weapons you can: Assault Rifle, pixel gun, smg, shotguns and other weapons. Dominate the battlefield by taking on each opponent and become last survivor #1! Grab your pixel gun and get shooting!

The location of the battlegrounds is a distant island with dead city somewhere in the sea surrounded with a mysterious Blue Zone. Your main task is to stay inside the safe zone and eliminate all your enemies.

Features:
• Pixel Graphics & Blocky Characters: Battle as hilarious blocky characters and show your style of gameplay.
• Survive gun games against other players!
• Battle in Online Multiplayer Games: Intense PVP gameplay against players around the world!
• Guns will randomly appear, so search the ground thoroughly! Survive by collecting more guns so you have an advantage over other players.
• Just like in true 3D block city survival games, you can purchase any pixel block strike skins.
• Grab a pixel gun and dive into battle: Fun pixel graphics great for intense shooting battles!
• Big radiation island this is the place where you have to survive while you plaiyng in the block city.
• Multiplayer game is absolutely free online game for download.

Become the last man standing, the last hero, the king of the battlefield! Good luck, good hunt!
Download Grand Battle Royale: Pixel War
---
Peak Rider Snowboarding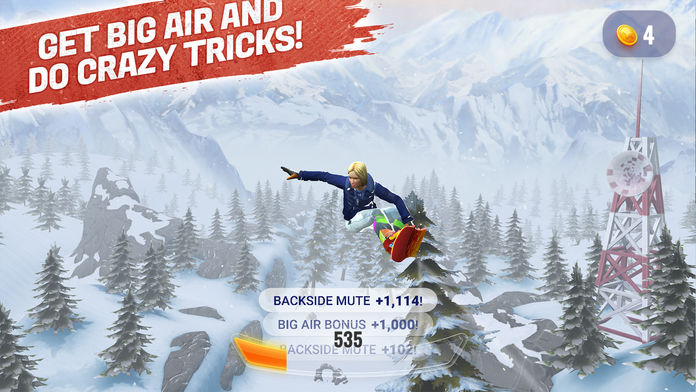 FEARLESSLY OWN THE SLOPES WITH DARING TRICKS, BIG AIR, AND RAD COMBOS

Welcome to one of the most remote mountains in the world, Peak Mountain, reserved only for elite riders! Grab your snowboard and show off your tricks on the slopes in sub-zero temperatures and whiteout conditions that aren't for the faint of heart.

Ride down the slopes at high speeds to catch big air to attempt and land intense and wild tricks. Avoid hitting rocks and trees as you can carve your own path down the mountain. Get close but avoid crashing to score big points. Compete with other players around the world in online multiplayer, rack up points in arcade mode, and complete weekly competitions to build your status as a pro rider.

FEATURES
– 10 signature tricks and tons of grabs
– Experience unbelievable speed for adrenaline-rushing rides
– Procedurally generated mountain for different runs every play-through!
– 4 game modes for diversified gameplay: Arcade, Flags, Stunts, and Multiplayer
– 30 beautiful snowboards with unique handling and trick combos
– 6 skilled characters
– 30+ outfits and accessories to mix and match
– Play across your iOS devices
– Intuitive tilt controls and optional touch controls

Extreme sports and adrenaline-pumping snowboarding! Nail rad tricks as you fly through the crisp, snow-filled air. Build the ultimate trick combos and leave your competition buried in the snow.
Download Peak Rider Snowboarding
---
Real Chess 3D
The best 3D Chess game is here! Play Chess in immersive 3D graphics.
Challenge your friends to matches or play against the AI players in the best chess game.
Real Chess 3D is one of the most realistic and enjoyable chess games available on mobile.

Customize the look and feel of your game by choosing the chess board, checkers, piece type, table. It's like you are actually playing chess in real because of the realistic 3d graphics.

Tap on a piece to choose it and then tap on the desired target position to make your move.

FEATURES:
● Play against the AI with 4 difficulty levels.
● Play against another human opponent.
● Customize the look and feel of the board.
● Relaxing music.
● iPhone X Support.

So what are you waiting for? Download now for Free!
---
TEKKEN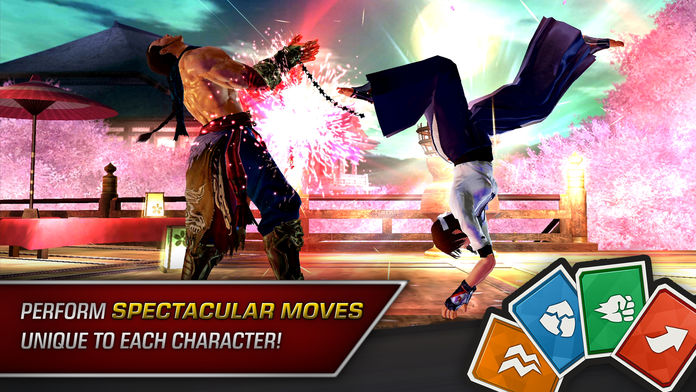 TEKKEN, the world's most successful fighting game franchise has been brought to mobile! Join PAUL, KAZUYA, XIAOYU, LAW, PANDA, NINA & all other famous fighters to engage in an intuitive, deep combat system featuring fighting techniques from all around the world. Take on the role of the Dojo Master, collecting, upgrading and battling with your favourite fighters from the legendary TEKKEN franchise!

WHAT'S YOUR NEXT MOVE?

TEKKEN FEATURES
• Collect over 20 characters with unique fighting styles
• Upgrade and unlock over 20 unique special moves for each fighter
• Battle it out in Unique Game modes including STORY MODE missions, online versus battles in DOJO CHALLENGE and rotating LIVE EVENT challenges!

STORY MODE – Explore the world of TEKKEN
• Join the legendary fighter, Kazuya Mishima, as he battles against his toughest adversary yet! Battle through a map-based campaign featuring unique encounters and specialised and powerful bosses.E7
• Build specialised teams to take down unique missions
• Explore dynamic battle maps to uncover compelling challenges and rewards

DOJO CHALLENGE – Online Versus Battles
• Build a team and battle against your friends and the community in this online versus mode
• Players build teams of attackers and defenders to compete in monthly seasons for unique rewards
• Ranked ladders allow players to progress and measure up against the best players in the world
• The game records and upload players' own in-game fighting styles and apply this to their dojos' AI, giving them an authentic feel

LIVE EVENTS – Brand new content to experience daily
• Live events feature daily, weekly and monthly rotating content. A fresh experience every time you play!
• Special themed events will provide unique experiences and encounters
• Rare characters and content available during Special Events
---
Villagers & Heroes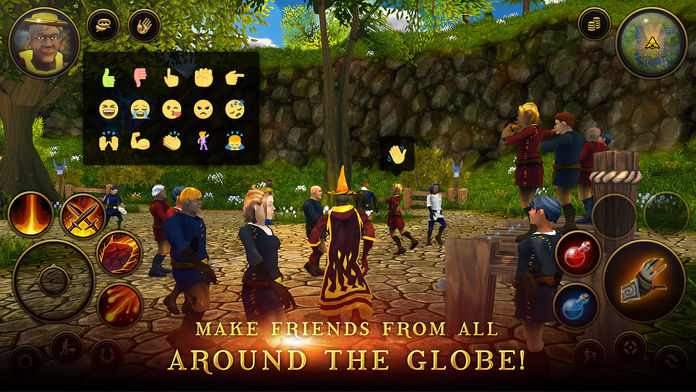 Welcome to the Best 3D MMORPG on iOS! Join hundreds of thousands of players worldwide in an epic MMO in a massive 3D world filled with swords, sorcery, dungeons, dragons, wizards, warriors, quests galore, countless beasties, and people from all over the globe.

• Explore a Massive World with Thousands of Story-Driven Quests
• Party-up with Friends to Raid the Lairs of Mallok's Brood of Horrors
• Ride to Glory on a Nightmare Steed, a White Stallion and more
• Forge your own Weapons and outfits, enchanting them with exactly the Magical Spells and Heroic Feats you choose
• Level up your Talents to unleash Ultimate Abilities on your enemies.
• Craft, Garden, Ranch, Fish, Mine and more
• Build the Mightiest Village in the Seven Realms
• Seasonal Event Challenges
• Play seamlessly between Mobile and PC

Features
• Free to Play: persistent world, 3D MMORPG in real-time!
• Epic Lair Battles against the Elders of Mallok to get the best raid gear
• Thousands of challenging Story-Driven Quests, voiced by professional actors
• 12 fully customizable character builds to play
• Deep Loot System with millions of item combinations. Build your character to match your play style.
• Unique character customization options
• Craft and trade thousands of weapons, armor and items
• Gnomish Augmentation, Fishing, Mining, Bug Collecting, Smithing, Tailoring, Cooking, Foraging, and Carpentry
• Player Housing with Ranching and Gardening
• One-of-a-kind seasonal event zones
• Consistent updates with an active development team

Developer Statement:
We engage with the community via interactive livestreams, social media, and forums. We believe our players are the best evangelists for the game.

Our goal was to build a game world where everyone is important, whether that is a heroic warrior who likes to raid, or a player who prefers crafting, fishing, tending the garden, and working with others. That's the reason the game is called "Villagers and Heroes". The sub-title for this game could be "Even a villager is a hero".

The game has player-run villages. These are real places in the world that player characters live in, and improve by building better facilities, populate with houses, gardens, animals, and even vote for the mayor. The village fosters a strong community because of its cooperative play.