The Masters might be over, but that didn't stop us from including another golf game in this week's roundup of free iOS games that were just added to the App Store in the past week. We've already highlighted a fishing game, a zombie MMO and a game where you control a BMX bike with your fingers like a Tech Deck.
CHRONO MA:GIA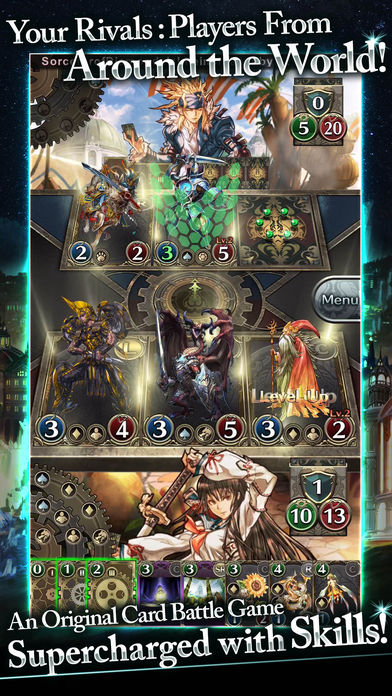 An original competitive card game from GungHo!!
Character/Skill/Card variety delivers unparalleled strategy!
Battle your way to the top of the world ranking YOUR way!

—————————————-

**Game Features**
-CHRONO MA:GIA: an authentic competitive card game that balances approachability with deep strategy!
-Diverse characters, a wide selection of skills, and freedom in card selection ensure endless strategic possibilities!
-Don't let your guard down! Sudden reversals of fortune lead to intense card battles!
-Compete against players from around the world in online matches!
-Vertical interface specially designed for ease of use on smartphones!
---
Cobi Golf Shots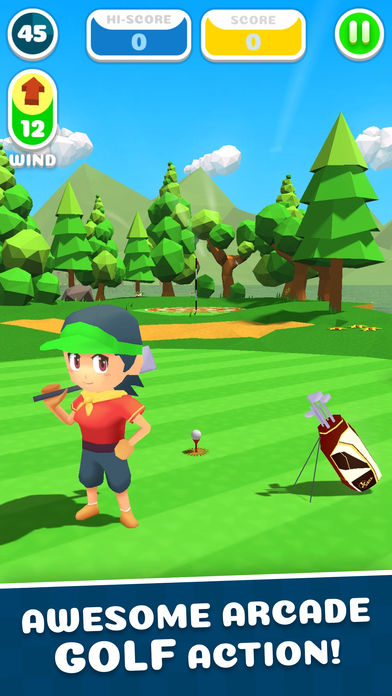 The arcade golf game you've been waiting for! Pick a course to play, line up your shot, pull back and shoot for the hole!

The closer you get to a hole-in-one, the more points you score! Score big to earn coins and challenge friends.

With awesome courses to play and a host of characters to unlock there's always something to play for.

Amazing score? Challenge and play against your friends inside Messages for even more fun!

• Arcade Master, what can you score in 45 seconds?
• 3 Ball Challenge, what can you score with just 3 balls?
• Target Pro, how good is your game?
• Score big, win coins!
• Use coins to unlock courses and characters!
• Play over 6 awesome and challenging courses!
• Unlock abilities, golf balls and costumes!

Cobi Golf Shots, golf made fun!
---
Dead Rivals – Zombie MMO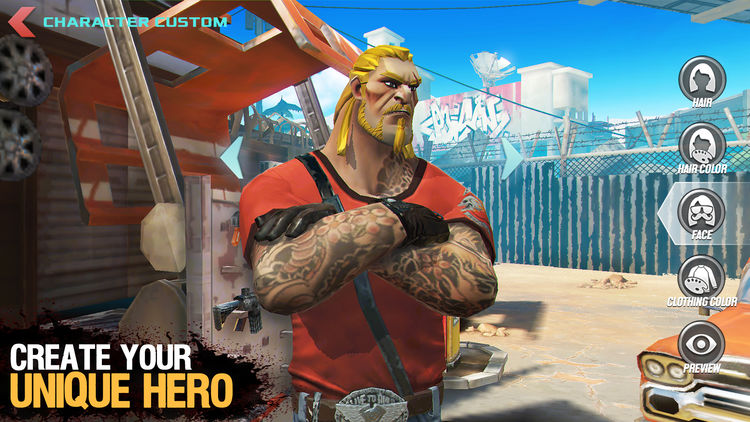 Fast-paced action meets classic MMORPG adventures in the first zombie-themed ARPG for mobile!

Explore a vast open world, customize your hero, build your arsenal and rule the PvP battlefields!

Fight for survival and explore a vast post-apocalyptic open world in the first zombie action RPG for mobile! Journey into the wastelands and discover the cause of the zombie outbreak as you band together or form rivalries with thousands of other players!

Pick your class, customize your character, build your shelter, craft an arsenal of weapons, develop your skills, and crush your opponents in highly competitive PvP battles! If you love shooting up zombies and are tired of tiny maps and repetitive gameplay, Dead Rivals will blow you away!

WELCOME TO THE DAY AFTER
● Choose from among 3 uniquely skilled classes and customize your hero's look.
● Research, craft and improve dozens of different weapons.
● Multiple skill trees allow you to pick the right abilities for any challenge.
● Stand out from the horde with unique clothes and skins!

ROCK THE APOCALYPSE
● Explore in total freedom as you discover large zombie-infested maps, each created in amazing detail.
● Get to know the Factions inhabiting the various areas as you learn who's at war with whom. But be careful not to get caught in the crossfire!
● A complete MMORPG-style quest system allows you to focus on the main storyline or take on a multitude of side quests.
● Establish your own Shelter and upgrade its buildings to access more advanced facilities.

MASSIVE MULTIPLAYER MAYHEM
● Team up with other players — or blow them to smithereens in cutthroat PvP battles.
● Complete special co-op missions: Escape infested areas, escort supply convoys, and repel surprise attacks.
● Jump into insane multi-team PvP battles and mow down anything that moves!

NON-STOP ACTION AND STUNNING GRAPHICS
● Change the point of view to see the world using your favorite camera style.
● Take action using super-fast movements thanks to an intuitive, dynamic control system.
● The cutting-edge art style fills the world with memorable settings. Doom has never looked so cool.
● Insanely hi-res graphics and wild sound effects worthy of a PC or console title!
*** Device requirements: iPad 3 or newer, iPhone 5 or newer, or iPod touch (6th generation) or newer.
Download Dead Rivals – Zombie MMO
---
Fishing Strike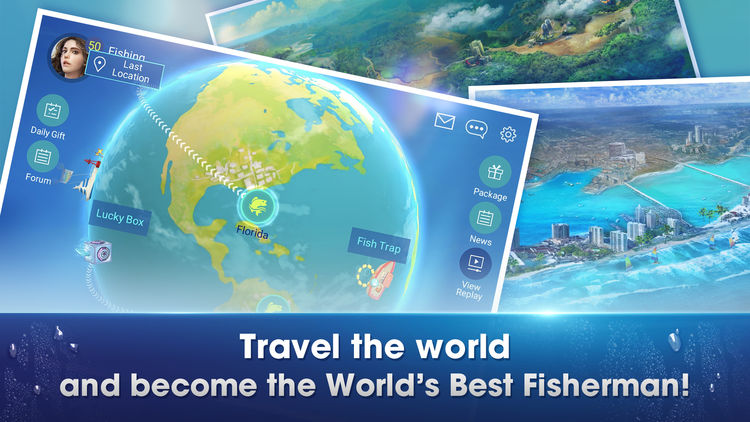 Take a peek underwater to catch the fish you want! Feel like you're really fishing with awesome skills and exciting actions!

Catch over 500 types of Fish that truly look real-to-life in perfectly-rendered, world-renowned Fishing Holes!

■■■■■Game Features■■■■■

#1. Netmarble has ambitiously created a Next Generation Fishing Game!
Realistic Graphics! Exciting Action! Feelings of true suspense! Enjoy the best fishing game there is, prepared just for you by Netmarble!

#2. Angler Skills and a feeling of tension!
Gather Anglers to fish and grow with! Get the tense feeling of fishing with your Anglers and their exciting skills!

#3. There's no more need to spend hours waiting! Go catch all the fish you want!
Check out the underwater world while choosing the fish you want to catch!

#4. World-renowned Fishing Spots rendered in Realistic Graphics! Perfectly modeled Fish!
Catch over 500 types of Fish that truly look real-to-life in perfectly-rendered, world-renowned Fishing Holes!

#5. Appreciate your Aquarium even more with VR and AR!
Go make your own Aquarium, and bring it to life with VR Mode! Then get a 360-degree view of fish moving realistically with AR Mode!

Next Generation Fishing Game! Enjoy it now!
---
Ghost Pop!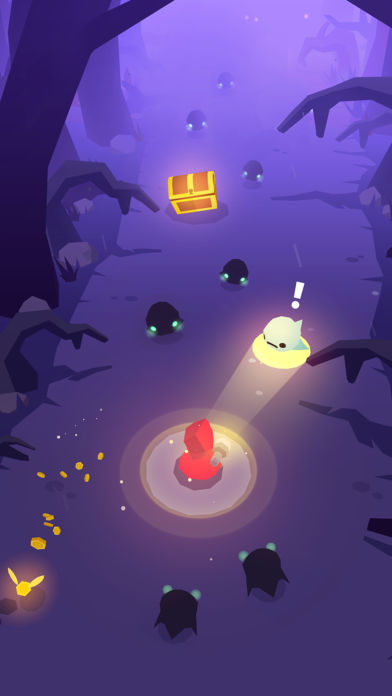 Pop those ghosts! The ultimate popping challenge! Blast ghosts with your flashlight along a haunted twisty road.

Simple one-tap controls, defeat spooky creatures, switch the color of your beam, unlock super awesome characters, and even earn coins whilst you sleep!

– Super challenging!
– Tons of characters and flashlights to unlock!
– Lots of enemies and big bosses to defeat!
– Upgrade your damage, battery life, critical hits and more!
– Explore the forest, unlock chests, even collect gold fairies!
---
Tales of Gaia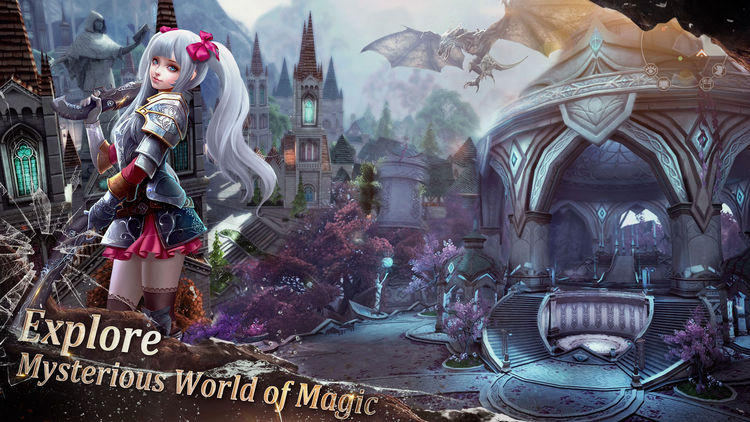 Long before Gaia was shattered by the invasion of darkness, its people were drawn into a fierce war along faction lines. As humans, elves, and dwarves battle each other in an attempt to take over the planet, they each enlist the help of forces beyond their control. Dragons and dark magic are powerful weapons with unforeseen consequences. Who will emerge victoriously?

And what will become of Gaia's future?

Hack, slash, and blast your way through a massive magical world, hold your own in real-time combat, destroy epic bosses, and so much more in Tales of Gaia. The planet's fate is in your hands.

-Unique game engine provides brilliant 3D graphics and PC-level special effects
-Roam across a large and immersive map with dynamical environments
-Prove yourself in real-time co-op and PVP combat
-Earn glory and rewards for defeating massive bosses
-Join a guild and rise in the ranks of the Guild Wars
-Begin your journey by casting your allegiance to one of the factions: Dwarf, Elf, or Human
-Uncover the Shadowy Secrets of Gaia's Past and experience firsthand the legendary battle
-Discover the sources of darkness that caused Gaia's collapse through face-offs with epic bosses
---
Tokyo Ghoul: Dark War
Tokyo Ghoul: Dark War is an anime ARPG mobile game officially authorized by Studio Pierrot and launched by GameSamba. Experience the original story of Tokyo Ghoul, collect your favorite characters, face exciting challenges, battle together with other players and brawl in PVP events.

– A refined mobile experience
Effortlessly command your team with simple and intuitive touch controls. Fight your enemies, not your phone!

– Next-gen graphics, intense music, and original sound effects will completely immerse you in the world of Tokyo Ghoul!
Enjoy stunning graphics as you battle through the dark Tokyo streets, Anteiku, the CCG Laboratory and other familiar settings from the anime. Return to the world of Tokyo Ghoul with story scenes featuring clips from the original anime!

– Choose your favorite characters! Select different Ghouls and CCG Investigators to fight together!
Assemble a team from over 50 different characters, including Ken Kaneki, Touka Kirishima, and other popular anime characters. Even if characters belong to opposing sides, they can fight side by side on your team as you build the strongest combinations!

– Multi-dimensional character growth system lets you develop characters in different ways!
Collect, raise, grow, upgrade, equip, and choose different character combinations to make the best team. Create a unique formation of your own!

– Intense solo and team gameplay!
You don't have to fight your battles alone! Team up with other players to take down high level dungeons or fight it out in the PVP Arena or MOBA modes. Become the strongest ghoul in the world!
Download Tokyo Ghoul: Dark War
---
Touchgrind BMX 2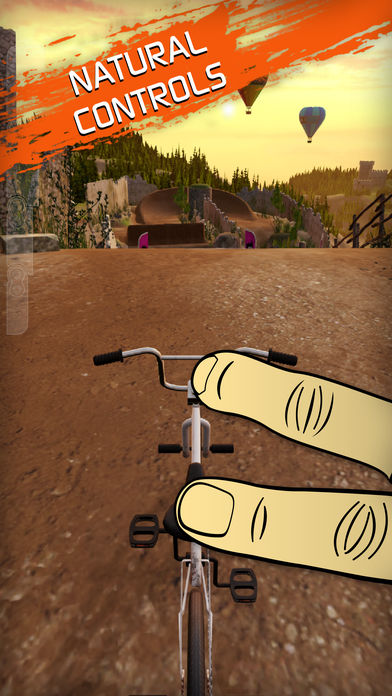 TOUCHGRIND BMX 2 is finally here! We took the core from TOUCHGRIND BMX, chosen by Apple as one of the TOP THREE best iPhone games of 2011, and pretty much made EVERYTHING excessively better. Faster, hotter, bolder, brighter, more creative, more dynamic, more appealing and unquestionably more EXTREME! The result – the most elaborate BMX mobile sports game on the App Store.

EXPERIENCE INCREDIBLE ENVIRONMENTS riding through dazzling locations around the globe. Drop off fifty meter rooftops surrounded by skyscrapers in Vertigo, launch off mini ramps and rush downhill on the shady slopes of Montaña Alta, shred the trails on Grizzly Trail or take your chances descending Viper Valley's narrow ledges literally flying over lethal gaps.

DESIGN and ASSEMBLE your fully customizable BMX. Choose between different frames, handle bars, wheels and seats and spray paint it for that final personal touch. Crack open crates to unlock additional bike parts, SPECIAL bikes and much much more.

CHALLENGE YOUR FRIENDS or any other Touchgrind BMX 2 loving user and compete man-to-man in DUELS or go all in by joining TOURNAMENTS available in-game frequently.

COMPLETE CHALLENGES and RANK UP, earn shiny trophies for exceptional performance and compare your best scores with other players around the globe or in your own country. Learn how to master barspins, tailwhips, bikeflips, backflips, 360's and many other tricks, pump your adrenaline levels to the max and kill impossible trick combos that will rocket your scores sky high.

SHARE YOUR SKILLS with the world and let them enjoy your extreme runs for real. Decide on real time or slow-mo speed, choose between replay- or bike cameras and generate amazing videos in 720p to impress your friends on any platform you see fit.

STUNNING GRAPHICS AND REALISTIC AUDIO make Touchgrind BMX 2 a truly wonderful gaming experience and once you launch your bike off that ramp, only your imagination will decide what kind of BMX rider you will be… It begins NOW!

FEATURES
– Same revolutionary two finger controls as seen in Touchgrind BMX
– Fully customizable bikes and special bikes
– Many unlockable items
– Complete challenges and earn trophies on every location
– Substantial ranking system for each location – world, country, among friends
– Personal profile
– Generate 720p, 30fps replay videos and share with the world
– Multiplayer duels and frequent in-game tournaments
– Amazing graphics and audio
– 'How to' section that visually demonstrates how to ride and perform tricks
– Sync progress between device

** This game is free to play but offers in-app-purchases. You may disable in-app-purchasing using your device's settings **