If you purchase an independently reviewed product or service through a link on our website, we may receive an affiliate commission. Learn more.
We shared a great collection of paid iPhone and iPad apps on sale for free with you on Wednesday, and several of the apps on that list are still free downloads right now. Of course for Thursday, we've got a fresh new batch of premium apps on sale, and you'll find them all laid out below.
These are paid iPhone and iPad apps that have been made available for free for a limited time by their developers. There is no way to tell how long they will be free. These sales could end an hour from now or a week from now — obviously, the only thing we can guarantee is that they were free at the time this post was written. If you click on a link and see a price listed next to an app instead of the word "get," it is no longer free. The sale has ended. If you download the app, you will be charged.
Don't buy
Normally $1.99.
* * * Don't buy App * * *

Let's record the products or services which you dislike.

Save Barcodes and Search by Barcode.

Don't buy this again.
Extreme Week Calendar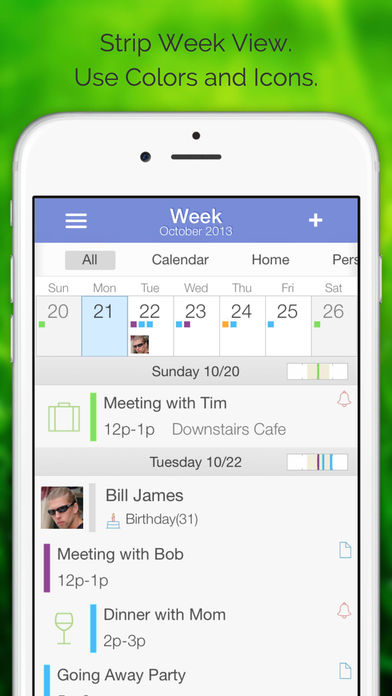 Normally $1.99.
Light version of the popular Extreme Agenda organizer app. It gives you a 7 day week view and inline day view to add great features not found in the default calendar.

Use it as a great week calendar, or as a trial to see the quality of our advanced Extreme Calendar and Extreme Agenda solutions. Once you are ready you can easily upgrade to the more advanced products from within the app.

Features Include:

Great Calendaring
• Powerful Week and Timeline Day with inline editing.
• Uses and expands on your native calendar data.
• Sync like you would with the default calendar(Google, iCloud, Exchange).
• Advanced repeating event options.
• Move/Copy Events
• Event Templates
• Email Events
• Show events on Facebook
• Military time, ISO week, and week start options.
• Uses time bars and icons to keep you informed at a glance
• Filter events based on iCal calendars.
• Almost 200 professional icons to mark your events

Power and Flexibility
• Universal Support
• TextExpander Support
• Portrait and Landscape Support.
• Retina Display Support.
• Background and color theme choices.
• Help System

• Easily upgraded to Extreme Calendar or Extreme Agenda Planner

—————————————

InApp Purchase

When you are ready to upgrade just pay the difference and your Extreme Week can become Extreme Calendar or Extreme Agenda. Extreme Calendar adds Year, Month, and Agenda List views to make the calendar even more powerful. And upgrading to Extreme Agenda adds advanced contact, task, note, and list views along with search, private filtering, a status coloring choice, and 800+ more icons. And it adds categories for coloring, icons, and advanced filtering.

Otherwise if you want it all now, look for 'Extreme Agenda' in the AppStore.
Download Extreme Week Calendar
MyTracks
Normally $1.99.
Now record GPS tracks, monitor your performance, share your outdoor activities with friends!

MyTracks is a professional app for getting GPS data when you are going out (eg. Walking, jogging, driving, bicycling and etc). It's such a technical solution application based on its high precision instruments. Users can easily track their moving status in terms of Compass, Elapsed Time, Distance, Pace, Latitude, Longitude, Altimeter, Barometer, Course, Speed and GPS Signal power.

MyTracks takes the data from the GPS sensor and uses it to determine all of the different statistics to track, including geographic data and velocity calculations.
These instruments have been calibrated specially for walking, jogging, driving and bicycling, and you will never miss any valuable information as you want.

Application Adaptive:
▪ Great for sking, running, walking, biking, and hiking to track your route!
▪ Great for photographers who need to track location data for their pictures!
▪ Great for hunters and fishermen who need to store specific locations!

Main Features:
⊹ Ultra high precision instruments
⊹ Calibration made for walking, jogging, hiking, driving and bicycling
⊹ Accurate speed calculations
⊹ Tracking record, showing tracks on different maps
⊹ Statistic GPS information, sharing track data by csv, nmea, gpx, kml, kmz format
⊹ Able to edit the track and track point nicely, store tracks information for further using
⊹ Able to upload csv, gpx, kml format routines.
⊹ Export tracks by email. (check gps.db and fav.db from attachement.)
⊹ Import tracks by MyTracks local wifi or iTunes Document Sharing, or files.
⊹ Support Barometer data collecting.

Instruments:
▪ Compass
▪ Elapsed Time
▪ Distance
▪ Pace
▪ Latitude
▪ Longitude
▪ Altimeter
▪ Course
▪ Speed
▪ Barometer
▪ GPS Signal power
▪ Speed dashboard
▪ TRACK CSV, NMEA, GPX, KML format
▪ TRACK KML for Google Earth

Give MyTracks a whirl and see how it works for you. For those of you who already use it, what do you think? What do you like about it, or dislike about it? Do you prefer another app over it? Please share your thoughts with us in the comments!
Dogo
Normally $1.99.
Your dog is an active animal and needs plenty of exercise, not only physical but also mental stimulation. What makes dogs man's best friends? It is their ability to understand us and communicate with us. There are dogs who can learn more than a few hundred words and most dogs' intelligence is not yet appreciated at its fullest. Unlock this intelligence and improve your communication with DOGO.

DOGO app offers daily trainings for you and your dog. The programme is based on positive clicker training, where you encourage your dog to learn new tricks by praising him with treats.

The app offers daily trainings, based on a model where you repeat and improve the tricks that you already know and learn new ones. The more advanced commands are subdivided into levels, so the learning process is kept smooth.

Every trick has a description, that is divided into little illustrated steps, that guide you as a trainer. Problems? There is always experts that you can consult directly, who would try to help and identify why you and your dog are struggling.

There is a Clicker built in App, that you can use during the training.

The app offers daily reminders, more than 20 different Tricks and Awards. You can customise your dog's profile and track your progress points and awards for every level.

The application is available in English and Lithuanian languages.

Strengthen your friendship with DOGO.
Beautiful Go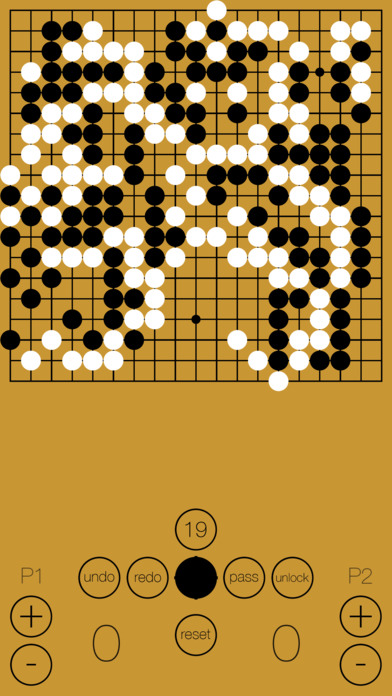 Normally $1.99.
Beautiful Go has one goal. Capture the beauty of the Go board in a digital medium.

– 19×19, 13×13, 9×9, and 5×5 unconstrained Go boards.
– Great for independent study or casual pass and play games.
– No In App Purchases.
– No ads.
– No internet connection needed to play.
Warp Shift
Normally $2.99.
Warp Shift is a unique puzzle game set in a mysterious world. AppSpy says that it "is well-balanced and gorgeous to look at and filled to the brim with innovative twists and new ideas."

# # # THE MEDIA LOVES WARP SHIFT # # #

► "Warp Shift certainly sits in the same bracket as Monument Valley." (PocketGamer)
► "Warp Shift is a leap ahead of any puzzle game we've ever reviewed." (Edamame Reviews)
► "It is well-balanced and gorgeous to look at and filled to the brim with innovative twists and new ideas." (AppSpy)
► "A mobile game that fans of Monument Valley will enjoy." (Golem)
► "Warp Shift is genuinely refreshing." (Gamezebo)
► "Warp Shift is more of an adventure than a standard puzzle app." (Common Sense Media)
► "Warp Shift is absolutely gorgeous." (AppAdvice)
► "A must for anyone who likes their games equal parts relaxing and taxing." (TapSmart)

# # # AN AUDIO-VISUAL VOYAGE THROUGH TIME AND SPACE # # #

Warp Shift is a unique puzzle game set in a mysterious world. It takes you on a marvelous journey that challenges your mind and stimulates your senses. Experience beautiful visuals, challenging puzzles and intriguing sound design.

Guide the little girl Pi and her magical companion through the maze-like confines of the enigmatic ancient chamber that keeps them trapped. Think ahead and alter your surroundings wisely to usher Pi back home – one swipe after another. Embark on an audio-visual voyage through time and space, never knowing where your next step will lead you.

# # # MIND-BOGGLING FEATURES # # #

• A work of art: Enjoy a mesmerizing game that stimulates your eyes, ears and brains
• How to get out?: Traverse maze-like environments that change at your fingertip
• A unique kind of puzzler: Alter your surroundings to open new ways
• From one realm to another: Explore 6 unique worlds with 15 levels each
• Easy of access: Reach your destination via taps and swipes
• No stress or hurry: Play to relax, escape and clear your mind

# # # JOURNEY ONWARDS… # # #

• Deep Silver FISHLABS website: http://www.dsfishlabs.com/
• ISBIT Games website: http://isbitgames.com/

# # # COSTS & REQUIREMENTS # # #

Warp Shift requires at least iOS 8 and runs on iPhone 4s (or higher), iPad 2 (or higher) and iPod touch 5G. The app contains in-app purchases. If you do not want to use them, you can disable them in your device's settings.
Spending Tracker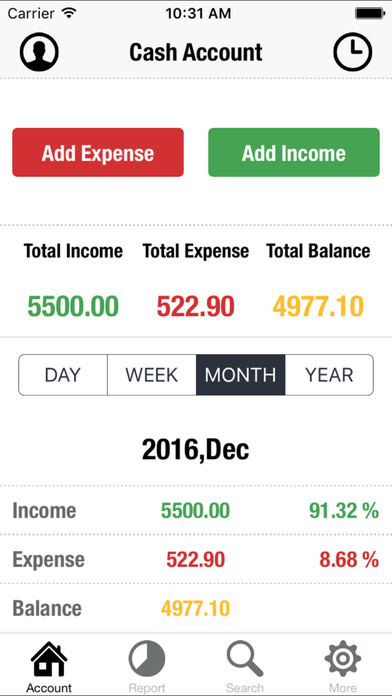 Normally $1.99.
If you are looking for the best personal finance application, this is the app for you!

SpendingTrackerLog helps you to track your income and spendings.
You can add transactions under different categories, such as income, food, shopping. Summaries for today/week/month/year are displayed right at home page.

You can view detailed report for each month in beautiful graphs and find transaction easily through search. Try it yourself to see more features!

Features:
– Add multiple accounts
– Add multiple payees
– Add income/expense transactions under different category
– Add customize income/expense category name
– Add transactions quickly
– Instant summary for today/week/month/year
– View history records and compare them
– iCloud sync
– Passcode lock
– Export through email
– Separate graph report for income or expense alone
– Search for transaction by Category, Payee, Between two dates or any of them
– Intuitive UI, easy to use

Multiple data export:
– Monthly transaction history
– Monthly transaction history for each category
– All transactions for each account
– All transactions for each member
– Transactions under custom search conditions
– Two date ranges between the transaction records
Send Signs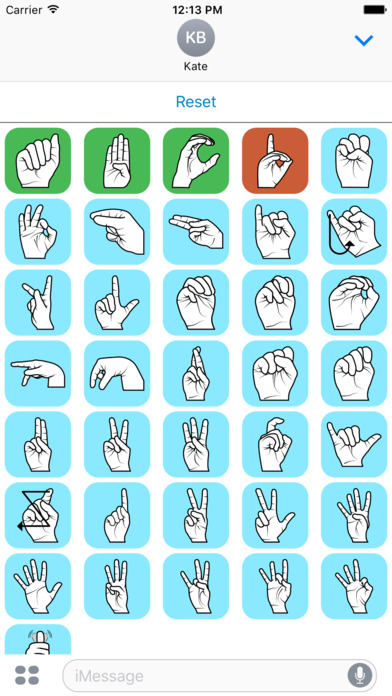 Normally $1.99.
Learn fingerspelling and have fun! Compete with a conversation partner through iMessages. Your improvements are graphically depicted and both partners will even have a score.

Learn fingerspelling (ASL) anywhere with sending messages back and forth!

One person acts as the starter, sending either a sign or letter. The receiver has to pick the correct counterpart. The sender can rate or auto-rate the choice. Finally both will obtain points which will be added to a score.
Sums Up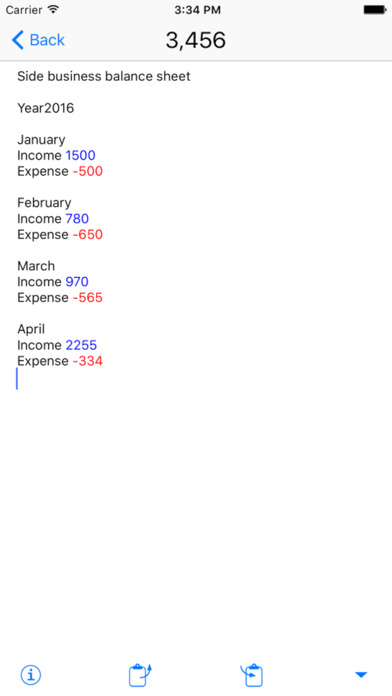 Normally $2.99.
It adds numbers in your text. If you already have a note containing numbers, copy and paste it to Sums Up and it will show you the total.

Positive numbers are shown in blue and negative in red. The app only adds, but subtraction can be done by using negative numbers.

When done, you can copy the note and the total to your clipboard.
AllStarSlams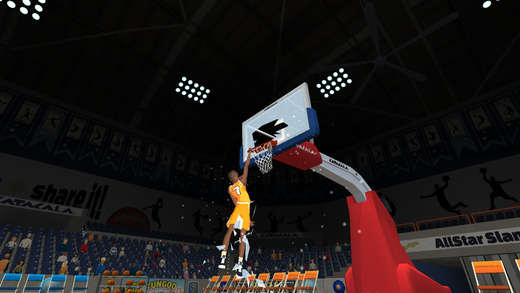 Normally $2.99.
Feel what it is like to live above the rim in this zany slam dunk game.

– Twist and flip towards the rim from all over the court and then explode into the arena, collecting points for rag-doll physics along the way.

– Place and stack objects as high as possible, then jump over them and crush a dunk.

– Increase your dunk bonus to jump to ridiculous heights.

– Master your trick timing to create massive combos and shatter the backboard.

– Easily create exciting and dynamic replays to share with friends from within the app and prove you are an AllStar.
Klickr
Normally $0.99.
It is easy to lose track when counting while doing something else. I'm sure you have experienced that before!
So that is why we came up with Klickr. An easy App so that you don't have to worry about the numbers and just concentrate on the more important things in life.

The first app to integrate your well known tally counter into your new, loved apple watch!
---
Our deals and product reviews are picked by BGR's expert editors and team.

Follow @BGRDeals on Twitter to keep up with the latest and greatest deals we find around the web. Prices subject to change without notice and any coupons mentioned above may be available in limited supply.