If you purchase an independently reviewed product or service through a link on our website, we may receive an affiliate commission. Learn more.
Another day, another patch of white hot paid iPhone and iPad apps on sale for free. We've got 10 fresh apps for Apple fans today, and they span all different genres. As always, these sales could end at any time so be sure to check out the list below as soon as you can.
These are paid iPhone and iPad apps that have been made available for free for a limited time by their developers. There is no way to tell how long they will be free. These sales could end an hour from now or a week from now — obviously, the only thing we can guarantee is that they were free at the time this post was written. If you click on a link and see a price listed next to an app instead of the word "get," it is no longer free. The sale has ended. If you download the app, you will be charged.
Rocket Video for Google Cast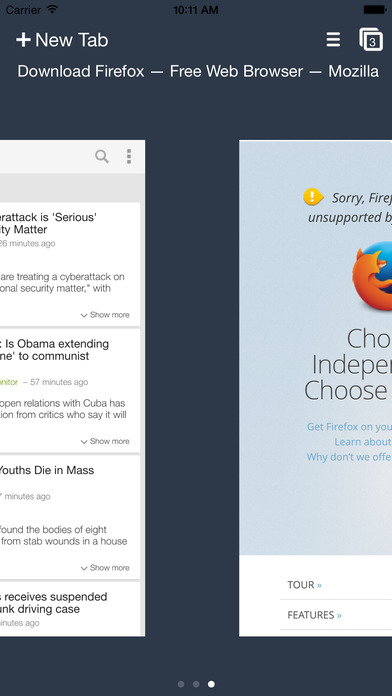 Normally $1.99.
Unleash your Chromecast with Rocket Video Cast. With Rocket you can browse the web and stream any web video on your Chromecast attached TV, and you can even store those videos and cast them later.

Rocket is also a fully featured file manager that allows you to store files to your iOS device. You can then view/play the stored files right on your device offline or transfer them to your computer, and of course you can cast your stored videos to your big screen.

Features:
– Cast videos from all major streaming video sites
– Cast from major file sharing sites
– Full featured web browser
– Start screen with the most frequent visited history entry's
– Open saved tabs on startup
– Real-time search in your browsing history, bookmarks and tabs
– Search engine integration in the Address bar
– Share URL's via Twitter, Mail
– Search in the website
– Passcode protected
– FTP Server to transfer files in and out of the app
– Download Manager
– FIle Manager to organize your files in folders etc.
– Playlists and background audio
– Address bar search engine options (Google, Bing, DuckDuckGo, StartPage can be changed App Settings > Search Engine)
– Multi format video/audio player allows you to play almost any video and audio format without leaving the app (wmv, mpeg, mpeg1, mpeg2, mpeg4, 3gp, sf, avi, divx, dv, gxf, m2p, m2ts, m2v, m4v, mkv, moov, mov, mp4, mpg, mpv, mt2s, mts, mxf, ogm, ogv, ps, qt, ts, vob, webm, wm, mp3, m4a, wma).
– Extract audio from mp4 files (convert to mp3)
– File Manager – create folders/organize/move files/etc.
..and lots lots more.
– (NEW!) Import videos from Camera Roll
– (NEW!) Cast your Rocket playlist for files in the app
– (NEW!) Download m3u8

Supported format for Chromecast include mp4, m4v, m3u8, hls, and live streams are supported.

IMPORTANT NOTES, PLEASE READ BEFORE PURCHASING:
Flash video, iTunes purchased videos, Silverlight and other DRM protected videos like Amazon Instant Videos, HBO now, Hulu, Netflix are not supported!

This app is not affiliated with Google or one of its products or trademarks and is developed independently.
Download Rocket Video for Google Cast
Favourite Contacts Launcher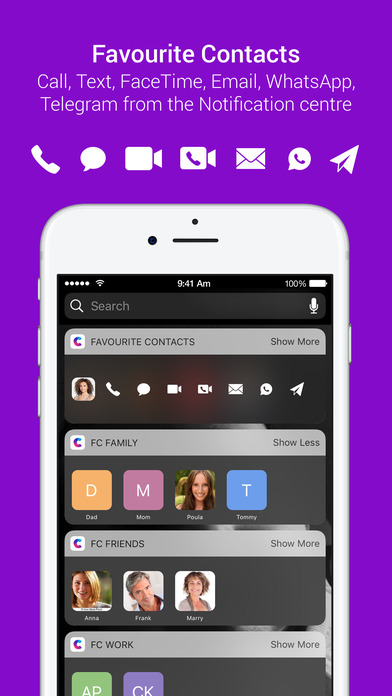 Normally $0.99.
With Favourite Contacts Launcher, call like a Boss. !!

Swipe right from lock screen, and tap to call. So, easy it is!!!

Call and text your favorite contacts directly from the Widgets screen! also called as Today extension.

This Widget support calling, message, WhatsApp, Telegram, email, FaceTime and FaceTime audio also.

You can also organize contacts in groups (e.g. Family, Friends, Work) and access them directly from the widgets.

This is an app with a powerful widget that will dramatically improve everyday use of your iPhone.

While currently contacting your friends can be an annoyingly long process because you must open apps and search through contact after contact.
But with Favourites Contacts Launcher just swipe right from the lock screen, home screen, or pull down the widgets screen from within any app and get immediate access to your favorites.

Features:
● Call & Text from the Notification Centre
● Group contacts as family, friends, work and etc.
● Add unlimited contacts to different groups available
● Call & Message, WhatsApp, Telegram, Email
● FaceTime & FaceTime Audio
● Works on iPhone 5 / 5s, 6 / 6s/ 6s+, 7 / 7+ with IOS 8 and above.

Much more coming in the next updates.
So, Stay tuned!!
Download Favourite Contacts Launcher
Audio spectrum analyzer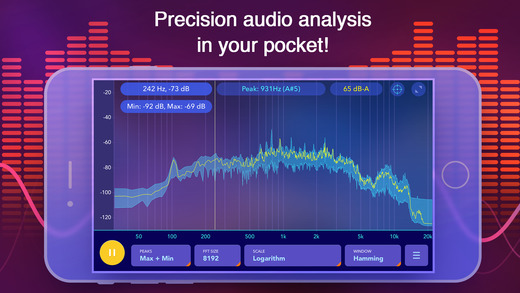 Normally $3.99.
Spectrum Analyzer is a powerful real-time audio analysis app. Ideal for room tuning or speaker tuning, this app provides precision audio measurement and visualization that fits in your pocket!

Spectrum Analyzer has many advanced features which are normally only found in much more expensive sound analysis software. It offers fast and accurate spectrum analysis suitable for both amateur hi-fi enthusiasts and professional A/V engineers.

Feature Highlights:
● Octave Band Real-Time Analyzer
● FFT Plot
● Smooth HD Graphics
● Multispectral Harmonic Analyzer
● Integrated Sound Level Meter (dB-A weightnings)
Download Audio spectrum analyzer
Self Control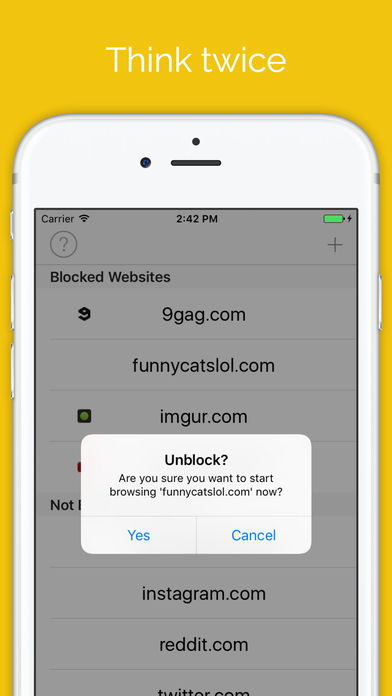 Normally $1.99.
This app is dead simple! Have you ever wasted your time on the Internet? Self Control allows you to temporarily block distracting websites. You can always unlock them again but it requires that you think twice before doing so: "Do I really need to browse funny cat pictures right now?".

Getting rid of your wasteful browsing habits is as easy as downloading this app and adding your favorite time wasters list. A predefined list of potentially distracting websites is provided. More free time for you GUARANTEED.

Due to iOS restrictions, the application can currently only block websites on Safari. Other applications are not affected by it.
Race by Hearts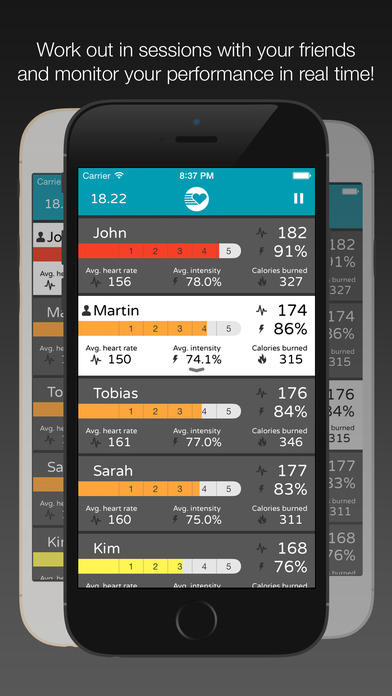 Normally $0.99.
Turn your cardio workouts into a fun, social and competitive experience!

Race by Hearts motivates you to a more effective workout and together with your training buddies you'll get even more out of your training.

► Use your team to drive you forward.
Race by hearts is all out being social. Not with the purpose of telling everyone how cool you are (because you are!), but instead use the real time heart rate data within your team to motivate you to train even harder. You gain a better, more efficient workout. Your teammates do the same. Everybody shares, everybody gains.

► It's a competition, if you want it to be.
One of the best motivators is to do great, preferably even greater than someone else. That's why training alongside your friends, keeping track of each other is a perfect way to motivate yourself to perform just that little bit better.
However if your are not in a competitive mood, Race by Hearts works just as well as a general heart rate monitor. It shows your heart rate in real time, stores your data and gives you a nice overview after your workout.

► Powered by your heart.
Your heart rate says a lot of things about you. How fit you are, whether you are stressed or relaxed. And with Race by Hearts it also tells you how hard you are working out, if your are putting in more effort that your training buddies, and which one of your teammates is currently in the lead. It all depends on your individual heart rates.

► Heart rates are relative.
We all have hearts, yet we are all different. This is the reason that while your heart rate tells a lot about you, it does only say something about you. What is a high heart rate for you might not be for someone else. Heart rates are as individual as favorite colors. Therefore RBH calculates a normalized reference for every team member, making it possible to do a true comparison between individuals.
Features:
– Shows current heart rate and intensity, average heart rate and intensity, as well as how many calories burned so far. For you and every other member of your team.

– Team members are arranged according to their current intensity level, showing you the live ranking during your workout.

– Heart rate intensity is calculated from your maximum and resting heart rates, which provides a normalized basis for comparing intensities across individuals.

– Create your own session and have your training buddies join you, to train together, motivate each other and just have a fun and social workout session.

– Your session leader can control your team's workout, ensuring that all members start and stop the workout data capture at the same time – giving everyone a common base to compare from.

– Stores your workout data so you can review previous workouts and track your training sessions, your progression, and your team rankings.

– Works with Bluetooth 4.0/LE/Smart compatible heart rate sensors. No dongles required, no extra hardware, no wires! And these heart rate sensors work with other apps and equipment as well.

– Optional integration with Apple Health, includes reading user data (Age, Weight and Gender) into Race by Hearts, and sharing workouts to Health, including calorie burn and heart rate measurements.

– Export your workouts to RunKeeper (www.runkeeper.com), as a .CSV file, ready for external analysis or post them to your Facebook feed.
Spends
Normally $1.99.
It is a household account book app that there are three types of layout.

●Three of the household account book layout
You I can use the week and month display household accounts of that infinite horizontal scrolling.

●Beautiful two themes
And a two themes of WHITE and BLACK, you can use to choose the one you like best.

Function
——————————————-
Three types of graph
– By the scope of the week day line graph
– Another range of the month day line graph
– Range is the month of category pie chart

Other Features
– Editing of expense items, additional functions
– Theme change function. It can be changed from two types of theme
GIFCon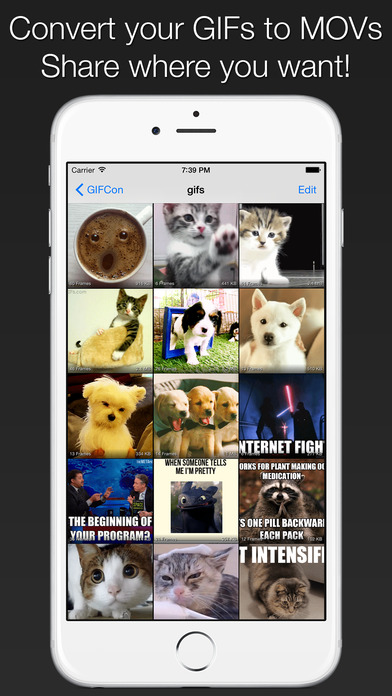 Normally $0.99.
GIFCon is the best app to convert your GIFs into videos. Tweak the number of times you want the video to loop and even control the playback speed of the converted video. Save and share the video anywhere you want!

* Control the number of times a converted GIF will loop
* Control the playback speed of the converted GIF
* Browse through and manage saved GIFs and converted MOV files
* Post converted GIFs to Instagram! If your video is too small, add loops till it's more than the minimum duration (3 seconds)
* File size, number of frames (GIF), video duration are easily visible
* Search for animated GIFs in picTrove 2 pro and import them into GIFCon
* Import from your device Photo library
* Import from any cloud files provider including iCloud Drive, Dropbox, Google Drive, etc.
* Import from various file apps:
– Google Drive
– Dropbox
– Microsoft OneDrive
– Box
– Readdle Documents
* Save converted videos to your device's photos library. GIFCon will maintain a library album for you to easily find the videos you saved!
* Landscape orientation support on all devices
Pocket Anatomy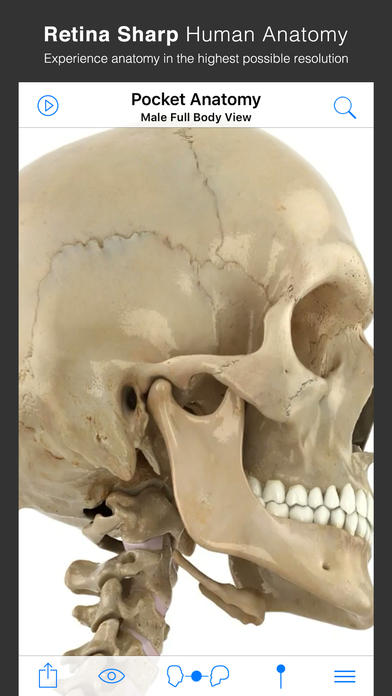 Normally $14.99.
"Navigating the body couldn't be EASIER" – Medical Student

Boost your anatomy knowledge TODAY! Looking for the Lateral antebrachial cutaneous nerve? With our award-winning app, it's easy: retrieve any anatomical structure and relevant clinical information in an instant. Search through 1000s of anatomical structures such as ligaments, tendons, arteries, veins, organs, and glossary items. Browse by system layers including skin, skeletal, connective tissue, muscular, circulatory, digestive, reproductive, lymphatic, respiratory, urinary and more…

"User Interface: This is really what separates this app from the rest. Easy and high resolution zooming and movement. Navigating the body couldn't be easier. Of all the anatomy apps I've seen this is definitely one of the best." Medical Student *****

"Thinking of you: All the anatomy apps have the blue dots with information, but with Pocket Anatomy you can click on a muscle and it will give you origin, insertion, key relations, functions (actions), nerve and blood supply, and clinical perspectives, plus a notes section so that you can write in additional notes. Even better, in the updated version you can add pins to really CUSTOMIZE it." Medical Resident *****

Our growing community of 1 Million users are becoming better medical professionals by learning and refreshing using Pocket Anatomy.

Visualize complex medical concepts with the newly added Blausen Animations Library – the World's leading library of award winning 3D medical animations. 30 animations are included in your first purchase. With additional in-app purchase you can also unlock over 1,000 more animations, detailing anatomy, physiology, conditions and procedures. You can watch each video unlimited times and even save it to your device for offline viewing.

A unique combination of features makes Pocket Anatomy the superior Anatomy and Physiology product in the market place:

1. INTUITIVE SEARCH
Confusion is easy when it comes to anatomy terms. With our intuitive search option it will suffice to type in only the first characters of the word you are looking for, or one of the words composing the main term. E.g. if you type in "trap" you will get "trapezoid" as well as "coracoclavicular-trapezoid ligament". The more letters you type the more refined the search.

2. INTUITIVE NAVIGATION
Fly around the human body swiping your finger on the screen, fluidly navigating from the skin layer through the superficial to deep musculature, and on through to internal organ structures, ligaments and the skeletal system.

3. RICH CONTENT
Pocket Anatomy now includes full 3D male and female anatomy as well as detailed stand alone visual information on circulatory, connective tissue, digestive, integumentary, lymphatic, muscular, reproductive, respiratory, skeletal and urinary systems.

4. CLINICAL RELEVANCE
Anatomical structures in each layer are pinned for identification. Each pin is associated with additional concise relevant information and clinical notes.

5. GREAT STUDY TOOL
Studying for your next Anatomy and Physiology exam? Add your notes next to a pin, bookmark the content you are interested in and retrieve it every time you need it. Test your knowledge with your classmates or challenge yourself with our quizzes.

6. YOU'RE IN GOOD COMPANY

***** "This BEAUTIFUL app offers mobile medical education for students." Apple iTunesU

***** "EXCELLENT visuals and seamless 3D navigation" MedGadget

***** "Renders the old text-book pretty close to obsolete" CNET

7. OUR COMMITMENT
We are committed to offer you the best updated content to help you enhance your anatomy learning experience. With over 35 free updates to our software since 2010, we are committed to ensuring that your voices are heard. Please email us at hello@PocketAnatomy.com and share your feedback on how to improve the content, usability & design of our apps.
Best,
Claudia, Conor, Dave, Mark & Team
Delete Contacts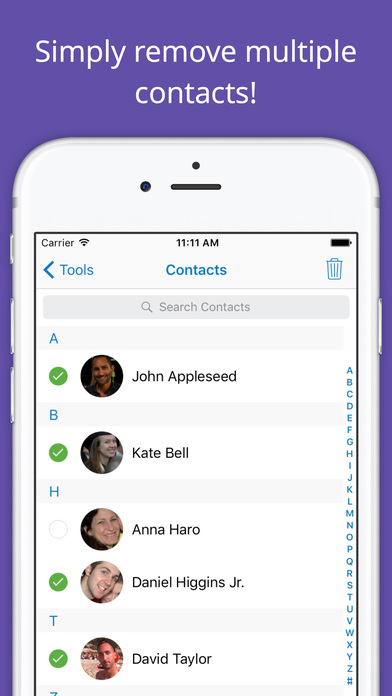 Normally $0.99.
This app is the best way to quickly delete multiple contacts of your address book, to symply merge all the duplicate contacts and to easily backup all your contacts!

Key Features:

DELETE MULTIPLE CONTACTS

Delete multiple contacts of your address book at once! Fast and easy!

MERGE DUPLICATE CONTACTS

Merge all the duplicate contacts of your address book with one tap! Very simple!

BACKUP CONTACTS

Backup all the contacts of your address book with one tap! Fast and so useful!

SHARE BACKUP FILES

Share backup files via text message, email, Dropbox, iCloud Drive, .. !

RESTORE CONTACTS

Restore contacts at any time directly from the app! Choose contacts to restore!
Draw Pad Pro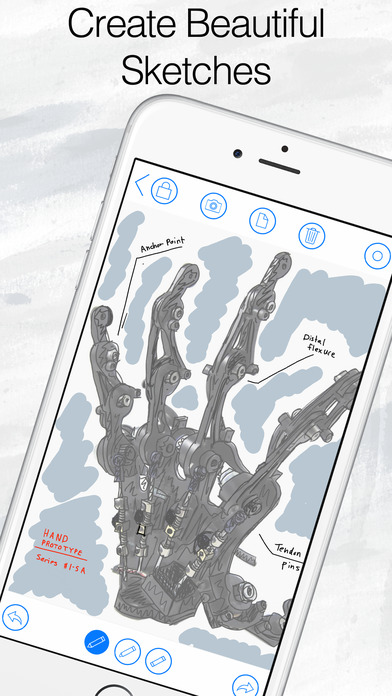 Normally $2.99.
With nearly 3 million downloads to date, Draw Pad Pro is a clear and compelling choice for taking notes. The app is designed as a beautiful and innovative way to create and manage all your thoughts, ideas, sketches, scribbles, and more. It offers a variety of customization options, powerful productivity features, and sharing capabilities. Draw Pad Pro is built to take advantage of the latest in iOS technology, and works beautifully on all your devices.

Download Draw Pad Pro today, and enjoy its simplicity and functionality. Use the app for your next big idea or project.
---
Our deals and product reviews are picked by BGR's expert editors and team.

Follow @BGRDeals on Twitter to keep up with the latest and greatest deals we find around the web. Prices subject to change without notice and any coupons mentioned above may be available in limited supply.