Welcome to our last roundup of the week featuring paid iPhone and iPad apps on sale for free. We've got seven freebies for you to check out today, and that's in addition to a few from yesterday's post that can still be downloaded for free if you hurry.
This post covers paid iPhone and iPad apps that have been made available for free for a limited time by their developers. BGR is not affiliated with any developers. There is no way to tell how long they will be free. These sales could end an hour from now or a week from now — obviously, the only thing we can guarantee is that they were free at the time this post was written. If you click on a link and see a price listed next to an app instead of the word "get," it is no longer free. The sale has ended. If you download the app anyway, you will be charged by Apple. Subscribe to our feed to be notified as soon as these posts are published, and you'll avoid missing the sales we cover.
PolySpeak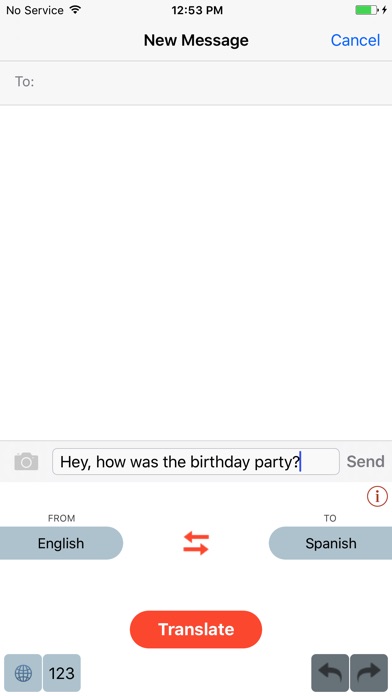 Normally $0.99.
PolySpeak is a lightweight, easy to use translation keyboard for your smartphone. Type the text in your language, and translate it to the desired language simply by switching over to PolySpeak keyboard and pressing translate.

To activate PolySpeak go to Settings > General > Keyboard > Keyboards > Add New Keyboard… and select PolySpeak

Note: PolySpeak needs Internet access to translate your text. To allow Internet access to PolySpeak go to Settings > General > Keyboard > Keyboards > PolySpeak and enable Allow Full Access. Then select Allow in the popup. PolySpeak does not store your text anywhere, but simply translates it for you. You can read more about it in our Privacy Policy.

Features:
1) Swap button to easily swap 'From' and 'To' languages.
2) Undo/Redo buttons to go back to previous and current translation.
3) 'From' and 'To' language choices are saved for future use so you don't have to select them when you come back to PolySpeak later.
4) 'Emoji' translation: translate an English text to Emoji. For e.g., try translating 'I love the city of New York'. Currently we only support translation from English to Emoji. But in future versions we plan to support from other languages to Emoji as well.
5) Language pickers show "MOST USED BY YOU" and "POPULAR" languages for easy access.
6) Translate between 85+ languages (the most that any translate keyboard offers currently!).
Media Monster – Pro Tools
Normally $1.99.
With Media Monster you can record HD videos while capturing background music from any app – at the same time! Perfect for workout, music, dance videos, tutorials and more, it's an all in one recording solution on your iPhone and iPad!

MAXIMUM QUALITY VIDEO & PHOTO CAPTURING + 4K SUPPORTED RECORDINGS
Use your device's camera to its full potential with Media Monster. Record high definition videos at high frames per second, and take high resolution photos at the best quality.

RECORD VIDEO WITH BACKGROUND MUSIC
Post production software can be expensive and adding music tracks to videos can take time and editing skill. With Media Monster, none of that is necessary. Record video and background music simultaneously from any music app, including Spotify, Apple Music and more!

——————————-
MEDIA MONSTER – HIGHLIGHTS
——————————-
• Record HD videos of any length
• Adjust frames per second, recording quality
• Add filters to your videos and photos inside the app
• Combine multiple videos. Merge an unlimited amount of videos selected from camera roll or recorded
• Flash, zoom and timer functions
• Landscape and portrait orientation support
• Supports most Bluetooth devices – headphones, car audio, speakers and more
• Change music tracks without leaving the app with custom in app controls for Spotify and Apple Music
• Change music tracks without leaving the app from iPhone/iPad control center
• Record video and background audio simultaneously from any app
• Import any video and photo from camera roll to edit
• Share videos and images with friends in just a few taps

CHECK OUT WHAT OUR USERS SAY!
– "I'm a weightlifter and this app is just what I needed."
- "Thank you for making this amazing app!! I love it so much!"
- "I have been looking for an app similar to this for a verryyy long time. There is nothing similar on the AppStore. This will allow me to play music while recording training videos, so I can record and keep my earphones in. "
- "This is perfect for creating videos for my dance class!"
Download Media Monster – Pro Tools
Charm Lite
Normally $0.99.
Aren't you satisfied with filters provided by the other apps? Create your own with tools you'll find in Charm!

Tools:
– Tone curve editor
– Brightness
– Contrast
– Saturation
– Exposure
– Vignette

Features:
– A bunch of predefined filters
– Undo & redo in filter creating tool
– Favorite filters list
– Preserves photos metadata
AI Currency – Money Converter
Normally $0.99.
AI Currency is a precise exchange rate helper, which can immediately convert any currency in the world into your expected monetary value after scanning the prices of products. Using the latest artificial intelligence (AI) technology, AI Currency makes image analysis and intelligent conversion rapidly upon scanned prices of commodities. After the recognition training to different currency units from 65 countries and regions and the study of currency exchange for more than ten millions of times, AI Currency can accurately show you any accurate conversion results. Thanks to the newest technology—Core ml of Apple, developing space is largely expanded and our AI Currency achieved individualized function, occupying less memory. It can rapidly present conversion result with camera scanning. There is no manual intervention and users' privacy is protected.

The main functions:
Speed scanning commodities' prices to get the conversion result
One click to save the screenshot of exchange rate results
Support exchange rates of numerous countries and regions

AI Currency, supporting off-line exchange rate, is your perfect helper when traveling, studying and buying abroad, satisfying all your needs in currency conversion. With it in your phone, there is definitely no need to worry about your life abroad.
Download AI Currency – Money Converter
Plant Light Meter
Normally $0.99.
Lack of light is the second most common cause of death of indoor plants after excessive watering.
Better light conditions will allow you to keep your plants healthy.
Measure the light levels for the price of a coffee!

How to use:
Select a location where you would like to place your plant.
Launch the application.
Point the camera upwards, in the direction of the source of natural light.
The maximum value that you get is the level of light available at this location.

How to interpret the measurement:
– Very low: Difficult for plants to survive.
– Low: For plants which can tolerate low levels of light such as aglaonema, parlor palm, philodendron.
– Medium: For the majority of indoor plants such as dracaena, pothos, spider plant.
– High: For plants which love light such as zebra plant, areca palm, croton.

Features:
– Detection of natural light
– Artificial lights are not supported
– 4 levels of intensity: very low to high
– Uses the rear camera only
– Intensity up to 16000 lux or 1500 fc
#filmphotography
Normally $2.99.
So, you decided to shoot on film? Then welcome!

*** An encyclopedia of film photography principles ***

Perfect in its imperfection, film is undergoing a renaissance!

The weight of analog equipment, the rustle of tangled up film, the elation and disappointment at the first developed pictures… You feel that, too Then welcome here!

This app is entirely dedicated to film, film cameras, and the principles of photographic mastery.

You will learn about:

Cameras:
– Instants
– Point-and-shoots
– Lomography
– Rangefinders
– SLRs
– Medium format SLRs
– Medium format TLRs

Film:
– Black and white
– Color
– Infrared
– Slide
– Lomography

Principles:
– Aperture
– Shutter speed
– ISO
– Using a photo-resistor light meter

Full speed ahead toward the unreachable heights of film mastery, and remember…the road to miles of film starts with the first picture you take
WTHR – today's weather app
Normally $0.99.
The app shows the weather for right here and right now. Tomorrow's forecast can be iffy – we only show the weather forecast for today. This way you have realistic expectations and don't get disappointed by inaccurate predictions. No information overload – just the current weather conditions.

The temperature display is available in Celsius and Fahrenheit.

Awards:
ProductHunt, Trending Weather Apps, 200 Upvotes

Ryan Roberts: "Minimalism at its best."
Joseph Wood: "Beautiful UI. I see an Apple Design Award in your future!"
Jordan Littman: "Interesting concept. The handwriting adds to its simplicity."
Steven Law: "Love, dead simple, just perfect!"
Pedro Pinto: "Raw and funny, I love it"