We've got eight fresh paid iPhone and iPad apps for you to check out on Thursday, and they're all on sale for free for a limited time. If that's not enough for you, no problem — you'll find a few more remaining freebies if you go back and check out yesterday's post. As always, any or all of these sales could be over before you know it, so definitely download anything that looks good as soon as you can.
This post covers paid iPhone and iPad apps that have been made available for free for a limited time by their developers. BGR is not affiliated with any developers. There is no way to tell how long they will be free. These sales could end an hour from now or a week from now — obviously, the only thing we can guarantee is that they were free at the time this post was written. If you click on a link and see a price listed next to an app instead of the word "get," it is no longer free. The sale has ended. If you download the app anyway, you will be charged by Apple. Subscribe to our feed to be notified as soon as these posts are published, and you'll avoid missing the sales we cover.
Videoshop – Video Editor
Normally $1.99.
Videoshop is an easy video editor with fast editing tools, filters and many other effects for personalizing your videos.

FEATURES
1. Trim: Cut out any unwanted moments. You can also split your videos into multiple clips.
2. Music: Add from your iPod library or Buy Clips from the Videomall.
3. Sound effects: Choose from animals noises, farts, Vine quotes, explosions, laughter, etc.
4. Slow motion (or fast motion): Adjust video or audio speed to slow or fast.
5. Adjust Display: Change Brightness, Contrast, Saturation, etc.
6. Merger: Combine multiple clips into one.
7. Text: Type your own text with color and various fonts.
8. Voice overs: Record your own voice over the video.
9. Animated titles: Introduce your videos with animated titles.
10. Filters: Select from several filters to enhance your videos.
11. Transitions: Choose from 10 transitions to animate between video clips.
12. Photos: Create slideshows easily.
13. Stop Motion: Create claymation videos with stop motion recording.
14. Resize: Rescale your video within the video frame.
15. Reverse: Playback videos in reverse.
16. Copy: Create duplicate video clips.
17. Tilt Shift: Add depth to your videos.
18. Rotate: Rotate your videos in 90 degree angles.
19. Undo: Undo any slippery editing mistakes.
20. Share on Vine, Snapchat, Instagram, Facebook, YouTube, Vimeo, Dropbox, Whatsapp or by E-mail.
Download Videoshop – Video Editor
Block vs Block
Normally $2.99.
We modify the world most attractive puzzle game on PC / NES / FC / PS. How to play it is no need to explain. iOS "Block vs Block" allow you play against computer, or human (iPad only).

– 16 different shapes
– 4 different special items
– VS mode

Very attractive graphic, very easy to control, very strong computer player. What are you waiting for? Download and enjoy it now!
MenacingMaze!-Adventure Awaits
Normally $1.99.
Survive and escape the maze. Collect the stardust to open a portal that will teleport you to the next stage. No saving or pausing the game and touching an enemy or trap will cause you to go back a stage.
Download MenacingMaze!-Adventure Awaits
BubbleLite:pixel speech bubbles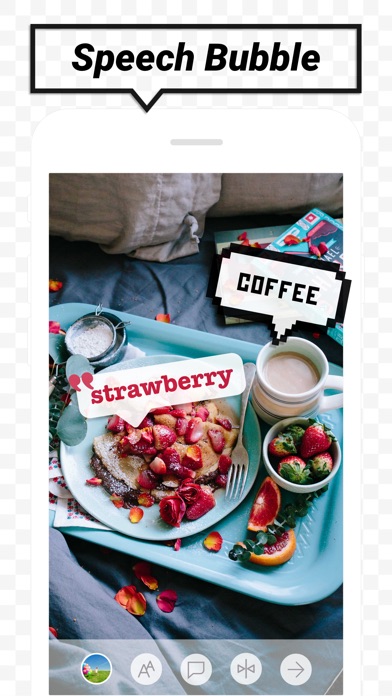 Normally $0.99.
About Bubble

Make Speech Bubble!!
With Text & Emoji add your photo

– Type text on you photo and Select bubble
– Resize and position you bubble
– Select Beautiful FONT(50+)
– Text Color Change
– PINCH, DRAG, ROTATE, ADJUST, AND MUCH MORE.

Save or share your photo
Download BubbleLite:pixel speech bubbles
iPalettes – Color palettes
Normally $1.99.
iPalettes – The easiest way to create awesome color palettes!

** Why should you use it? **
– You need a color range but you don't have any idea to make it.
– You need a tool to choose color schemes.
– You need a color converter between HEX, HSB, RGB, CMYK.
So, iPalettes will provide tools and give you ideas to create many beautiful palettes.

You can choose from 1000+ color palettes in Inspiration tab. In addition, you can edit and save your palette to review it later. At the end, you can save it to Camera Roll and share it to Facebook, Twitter, Instagram, Email or AirDrop as you want.

With iPalettes, there are 3 ways to create a palette:
1. From Photo Library or Camera
iPalettes will analyze image colors and create the best palette from it, but you can edit this palette as you like
2. From Color Picker Tool
3. From Pantone
Pantone is a color range to create palettes.

** How to use? **
There are 2 main tabs, Inspiration and My Palettes. Inspiration is a list of suggested palettes. My Palettes is a list of palettes that you saved. Tap and hold item in My Palettes if you want to delete it.

iPalettes is the best assistant for your work!
Download iPalettes – Color palettes
MYB – Move Your Butt
Normally $9.99.
Play MYB – The 10K Steps Group Challenge, one of the best social health games that will put you to the ultimate challenge to change your unhealthy habits with healthy habits for a better and more active lifestyle. Create a group of your favorite people, start the healthy challenge and each and one of you has to walk at least 10k steps for 21 straight days! Walk, be actively engaged, top the rankings and get the best health motivation and weight loss motivation ever!

Challenge yourself and improve your health
Playing this fitness and health game on your iPhone you will be able to change your daily unhealthy habits, challenging yourself and improve your health with starting healthy daily habits. Move Your Butt kick starts your health with tracking your walking with this health and fitness app. Using this step tracker and health app, you can be a part of a community where people take the right choices for their health.

Connect to Social Media
Move Your Butt health game connects you to social media, to help you track your achievements and motivate you to win the daily challenges and goals. Start with easy workouts and combine your goals as a group to win this health game. Motivating comments and discussions in your Facebook group to push you further in this challenge. It's not only a pedometer, step counter or health tracker, it's the best health game because it maintains workout motivation at high level, while keeping things fun & exciting.

MYB – The 10K Group Challenge Features

Step Counter and Group Fitness
– Hit the daily 10k step challenge with a group of friends
– Participate in the walking challenge together and keep each other motivated
– Group pedometer keeps track of the group's step count for the day
– Walking together helps to keep everyone motivated and focused on their personal goals

Workout Log – Diet and Exercise
– Track your workouts, which start new every day
– Use our health tracker to monitor your steps and reach your weight loss goals!
– Workout and keep track of your movements throughout the day, week, and month
-Improve every day and challenge yourself to be the first to hit 10k steps in the group!

Health Benefits and Social Media
– Fight diabetes by walking and exercising to improve you and your friends' health
– Motivation in the group will help your friends and keep track of your personal achievements
– Log in with Facebook to track your steps and manage your walking group
– Improve your health with exercise and motivate the group to workout together!

Challenge Notifications and Alerts
– Receive daily notifications one hour before the challenge starts
– Invite others to the group and get notifications when they accept
– Earn the daily MYB high score in your group to notify others when you've met your goals
– If a group member has failed the challenge, you'll be notified, but keep the motivation up and get it tomorrow!

Don't walk alone and start losing weight with your friends! Make a group and take the 10k step challenge game to help in the fight against diabetes and obesity.

Keep track of your diet, lose weight and stay motivated with Move Your Butt game!
Explorer – landing
Normally $0.99.
Your aim is land space ship to planets: Mars, Earth and some others.
Week Calendar Pro
Normally $1.99.
A different approach to working with calendars. Fully customizable week calendar to link all your calendars to. Week Calendar Pro allows you to fully customize what you what to see on your calendar through a nice drop down preset that you can quickly switch between.
Add unlimited presets to filter out:
– Days (show/hide any day)
– Select which calendars to show
– Select up to three working weeks (15 days)
– Zoom in/out on hours or view 24 hours
– Select which day is first day of week
– Tap and hold to add new event
– Drag existing events to reschdule
– and many more to discover