Looking for new iPhone and iPad apps? Don't want to pay any money? Well you've come to the right place. We've rounded up the best premium apps of the day that are on sale for free, and you'll find them all below. These deals could end at any time though, so download them for free while you can!
This post covers paid iPhone and iPad apps that have been made available for free for a limited time by their developers. BGR is not affiliated with any developers. There is no way to tell how long they will be free. These sales could end an hour from now or a week from now — obviously, the only thing we can guarantee is that they were free at the time this post was written. If you click on a link and see a price listed next to an app instead of the word "get," it is no longer free. The sale has ended. If you download the app anyway, you will be charged by Apple.
Moving Nomads – Work Remotely
Normally $1.99.
Moving Nomads helps you find the best WiFi cafes, co-working spaces, SIM cards & connects you with other Digital Nomads. Get helpful tips from our community of travelers and Digital Nomads that will help you while traveling. With information built in for over 300 cities across the globe on internet speeds, safety, co-working spaces, nightlife, English speaking & budgets. It also is integrated with Skyscanner and booking.com to help you get direct access to flights & hotels.

FEATURES:
– Get 1000s of tips from the community for co-working spaces, wifi cafes, SIM cards
– Information on 300 cities with internet speed, budget, english-speaking, nightlife, safety, accommodation, flights & weather
– Meet other travelers and Digital Nomads in the app based on cities they've visited or if you're in the same city
Download Moving Nomads – Work Remotely
Xmasgeddon
Normally $0.99.
Hi XMAS GAMERS this is the ISOMETRIC TOP-DOWN SHOOTER of this year snowy Christmas!

Splatter up all the enemies on the screen :save XMAS from the imminent destruction! The attack has begun, the hordes of enemies and horrible elves creatures leaded by Devil Claus are in the village, violent battles are taking place everywhere. Your mission is simple: save XMAS! The adventure starts now and it all depends on you: you are the last hope against the destruction of XMAS!

Xmasgeddon is a TOP-DOWN SHOOT-EM ALL game that will test your shooter skills in a spatter snowy Christmas atmosphere out of the ordinary! Santa Claus hands you weapons and DEVIL may cry if help him save Christmas from the horde of elves beings who want to destroy him forever. It's up to you to kill them with your killer shot!Finish fun and entreating quests such as saving lost reindeers int he woods or saving Santa's Vault from the elves tunnels attacks…. all while killing horde of enemies and all kind of rabid monsters….Be the XMAS hero defeat once for all Devil Claus. Save Xmas!!

MAIN FEATURES:

• On-screen analog input
• Hundreds of types of upgraded weapons of destruction (MORE ON NEXT UPDATE)
• No advertisement and full weapons that can be modified by expanding its basic features
• Stand up to the huge crowds of monsters appearing on the screen
• Your enemies' dead bodies can disappear – wait to see what happens when you finish each wave!
• Useful gadgets, med-kits and more
• Fun Xmas quests
• User friendly control schemes
horde defence
Radio Alarm for Apple Music
Normally $0.99.
Wake up to Apple Music Radio Stations with Radio Alarm

A first of its kind companion app to Apple Music, wake up to something new…but tailored each morning. With Radio Alarm and an Apple Music Subscription*, the adventure of the morning awaits for your ears!

• Search and play from the entire catalogue of Apple Music Radio Stations, including Live stations such as Beats 1, NPR, and ESPN
• Easily set the alarm time, with the alarm audio gradually rising upon activation
• Snooze for ten extra minutes or Stop the alarm on the lock screen from a notification, or by interacting with the music controls

Usage Tips:
The device should be charging when the alarm is active for best use. It is recommended the alarm only be turned on before use and when the device is connected to power. The mute switch may be turned on during use. Radio Alarm does not have to be on screen upon sleeping the device, though it is recommended. For more information please visit the support website.

*A subscription to Apple Music is required for use, Radio Alarm does not provide access to Apple Music Radio Stations without an active subscription. An active internet connection is also required for use. (If the internet connection drops, as a backup, Radio Alarm will instead play a song stored in your local Apple Music library on your device)
Download Radio Alarm for Apple Music
The East New World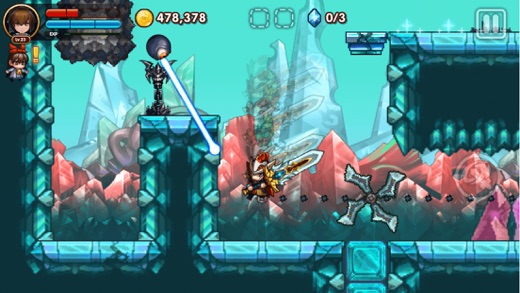 Normally $2.99.
The East New World is a retro-inspired action platformer game with the high quality pixel art style. Any screenshot in the game is a wonderful picture.

Long long ago, there was a country "The Kingdom of Warrior", people there were strong and brave. After the King selling the soul of the country to The Evil Space, everyone turns into a killer who takes the assassination mission for it. Buta's wife Icy refused the mission,as a price, she died.Poor Buta begins his revenge – fight for love!

Reviews:
"The East New World is a premium action RPG that is well worth a look." – PocketGamer

Features:
– 81 the most elaborate levels
– 9 high intelligence and very challenging bosses
– 20 weapons with unique special attacks and skills
– 20+ costumes with specific abilities
– 30+ relics that grant you abilities
– 4 secret very hard levels with high yield
– Boss Rush and Time Rush for high-end players to challenge
– Decorate your home with souvenirs
– Customizable touch controls
– Universal app. Works on iPad, iPhone and iPod touch.
– Game Center leaderboards and achievements
– Premium game. No IAP or Ads ever.
– Controller supported for Apple MFI

Gamepad:
A – Attack or Enter
B – Jump
X – Slide down
IQ Test & IQ challenge
Normally $2.99.
IQ Test
With solutions!

Available for iPad and iPhone.

2 Tests
+39 Questions Mensa iq test.
+33 Questions European iq test.

With solutions!

An intelligence quotient (IQ) is a score derived from one of several standardized tests designed to assess intelligence. The abbreviation "IQ" comes from the German term Intelligenz-Quotient, originally coined by psychologist William Stern.
Try it.

NOTE: This test is intended for entertainment purposes only.
Download IQ Test & IQ challenge
BoomBar
Normally $0.99.
Stop carrying dozens of loyalty and reward cards around ! Get BoomBar

3 Easy Steps Scan , Save and Use with your iPhone, Apple Watch and iMessage.

About BoomBar :

BoomBar is a forward thinking application aim to record barcodes / qr-codes from various cards used in people's daily life and save them into different categories, so that users can use their cards by presenting the barcode/qr-code from their iPhone, iPod touch, Apple Watch or iMessage.

BoomBar with the user permission, can backup all the saved cards to user's personal iCloud Drive, which means BoomBar's creators and a third party do not have access to any data uploaded by the users, which ensures users' information 100% private and secure.

With the release of Apple Watch and the spread of iPhone and iPod touch, who still wants to carry a heavy wallet everywhere? BoomBar adopts advanced technology and concept, provides a user-friendly interface, easy to learn and use.

With BoomBar, your smart lifestyle is only a few click away!!!

Features:

* Share and save cards with family or friends via iMessage
* Choose blue, pink or green to be your home screen icon colour.
* Support for App Store ratings and reviews without leaving the app.
* Support for Touch ID and Face ID
* Supports Barcodes and QR-Codes
* No third party Advertisement
* Backup your cards to your iCloud Drive
* No third-party backup of your card data
* No tracking of your usage of products and cards
* Supports iPhone , iPod touch and Apple Watch
RexFit
Normally $2.99.
To achieve new results, it is important to do the exercises correctly. And increase the number of sets and weight. But how to remember all these repetitions and weights when the exercises are too much? Record your results! This will help not only to streamline the training process, but also motivate you. In the training diary, you can see how many sets you have made and how much weight you have in your last workout. And do one more!) So you will progress and become better and better.

And if you are not sure or do not know how to do the exercise correctly, you can see its description.

In this application there are more than 100 exercises with a description of the implementation, tips and recommendations for implementation. You can also create your own ones, which are not in the list.
GLIESE – Chat Stories
Normally $0.99.
Secrets of Gliese – this is a text quest, performed in the best traditions of the genre. The game does not have modern graphics, but it has a soul! The plot, the style of narration, the mystery of what is happening – nothing will leave the player indifferent. Help the protagonist complete the mission. But be careful in the choice of answers.

"Playing this game, you immerse yourself in the plot with your head. You just live the main character! ".

Do not believe me? Then start the game and see for yourself!

– unpredictable plot
– no time delays
– no built-in purchases
– do not need access to the Internet