If you purchase an independently reviewed product or service through a link on our website, we may receive an affiliate commission. Learn more.
Today's roundup of Wednesday's best paid iPhone and iPad apps on sale for free is a great one. We've got games including an augmented reality game, an awesome email app, and plenty more for you to check out today. There are also a few freebies left in yesterday's post if you want to go back and check it out before those sales end.
This post covers paid iPhone and iPad apps that have been made available for free for a limited time by their developers. BGR is not affiliated with any developers. There is no way to tell how long they will be free. These sales could end an hour from now or a week from now — obviously, the only thing we can guarantee is that they were free at the time this post was written. If you click on a link and see a price listed next to an app instead of the word "get," it is no longer free. The sale has ended. If you download the app anyway, you will be charged by Apple.
Flow
Normally $4.99.
Overwhelmed by your mobile inbox?

Flow presents your mail as a continuous feed, allowing you to review and act on your mail without ever losing context, and marking each mail as read when it is scrolled above mid screen.

Tame your mobile inbox! Install on your iPhone today!

* For the time being Flow works with Gmail / Google Apps, iCloud, Outlook/Hotmail, Yahoo, QQ mail, 163 mail and all other IMAP mail services.
* We do not store emails on our server.
* Flow is not for everyone, but some people would addicted to it.
Out There Chronicles – Ep. 1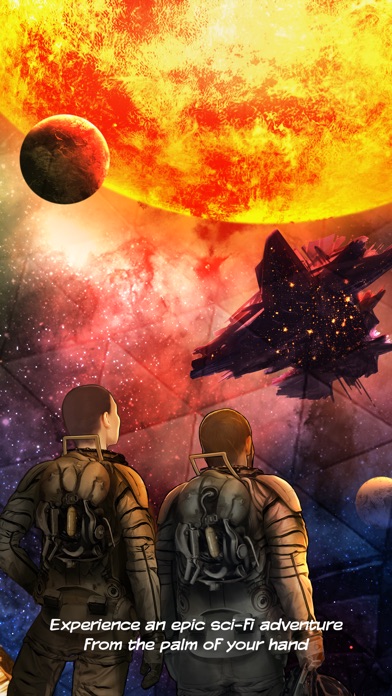 Normally $2.99.
Out There Chronicles is an interactive graphic novel based on the science fiction universe of Out There, the acclaimed, multi-award-winning space exploration game.

After a slumber of a million years, you wake up on America, a planet colonized by humans who fled planet Earth. In your quest to find your people, you'll set off on a galactic adventure where you'll meet a host of colorful characters and visit unimaginable locations.

Out There Chronicles is a unique adventure set several million years before Out There. Where do the Arks come from? What are the Cubes? Fans of the original game will find answers to some questions, but others will remain a mystery.
You'll also meet various alien races and get the opportunity to learn more about their people… If you can master their language, of course.

In this universe that is so far from your own in distance and in time, a sharp mind and an instinct for survival are your only weapons. Friendships can be forged and ancient rivalries re-emerge through your encounters with almost-human and less-human races. Will you be able to distinguish friend from foe?
As in the original game, a single human is unable to face the forces of the universe alone. Achieve your goals by exercising diplomacy when needed, and seizing opportunities when they present themselves.

Written by FibreTigre, author of the original game, Out There Chronicles offers an epic story that will delight science fiction fans in search of new experiences.
Brilliantly illustrated by top French SF artist, Benjamin Carré, and equipped with a simple interface, Out There Chronicles will take you on a journey of adventure, even if you've never played a video game before.

Features
• 80 achievements
• An interactive science fiction graphic novel written by FibreTigre (Out There)
• A complex dialogue system: your choices can have consequences later in the adventure
• Master the alien language and discover their cultures
• Stunning, varied environments
• Develop relationships with an array of complex characters
• Revelations on the Out There universe
• A simple, accessible interface
• Magnificent illustrations by Benjamin Carré, the French master of science fiction
• Captivating music composed by Siddhartha Barnhoorn (Antichamber, Out There…)
Download Out There Chronicles – Ep. 1
Speech Recogniser
Normally $9.99.
With this revolutionary app, you won't need to type anything any more. You just speak and your speech is instantly converted into text.

:: MAIN FEATURES ::

This brilliant speech-to-text app will allow you to do more with your iPhone :

• Post status updates on Facebook.
• Tweet.
• Translate your speech into more than 40 languages.
• Copy your text to other apps.
• Hear your translation being read aloud to you.

:: SUPPORTED LANGUAGES ::

العربية, English (Australia), English (UK), English (US), Español (España), Español (México), Bahasa indonesia, Bahasa melayu, čeština, Dansk, Deutsch, français (Canada), français (France), italiano, Magyar, Nederlands, Norsk, Polski, Português, Português brasileiro, Pyccĸий, Română, suomi, Svenska, Tϋrkçe, Ελληνικά, 한국어, 中文(中国), 中文(臺灣), 廣東話, 日本語.

Speech Recogniser uses the latest technologies in speech recognition and machine translation. As a result, the app requires an Internet connection.

Speech Recogniser will definitely make your life easier. GET YOUR COPY NOW.
Haunted Home AR
Normally $1.99.
Neutralise ghosts, wizards, bats and dragons in this chilling version of Haunted Home AR, a cutting-edge augmented reality game that brings the supernatural fight directly to you.

Want to turn your bedroom or backyard into a creepy cauldron of demons and scary creatures? Haunted Home AR provides a unique, immersive gaming experience in your very own surroundings. Play at home, play at the beach, play in your backyard…transform your space into something like a scene from a horror film!

You'll enter the game via a fiery pit, using all of your wits and skills to outplay and outmanouver your spooky opponents. We haven't left you empty handed – use your weapon and move around to avoid a certain death.

Haunted Home comes with a spine-tingling sound track that'll have you on edge as you play.

If you're a fan of Halloween, scary and horror movies, first-person shooters, augmented reality (AR) or cult TV & movie horrors, Haunted Home AR is the game for you.

Features:

– Augmented reality that provides a unique experience each time you play
– Transforms your familiar surroundings into a super-creepy environment
– High quality special effects
– Creatively-imagined and portrayed characters including ghosts, haunted dolls and wizards
– A wide range of spooky characters
– Thrilling and unexpected scenarios to test your wits and reaction times
– High quality and realistic bat creatures
– Spooky sound track to enhance the scary atmosphere
– Ad-free with no need to buy add-ons

Download NOW to start playing!
Visual Chart
Normally $4.99.
Visual Chart makes it easy to create powerful and gorgeous charts. Just drop your data into it, choose colors you like, fonts and customization options, it give your chart a polished look.

• Visual Chart designed for mobile device, current version supports line, area, step line, 2-Axis, column, bar, heatmap, pie & doughnut, polar area, radar, map more than 30 charts.

• Annotate your chart with line, arrow, text, and images. if you made mistake, just double tap to delete it.

• Annotate image from your camera roll. All tools you need is here: line, dash line, arrow, rect, circle, text, magnifier, spotlight and blur. Layers management let you reorder and lock/unlock layers.

• AirDrop Share. Use AriDrop to share chart file, checklist with people nearly.

• iMessage Extension( iOS 10 Only ). Bring every chart to the iMessage. Have a chart that you'd like to send to someone? just send it in the iMessage! You can also create, modified charts from iMessage anybody sent you. With Visual Chart iMessage extension, you can start a vote or checklist with anyone using iMessage and you can import lists anyone sent you.

• Work with your iPhone. Let your data tell the story, you can input data in Visual Chart as simple as Excel, you can also accept charts with AirDrop by anyone nearly sent you, or you can open Comma-separated values file on iCloud Drive, then Visual Chart will do the rest.

• Got any ideas in mind? just tip with your finger, you can sketch an idea or plan in your chart. You can choose colors and eraser if you make a mistake. When you done, just one tap, you can easily share it to your friends.
FileCalendar
Normally $0.99.
FileCalendar is an incredibly useful app that works directly with your existing iPhone and iPad calendar. It lets you attach files, notes and contacts to events.

FileCalendar is intuitive and easy to use. Only a few clicks and the files are saved directly to the events, either through the app FileCalendar or through other apps. It is even possible to capture images and movies from the built-in camera and store them in your event.
Files can be renamed, shared and uploaded to cloud storage apps such as Dropbox, iCloud Drive or Google Drive. Images can be posted.

FileCalendar is a powerful calendar app in itself. You can edit and add calendar events. These adjustments will be automatically synchronized with your existing iPhone and iPad calendar.
Files will only be stored on the devices on which they have been attached to calendar events.

Try out this app for free on your device. You can use FileCalendar Lite.

FEATURES
• Built-in Camera
• Easy-to-use app to attach files to calendar events
• Easy upload of files from iTunes on your PC to FileCalendar
• Share your files with friends
• Synchronize events with the default calendar
• The app operates with more than 20 frequent file types
• Upload files to cloud apps
• User-friendly functions to search for and to rename files
• Write notes
• Zip and unzip files
• Free of advertising
Fonti – Font Keyboard
Normally $0.99.
New !
Fonti – the first keyboard app with genuine fonts.

From now on writing messages is even more fun !
Write your messages in unique fonts & colors that will add a new meaning to your text.

The Fonti keyboard contains 50 special fonts.
You can match different colors and backgrounds to decorate your text.

You have amazing fonts to choose from:

TV & MOVIES FONTS: VIDEO GAMES FONTS:
Harry Potter, Matrix, Super Mario, Minecraft,
Star Wars, Mickey Mouse Pokémon, Pac-Man, Halo

FOREIGN STYLE FONTS: OLD STYLE FONTS:
Russian style, Chinese style, Medieval, Typewriter,
Japanese style, Roman style Old newspaper

DECORATIVE FONTS: TECHNOLOGY FONTS:
Brush, Graffiti, Hacker, Top secret,
Cartoon, Romantic Old computer.

HANDWRITTEN FONTS: CELEBS FONTS:
Several handwritten styles, President Donald Trump
from classic to artistic.

Fonti works on all messaging apps: Mail, iMessage, Messenger, Whatsapp, Hangouts, Kik, Viber, Line, Telegram, WeChat, Tango, GroupMe.

Express yourself with style and enjoy.
Download Fonti – Font Keyboard
---
Our deals and product reviews are picked by BGR's expert editors and team.

Follow @BGRDeals on Twitter to keep up with the latest and greatest deals we find around the web. Prices subject to change without notice and any coupons mentioned above may be available in limited supply.