If you purchase an independently reviewed product or service through a link on our website, we may receive an affiliate commission. Learn more.
Have you been looking for an app to help you fall asleep? What about an app that will let you find any emoji you can imagine in a heartbeat? Or an app that will allow you to turn your photos into posters? All of that and more is available in today's selection of paid apps that have temporarily gone free on the App Store.
This post covers paid iPhone and iPad apps that have been made available for free for a limited time by their developers. BGR is not affiliated with any developers. There is no way to tell how long they will be free. These sales could end an hour from now or a week from now — obviously, the only thing we can guarantee is that they were free at the time this post was written. If you click on a link and see a price listed next to an app instead of the word "get," it is no longer free. The sale has ended. If you download the app anyway, you will be charged by Apple. Subscribe to our feed to be notified as soon as these posts are published, and you'll avoid missing the sales we cover.
kirakira+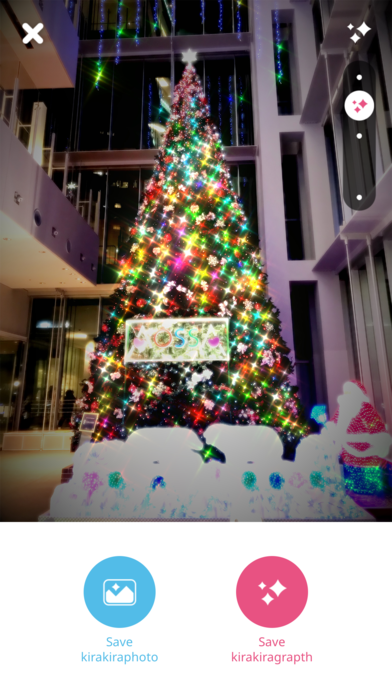 Normally $0.99.
With this app, you can add effects like a cross filter to attach to the camera lens. Light emitting materials and reflective object will shine even more.
Jewelry, glass, illumination, etc. Please use when you want a gorgeous shot a little!
!!! Please be careful for too much light. !!!

■ Basic function
– You can shoot the video and photo with impressive Glitter effect.
– You can edit photos and videos from photo albums.
– You can create "kirakiragraph" from still image.
– Swipe left and right to change effect.
– Adjust light with Kirakira power slider.
– On the confirmation page, 25 histories are displayed.
( Please check the photo album for the shooting data older than that. )

■ Notes
· Sometimes, there is an unintended area is sparkling ….
· By the situation at the time of shooting,
the video might not all glitter or too sparkly.
Please try to adjust with kirakira power slider.

#FEEDBACK

if you experience any problems or have questions or suggestions please contact:

info@kirakira.plus

If you can send a defect report,
it will be helpful if you can describe your model and iOS version.
---
Light Photo FX – Poster Maker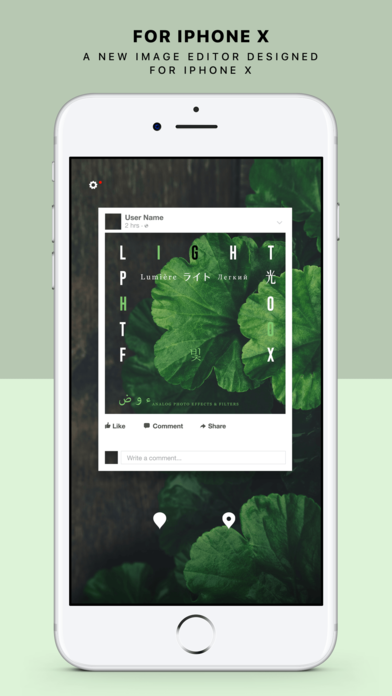 Normally $1.99.
Light Photo FX is the simplest and most powerful tool to transform your regular posts into creative posters in a few clicks, whether you are looking for vintage sentiments or artwork or light leak, you will find it all in Light Photo FX, Install now!

• A Photographer's MUST-HAVE Utility.
• Created Casual beauty image.
• Get a artistic and beautiful light leaks photo.
• Select including sticker, border, artwork, totem, icon and illustrations.
• Celebrate, encourage, congratulate, say happy birthday.
• Easily replace images with your own photos in templates.
• Perfect tone, color, contrast and fade.
• Design photos to create your unique style.
• Enhance your images with magic light effects.
• Resize, flip and rotate images.

Light Photo FX allows you to write a quote, design a poster, send a photo message or wish someone a happy birthday, choose from images, sticker and artwork add design photos to boost your social media profile, list of high quality artwork packs created by designer, hese special effects can be applied both globally and individually on your photos.

Have any questions? Contact us!
oneapps@yahoo.com
https://lightphotofx.weebly.com
Download Light Photo FX – Poster Maker
---
MemoMa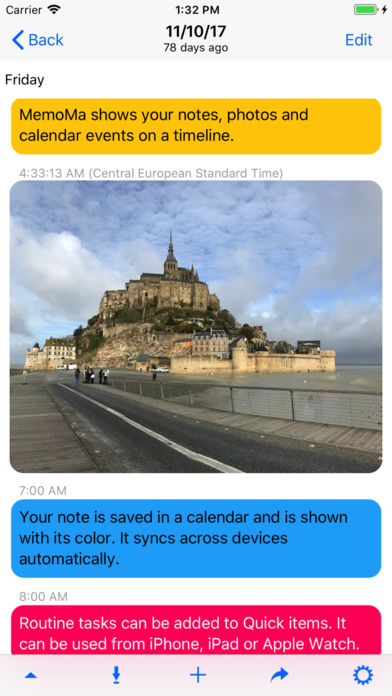 Normally $3.99.
MemoMa is a simple note taking app. It saves your notes in your calendar, which means you can read the same notes from any device or web site as long as the same calendar can be configured. Your notes can be displayed next to other calendar events. Having both your notes and your events on a single timeline makes the context easier to understand when you review them. Also, because your data is on your calendar, it's synced across devices automatically and seamlessly. You can move your notes from MemoMa to other apps if your calendar supports exporting, such as CSV. Because your notes are saved reliably on portable media, you do not have to worry about losing them when you upgrade your OS or purchase a new device.

What It Can Do:
Write a plain text message with non-animated emojis.
Show notes and events on the same timeline, all expanded (no need to tap each item).
Show photos next to calendar events and share them.
Create multiple views to choose which calendars to show (and turn on/off photos)
Off-line access. Automatic syncing when online.
Spotlight search or search within app Supports iPad & Apple Watch

What It Can NOT Do:
No tags
No formatted text
No images or videos
---
Pulse Breathing
Normally $0.99.
Pulse is an innovative relaxation app featuring scientifically proved breathing techniques and a futuristic breath visualization that help you reduce stress, fall asleep in just 60 seconds, improve your sleep cycle and prevent cardiovascular problems.
The innovative designed, simple interface of Pulse makes it one of the best and most revolutionary breathing apps on the App Store.

-> Features of Pulse:

– Fall-Asleep-Technique: scientifically proved breathing technique developed by Andrew Weil that can make you fall asleep in about 60 seconds
– Relaxation-Techniques: breathing techniques commonly used by the military to reduce stress in battlefield-situations; claimed to be the 'natural sedative of the body'
– Innovative breath visualization: Pulse uses a completely new form of breath visualization developed for several months that is supposed to bring breathing apps onto a new level of simplicity and effectivity
– Breathing Reminder: a simple but efficient breathing reminder helps you improve your long-term results
---
Qmoji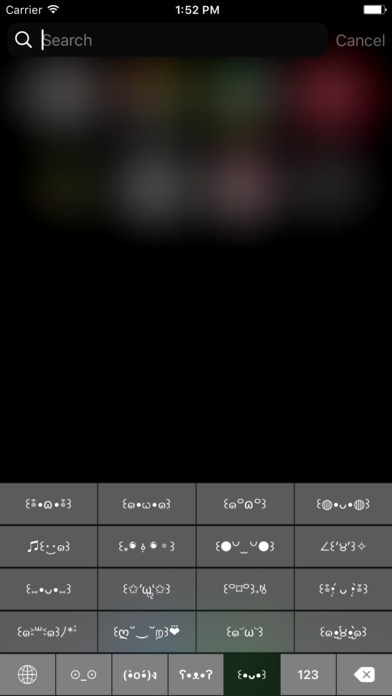 Normally $0.99.
Qmoji is a real keyboard that works just like the Emoji keyboard you know and love!

Qmoji has many cute kaomojis

The best part is you can use the Qmoji directly in the text messaging app, Facebook, Twitter, Email, Notes, Viber, Whatsapp, Snapchat… or any app that shows the normal keyboard can show our Qmoji keyboard!

This is the best Japanese keyboard app!
Qmoji requires iOS 8 or higher.

Qmoji Stickers for iMessage
You can send Qmoji stickers on their own or peel and place them on any message bubble in your conversation.
---
SnapFun Pro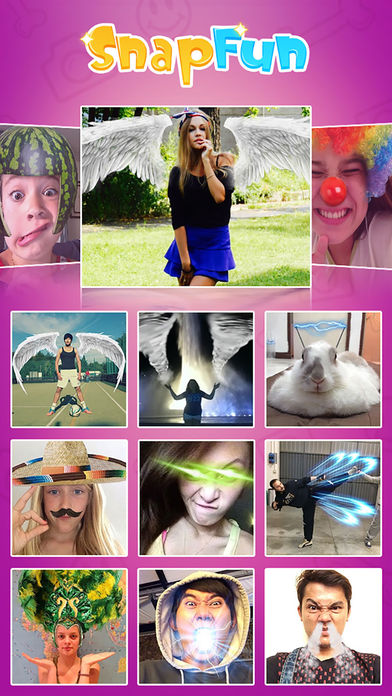 Normally $0.99.
The most funny app in the world! Show the world your magic via amazing looking collages you have never seen in any other apps!
Looking cooler than any of your friends, making your whole family laugh out loudly just need one thing: grab your camera and take photos with SnapFun Pro!

To be the Hero, the Villain, the Monster, everything you have ever wanted before!

SnapFun Pro contains:
– NO advertising, NO watermark, and include 6 FREE pose packs.
– Various fancy collages like Monster, Fantasy, Fun, Holiday, Magic, Beard, Animal, Travel, Wings, Demon, Headdress…
– New portfolios will be added soon.
– More filter functions make your photos cooler.
– Quick and easy selfie.
– Provide poses for instruction,challenging your imagination.
– Let your friends see your creation on Facebook, Instagram, Twitter, Dropbox, Flickr, Tumblr…

You won't believe how great this camera app is until you use it!
Truly worth every cent!

Have suggestions or problems? Contact us via email: eckellt@outlook.com
---
Warmlight – Manual Camera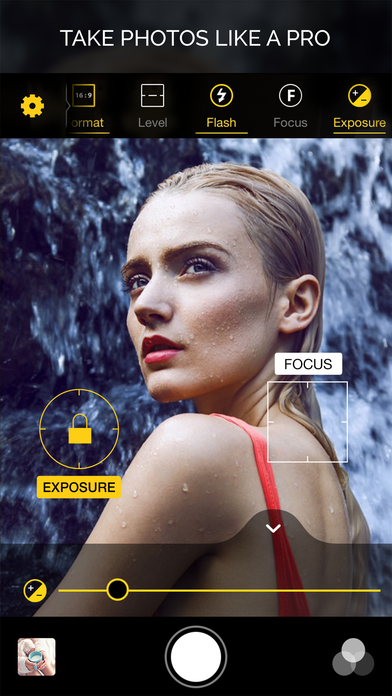 Normally $4.99.
Featured in Best of 2016 Top Paid collection on the App Store!

Warmlight is a remarkably easy-to-use camera and photo editing tool. It lets you take professional-looking shots and access extended image editing parameters for great results.

Apply live filters, take stunning shots, adjust an image like a pro and share your creations easily.

Designed for perfect shots:
* Smart Focus & Exposure control – set and adjust them manually before taking a shot:
1. Point camera at object and tap the screen
2. Tap and move Focus and Exposure controls to adjust them
3. Set Focus on object, tap the control to activate, and adjust it
* Support of the default Photos app with the Warmlight extension: apply designer filters, overlays, and adjust any pictures from the gallery
* Extended photo editing tool: adjust shadows/highlights, contrast, tint and more

Shoot:
– Take fullscreen or square shots using either front or back camera, or take most of the dual-lens camera on iPhone 7 Plus & iPhone 8 Plus
– Get perfect colors with white balance presets (Lamp, Sun, Flash, Cloudy, Custom)
– Use intelligent exposure control for even better shots
– Manually adjust focus
– Activate horizon level tool to make perfectly straight horizons
– Use 3 or 10-second​ timer, so you'll have enough time to appear on each photo you take
– Apply live effects while taking photo to save time on editing and don't miss your precious moments

Edit:
– Enjoy professional photo filters
– Perfect the image with artistic designer overlays
– Make the photos look more natural and symmetrical with perspective correction tool
– Make a final touch by adjusting brightness, warmth, contrast, shadows and other parameters
– Create extraordinary dramatic effects using vignette tool
– Edit your images right in the Photos app with no interruptions

Share:
– Save the image and share it to Instagram, Facebook. Follow us on Instagram at @warmlight_app and add #warmlight hashtag if you want to be featured!

For complete access to all Warmlight features, you will need to allow access to the following:
*Photos – to import your images, edit them and save to your gallery;
*Camera so that you can take and edit photos right in the app.
Download Warmlight – Manual Camera
---
Our deals and product reviews are picked by BGR's expert editors and team.

Follow @BGRDeals on Twitter to keep up with the latest and greatest deals we find around the web. Prices subject to change without notice and any coupons mentioned above may be available in limited supply.