If you thought yesterday's post covering iOS apps on sale was good, wait until you see today's roundup. We've got 10 great paid iPhone and iPad apps on sale for free today, and they span just about every category you can think of. Hurry up and get 'em while they're free!
This post covers paid iPhone and iPad apps that have been made available for free for a limited time by their developers. BGR is not affiliated with any developers. There is no way to tell how long they will be free. These sales could end an hour from now or a week from now — obviously, the only thing we can guarantee is that they were free at the time this post was written. If you click on a link and see a price listed next to an app instead of the word "get," it is no longer free. The sale has ended. If you download the app anyway, you will be charged by Apple.
Cranky Weather – FML Reports
Normally $1.99.
There's always something to complain about, specially when it comes to weather.
Cranky Weather gives you hilariously twisted weather reports for every situation!
Download Cranky Weather – FML Reports
Throwback Stories
Normally $0.99.
Throwback Stories helps you create stunning Instagram Stories from your memories, providing a set of useful tools to enhance and animate your stories. No more 24-hour limit, ugly cropping or rotated landscape stories!

We've built Throwback Stories to help you relive your moments from the past. Every day, we'll come up with a new throwback story for you, sourced from your camera roll and linked Instagram account (Google Photos and Facebook coming soon!)

Let us know your questions and comments in the reviews! We're always improving it based on your feedback.
Floof – A Rope Swing Odyssey
In-app purchase to remove ads normally $1.99, currently free.
Safely swing through alternate dimensions as you skilfully jump from rope to rope, avoiding the deadly obstacles and
challenges in your way. With minimal graphics, simple one tap controls and relaxing background beats, you'll lose yourself
in the rope swinging world of Floof!

Explore different dimensions, each with their own laws of physics and other unique challenges. Tap and hold with one
finger to shoot a rope anywhere on the map, hold and release to swing – time your swings carefully and shoot your ropes
accurately to get your hero to the wormhole and progress to the next level. Complete each level in the fastest time
possible, in the fewest swings possible to earn a higher rank.

Each world has many obstacles standing between you and the wormhole – fiery hot lava will burn you to death, air streams
can blow you off course and the rugged terrain can be tough for even the most experienced inter dimensional rope
swingers!

——————————————–
FLOOF: A ROPE SWINGING ODYSSEY – HIGHLIGHTS
——————————————–
– Swing from rope to rope through 40 different levels, dimensions and worlds
– Experience different laws of gravity and unique challenges on your journey
– Simple one-tap gameplay, just tap, hold and release to swing
– Minimal, beautifully designed graphics and levels
– Swing in style with relaxing, retro background music

Immerse yourself in the interdimensional rope swinging world of Floof wherever you are – you don't need an internet
connection to play! With new maps being released constantly, we'll bring you new challenges to put your rope swinging
skills to the ultimate test.

SWING THROUGH DIMENSIONS IN STYLE – DOWNLOAD FLOOF TODAY!
Download Floof – A Rope Swing Odyssey
CalcKey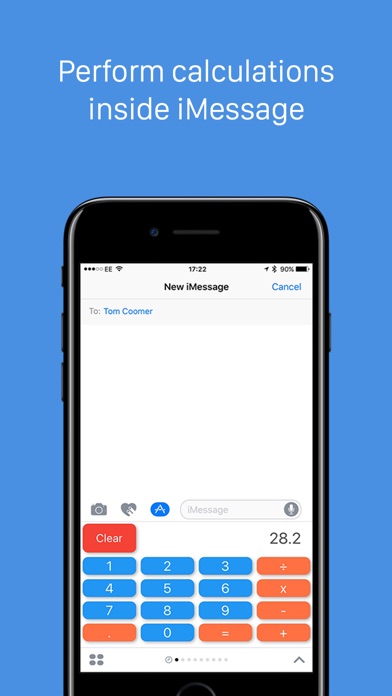 Normally $2.99.
CalcKey is a calculator iMessage app for iPhone. CalcKey allows you to perform calculations right within iMessage, without even having to leave the app, so you finally work out exactly how much your friend owes you for dinner more quickly and easily.

With fun bouncing animations, bright, bold colors and speed and simplicity, calculating sums has never been so fun!
GlowOrbX
Normally $0.99.
GlowOrbX is a level based avoidance game. Weave your way past various hurdles and obstacles to progress through each level. There are six playable characters and the GlowOrb behaves differently inside each character. They can all be unlocked by collecting GlowOrbs throughout the game. Can you unlock all six?

Checkpoints are placed routinely, allowing for short sessions that can be saved and continued whenever you get a chance. However, if you do get stuck you can use the skip level functionality to move onto the next level. So there is no excuse for giving up!

Be sure to invite your friends and challenge each other to see who is the GlowOrb king amongst your peers.
Fuelly
Normally $5.99.
Easily track your vehicle's fuel economy and vehicle maintenance records. Set up reminders to keep on top of maintenance tasks such as oil changes and tire rotations. Fuelly makes it easy for you to save money with gas mileage calculations (MPG) and service reminders.

The Fuelly app seamlessly integrates with Fuelly.com, the web's most used gas mileage tracking website. Easily manage the cars in your garage and log each fuel-up. At each fuel-up, just add the miles, gallons and price per gallon and see your MPG data grow. All data is beautifully displayed and perfectly synchronized with your vehicle on Fuelly.com

Features:
• Tracks gas mileage and vehicle maintenance
• Attachments to store photos and PDFs
• Online sync to Fuelly.com
• Charts: MPG, stats, gas price, gas expenses, service expenses
• Customizable service reminders, with presets like oil changes, tire rotations, and more
• Priority support via in app messaging
• Supports multiple vehicles
• Store vehicle data: VIN, License Plate, etc.
• Excel compatible email reports (CSV attachment)
• International Units: MPG (US), MPG (Canada), MPG (UK), MPG (Imperial), L/100km, gal/100mi (US), gal/100mi (Imperial), km/L, km/gal (US), km/gal (Imperial), and mi/L

"App Store Pick of the Week." —Apple

"Gas Cubby makes its mark not only with its power, but with its flexibility." —Kyle Baxter – Macworld
Willing Webcam
Normally $0.99.
Willing Webcam is a software that gets video from the built-in cameras and from about 400 ip network cameras to Mac video cameras via Willing Webcam for Mac. You can find the Mac version in Mac App Store.

• Picture feature. Save webcam images to program albums instantly or at preset intervals. See 'f' icon on the camera in the main window.
• Instagram Picture feature. Upload webcam images to Instagram instantly or at preset intervals. You can delete Instagram images using their copies in Album window. See 'f' icon on the camera in the main window.
• Albums. Open the left panel Groups, then Album window to see the saved images. Tap an image to open Image window.

How to start working:

• Create a group in the Groups section.
• Tap + icon to add a built-in or an ip camera to the current group.

If you selected a built-in camera:
• Tap the Add button.

If you selected an ip camera:
• Select a cam manufacturer from the upper horizontal list.
• Select your network camera from the model table below the list.
• Specify the IP address of your network camera. Use the following format if the camera's port is not 80, ip address:port. Otherwise you may use only the IP address without a port, ip address.
• Specify the Authentication options, if your camera is protected.
• Tap the Add button.
• If you don't see a webcam image, enter under the manufacturer's web settings of your ip camera and change MPEG-4 video format to JPEG or MJPEG. Try all the items for your model.

• You may save or/and upload images instantly for all features of a camera in the main window, involved features must have the Enable switch with state true. Just tap the camera. It's possible to disable all features without their edit using the upper-right corner of a camera in the main window.

The program supports directly the following network cameras:
http://ios.willingwebcam.com
The desktop version from Mac App Store can provide video for the mobile version using HTTP Server feature: http://www.willingwebcam.com
Week Calendar Pro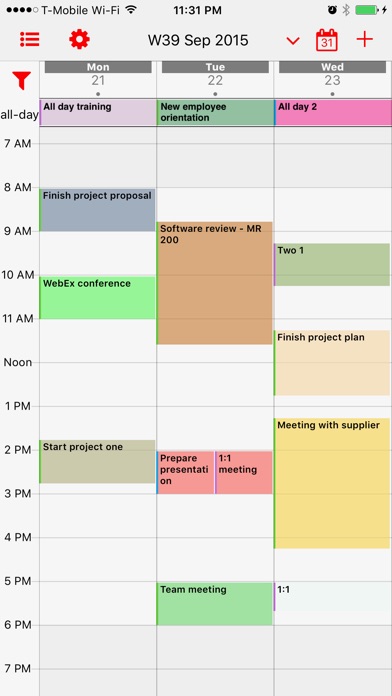 Normally $1.99.
A different approach to working with calendars. Fully customizable week calendar to link all your calendars to. Week Calendar Pro allows you to fully customize what you what to see on your calendar through a nice drop down preset that you can quickly switch between.
Add unlimited presets to filter out:
– Days (show/hide any day)
– Select which calendars to show
– Select up to three working weeks (15 days)
– Zoom in/out on hours or view 24 hours
– Select which day is first day of week
– Tap and hold to add new event
– Drag existing events to reschdule
– and many more to discover …
Orderly – To-do Lists, Location Based Reminders
Normally $0.99.
— Featured by Apple 2017 'New Apps we Love', and now over a million satisfied users of our Apps —

"Orderly is designed based on how the human-mind visualizes to-do lists !" It is a nice and incredibly easy to use to-do list app, that features a breath-taking interface, seamless cloud sync, and comes with "Location Based Reminders", so that the users never miss a to-do task at a particular location.

It is now updated with great features like unlimited categories or folders, and powerful search.

Orderly displays the to-dos using the APPLE's bookshelf metaphor, so that you get a glimpse of your to-do lists without having to open them individually.

THE BEST part of the App is:

* Orderly automatically prioritizes your to-do list items by moving around those sticky notes between various priorities *

Key Features

1. Visual interface and layout, provides absolute ease for managing errands and chores.
2. Location based reminders, alerts you of a to-do at a particular location.
3. Auto prioritizing of to-dos.
4. Recurring to-dos.
5. Cloud sync across devices
6. Unlimited categories for to-dos.
7. Powerful search within a category or across all folders.

* * * Highlights * * *

* Create multiple folders and categorize the todo lists in it.
* LOCATION based Alerts, reminds you of the to-do or task at the place you are in !
* Sync across multiple devices with DropBox sync
* Complete to-dos with simple gestures.
* Undo a completed item
* Automatically prioritizes your todo based on the time and day.
* Search through Archives of completed to-do lists.
* Store in archive for any number of days.
* Optional manual prioritization

* * GESTURES * *

# Pinch to zoom out.
# Swipe right to mark to-do tasks as completed
# Swipe right again to undo a completed task
# Swipe left to delete to-do task
# Long press to delete or drag and drop to move a to-do list to a different priority
# Drag and Drop on the "New" icon to create a copy.
# Drag and drop on the "Flip" icon to move it to another folder.
Download Orderly – To-do Lists, Location Based Reminders
Metadata
Normally $1.99.
Metadata is an image metadata viewer for creative professionals on the go.

Simply choose an image from your photo library and view the image metadata in a beautiful card based layout. Wether you shoot on your phone, DSLR or create images in your favourite photo editing application, Metadata will show you your image measurements, DPI, file size, Location data and device information.

Metadata can display weather data about your photo including temperature, weather conditions, sunrise an sunset times, even if the camera doesn't record weather data.*

You can use Drag and Drop on your iPad to import images from the Photos App, Files, Safari or any other app that supports image drag and drop.

*Weather data is powered by the Dark Sky API and requires the image to have location data, time and date information and an internet connection.