If you purchase an independently reviewed product or service through a link on our website, we may receive an affiliate commission. Learn more.
Are you getting bored with your iPhone or iPad? Perhaps you're looking to spice things up with some fresh new apps but you don't want to spend a lot of money. Well, browse today's roundup of the best paid iPhone and iPad apps on sale for free and you can fill your device with nine new apps and not pay a single cent.
This post covers paid iPhone and iPad apps that have been made available for free for a limited time by their developers. BGR is not affiliated with any developers. There is no way to tell how long they will be free. These sales could end an hour from now or a week from now — obviously, the only thing we can guarantee is that they were free at the time this post was written. If you click on a link and see a price listed next to an app instead of the word "get," it is no longer free. The sale has ended. If you download the app anyway, you will be charged by Apple.
Oxygen Offline Browser
Normally $1.99.
Oxygen Browser is not just faster and easier. With this app, you can access your favorite websites where there is no internet connection and keep the contents updated, in a highly customizable and smart way.

*:._.:*~*:._.:*~*:._.:*~*:._.:*~*:._.:*~*:._.:*~*:._.:*~*:._.:*~

This app is great for you, if –

– You need to access to your favorite websites where there is no internet connection, such as in a plane

– You are frustrated with your current browser where internet is unstable, such as in a subway

– You want to update websites automatically when you have Wifi to avoid cellular data usage and save money*

– You want to archive webpages or PDF files and keep them as they are

– You've signed up the mission to Mars and you want to be prepared because other browsers are going to be useless

– Still not ringing any bells? Well, you might simply want an easier, cleaner and smarter web browser

Features

*:._.:*~*:._.:*~*:._.:*~*:._.:*~*:._.:*~*:._.:*~*:._.:*~*:._.:*
*:._.:*~*:._.:*~*:_.:*~Offline Browsing:*~*:._.:**:._.:*~*:.

– Automatically make currently tabs offline viewable

– Create offline pages to view them offline

– Save pages linked to the offline pages, you can specify how deep the pages should be saved and how many page at maximum it can save.

– Option to save the whole website. The number of the linked pages you can save for each offline page is up to 9999.

– Schedule auto-update your offline pages, it can be at a specific time daily or with a specific time interval. Each page can have its own update schedule.

– Autoupdate works when the app is in the background. (Due to system limitation, background auto-update may not always be on time. If your web updates are critical, please launch the app and let it update in the foreground)

*:._.:*~*:._.:*~*:._.:*~*Save Web Page:._.:*~*:._.:*~*:._.:*

– Different from offline page. You can save a web page as it is and the saved page won't be updated. It helps you archive different versions of the same web page.

– Effective way to save PDF and serve as PDF document reader

*:._.:*~*:._.:*Ads and social plugins blocker:._.:*~*:._.:*~

– Effectively block ads and social network plugins. Make your browsing faster and save data usage.

*:._.:*~*:._.:*~*:._.:*~*:.Utilities.:*~*:._.:*~*:._.:*~*:._.:*~*

– Import bookmarks from most other browsers and export bookmarks

– Autosave your login and password and synchronize across your devices

– Choose your favorite search engine as default

– Choose desired user agent

FAQ

A. Are all the web page can be made viewable offline?
Q. Almost all the web pages can be created as offline pages, except secured pages (the pages starting with "https: //") and contents that are not originally supported by iOS, such as Flash player.

A. Is this app going to consume a lot of storage?
Q. It depends on how many offline pages you create and how deep the links are enabled. Suppose average web page size is 1.3 MB, if you create 5 offline pages with each page has its whole web site enabled, say 200 web pages for each site, then the app will consume about 1.3 GB space.
Download Oxygen Offline Browser
Wakee
Normally $0.99.
Enjoy a new way of waking up in the morning with Wakee, your new free musical alarm clock!

Set your alarm, pick one of your favorite genre among more than 15 music types and that's it! Wakee will wake you up by selecting for you one music from your favorite genre.

If you liked the music, find it in your favorites and listen to it again on YouTube, Spotify and Apple Music.

One more thing: Wakee even works in background mode, no need to keep the app on screen! How awesome is that?
iPassSafe
Normally $3.99.
◆ iPassSafe Protecting Your Privacy ◆

> TOP SECURITY
○ Using iOS AES-256 encryption and PBKDF2 to automatically encrypt all your data as soon as it's stored in iPassSafe by a Master Password that only you know
○ All data stored on your device only (cloud is optional)
○ Self destruct option after 10 tries
○ Logout timer when inactive
○ Lock timer when using other App
○ Delete clipboard (optional)
○ Strong Built-In Password Generator to create unique passwords
○ Stay anonymous, account creation is not needed
○ Touch ID support

> ALL YOUR DATA
• 24 x Custom categories you can design as you want
• 19 x Built-in categories including:
○ Logins (Web, Email, FTP…)
○ Credit Cards
○ Photos (from Gallery/Camera)
○ Bank accounts details
○ Safe/PIN numbers
○ Text notes
○ Documents (PDF, Word, Excel, PPT …)
○ Contacts with Build-it call/send email option
○ ID cards
○ Passports
○ Driving License
○ Software License

> INTEGRATION WITH SAFARI APP
○ Fill Login directly in Safari App, by iPassSafe
○ New Logins pulled in from Safari App to iPassSafe
○ Support auto login with 3 (up to 4!) Parameters
○ Icons pulled in from any of your websites automatically !

> SYNC
○ 5 Sync options (iCloud, Dropbox, FTP, AirDrop & Email)
○ All data get encrypted before sync
○ Cloud is optional but not a requirement

> ADVANCED FEATURES
○ Air Print (Single/All Items)
○ Contact import from Address Book
○ Call & Send Email to private contact using App
○ Login to private Gmail/Yahoo account from App
○ Built-in browser with auto/manual login
○ Built-in search tool
○ Dynamic sorting option
○ Multiple Databases (per users or contents)
○ Private Expiry Reminder (Credit card, Driving License…)
○ Available in 17 languages

> WHY CHOOSE IPASSSAFE ?
○ iPassSafe provides top rate data security together with intelligent and user-friendly interface for rapid access
○ No hidden cost – You pay only once and get all features without any subscription

> ABOUT APP
iPassSafe is available on AppStore since early 2011 with more than 600,000 users worldwide, it delivers most comprehensive, user friendly and reliable solution to personal data security.

> NOTES:
1. Remember Your Password !
without it , you will not be able to see your data.

2. Backup is not done automatically, the user is responsible for such a backup (IDB file) using features (iCloud, Dropbox, email, FTP …) exists in iPassSafe to avoid loss of data when device is lost , damaged or any other reason, furthermore iPassSafe is NOT providing any direct cloud service, password retrieval, or backup service for security reason (all data stored on your device only!), user need to decide where to do the backup (iCloud, user's private dropbox account, user's diskonkey using FTP, or user's email …), the user is also responsible for this backup safety.

3. Sync is not merging data, you have to keep all updated data on one device and use sync option upload file, than load and activate with password on all your other devices

4. Smart auto login algorithm is compatible with most web sites

5. Supports iPhone, and iPod touch. If you own an iPad, please check out iPassSafe Pro – universal app (Supports iPad, iPhone, and iPod touch).

> CUSTOMER REVIEWS:

"I have been using this app for years now to keep all my passwords and sensitive information,and have found it easy to use and would not hesitate to recommend it."

"RESULT AT LAST !!!!!
I have spent 4 evenings loading and trying out at least 29 Password Keepers and have finally found one that is straight forward to use with enhanced security.

"Analyst – Perfectly fit my business need"
Listify
Normally $2.99.
Listify designed as a simple and elegant solution to all the lists you make. It's uses are only limited by your imagination. With an emphasis on quick entry, a clean interface, as well as data that syncs to all your devices in real time, the app is simple but very powerful.

Features:

• Create colorful and fun lists
• Cloud syncing to all your devices
• A simple and clean interface
• Fast data entry

What could you use Listify for? Well here's a list:

• To do Lists
• Shopping Lists
• Packing Lists
• Inventories
• Bucket Lists
• Wish Lists
• Needed Items
• Projects
• Checklists
• Goals
• Outlines and Points to cover
• Places to visit
• Your Favorite Things
• And Much More!

Give Listify a try. We think you are going to love it!
Noteworthy Notes
Normally $0.99.
With Noteworthy Notes you can jot down any note or reminder that matters to you

A NEW WAY TO INTERACT WITH TEXT
Take UNLIMITED notes with a unique and accurate way. No more boring notes.

USE IT FOR EVERYTHING
Notes, reminders, lists, memos, tasks, phone numbers, mails, buckets, projects, ideas or anything else you can think of.

INTUITIVE DESIGN
• Noteworthy was designed with simplicity and functionality
• Stunning graphics make capturing ideas easy and awesome
• 20 beautiful colors to choose from

PERSONALIZATION
• Personalize each note, using multiple stylish theme colors. You can color-code your notes and show only specific color notes
• Customizable notes size, alignment, order, text size, color and font

iCLOUD SYNC
Sync all your notes on all your devices automatically. You don't have to do any setup!!!

WIDGET ON TODAY OF NOTIFICATION CENTER
• See your notes on notification center at a glance
• Navigate through your notes
• Open the app from the widget

RED BADGE ICON
• Use the red badge icon of the app to show how many notes you have
• Color-code your notes and show only specific color notes on red badge icon

REMINDERS
• Need to set a reminder for your note? Noteworthy notifies you, so you'll never miss an important event again!!!
• Set alarms from phone calendar

SHARE
• Share your notes from inside the app (mail, social networks, messages, copy to clipboard,…)
• Create note pics, set backgrounds, filters and share them on social networks: Instagram, Facebook, Twitter,…

NOTEWORTHY MEANS PRODUCTIVITY
• Customize size and order
• Prioritize notes
• Color-Code your notes
• Reminders with repeat functionality

MORE FEATURES
• Instant note search
• Sort your notes by priority, alphabetically or inverse
• Password protect your notes
• Word counter
• Full landscape support
Legend
Normally $1.99.
Turn text into stunning animations!
Put your words in motion. Inspire people. Make friends laugh. In just 2 taps!
Perfect for Instagram, Twitter, iMessage, WhatsApp. Save video or GIF.

~~ From the makers of 2014 App of the Year "Replay" ~~
Professional motion designers handcrafted each text animation with love, and the ambition to raise the bar of how we express ourselves visually. There are hundreds of combinations of typography, animations, backgrounds and colors to play with.

HOW IT WORKS
1. Write your text
2. Select a text animation style
3. Select a color/background combo

LEGENDARY FEATURES
– add & crop a photo for background,
– add & trim a video for background
– search for background images (thanks Flickr!)
– save video, or animated GIF, to Photo Library
– send autoplaying GIF in Messages conversations
– share video on Instagram, Twitter, Vine, Facebook…

COMMUNITY
Follow @legendapp on Instagram to see new featured Legends daily, and submit your own by adding #hypethetype to your posts.

FEEDBACK
We can't reply to reviews, please send your feedback to help@legend.im – we read them all.

POWER FEATURES
– times, distances, percentages trigger custom animations – try it!
– swipe left/right for next/previous screen
– Legend highlights hashtags, usernames, markdown
– Legend displays emojis
– Legend understands colors
– Legend animates numbers

DETAILS DETAILS
– text can be up to 100 characters
– Legends are square, 6 seconds videos or animated GIF
– Legend works on iPhone4S and up, is much faster on later models
– slo-mo videos & timelapses work as backgrounds!

Still reading? Great! Now go make Legends.
Costume Quest
Normally $0.99.
COMPATIBILITY NOTICE: This app will NOT be available on any device with iOS 11 or NEWER. It will still work on devices with iOS 10 or older but support will no longer be provided.

**Note: The music is currently broken in Costume Quest due to an issue with FMOD and the current version of iOS. Unfortunately a fix for this is out of our hands.**

Costume Quest is a Halloween adventure from Tim Schafer's Double Fine Productions. In this charming role-playing game, choose your hero and trick-or-treat through three beautiful environments full of Double Fine humor and story. Complete quests, build your party, and collect costumes along the way that allow you to transform into powerful champions and take down the evil Repugians. This heroic holiday tale will capture the imaginations of kids and kids-at-heart.

Continue the Costume Quest adventure with the Grubbins on Ice DLC pack. Face new enemies while collecting additional quests, costumes, battle stamps and creepy treat cards. Help the monsters overthrow Araxia to bring peace back to Repugia!
Color Magnet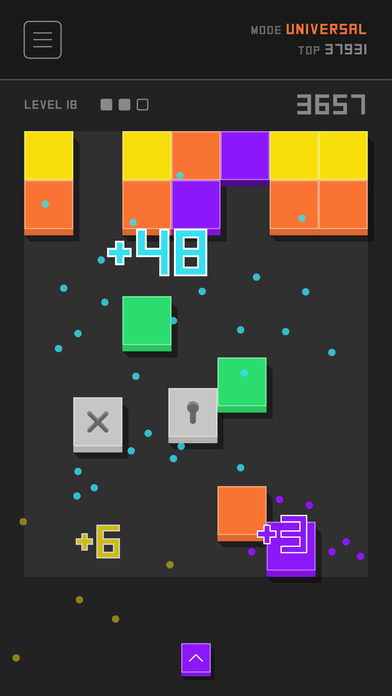 Normally $2.99.
Color Magnet is a simple yet defying and addictive puzzle game that challenges your brain and sharpens your mental skills.

Shoot magnets to the board to attract blocks of the same color and get a combination of at least 5 to make them pop. Only the closest blocks in the same row and column will be pushed. Whatever you do, just remember: don't let the blocks reach the bottom!

Relaxing and minimalist, with a clean and polished design, Color Magnet puts your puzzle skills to the test with its unique gameplay and clever concept.

Think strategically and be wise… It's entirely up to you to become a truly Color Magnet Master!

• THREE GAME MODES
Try to beat your high score in Classic or challenge the world in Universal, where everybody plays the same sequence each time. If you're willing to tease and dare your brain, try to clear the board across all levels in Puzzle!

• DAY AND NIGHT COLOR MODES
Choose between a lighter style and a darker one, each suited to a specific time of your day.

• LEADERBOARDS
Compete with your friends and the whole world, and prove that no one plays Color Magnet better than you!

• ACHIEVEMENTS
Unlock the amusing and challenging achievements that Color Magnet has prepared for you!

Come play and enjoy!
GoodCounter
Normally $2.99.
GoodCounter is a simple, but beautiful tally counter. It offers innovative features that are not shared by other counters!

TOP FEATURES

+ Count without looking at your iPhone with the innovative Fullscreen Mode
+ Get haptic feedback: your iPhone vibrates and/or plays a sound, when a button is pressed (changable in the iPhone settings app)
+ Use swipe gestures to easily navigate through the most important actions
+ Add the GoodCounter widget to the today view in order to quickly access your most used counters (up to two counters can be added to the today view)
+ GoodCounter also runs on your Apple Watch! Use it to control your counters from your wrist!
+ Add as many counters as you want to count anything you want!

SOME USE CASES FOR GOODCOUNTER

+ Count the sets you perform during sports – great for bodybuilders or athletes! Espacially if you use GoodCounter with an Apple Watch!
+ Count the hours you've studied so far for a school or college exam
+ Count your daily intake of cups of water or meals
+ Count the points for different teams at personal sport events
+ Count your daily achieved goals
+ …

Please rate GoodCounter, if you enjoy it and check out our other apps!
---
Our deals and product reviews are picked by BGR's expert editors and team.

Follow @BGRDeals on Twitter to keep up with the latest and greatest deals we find around the web. Prices subject to change without notice and any coupons mentioned above may be available in limited supply.