If you purchase an independently reviewed product or service through a link on our website, we may receive an affiliate commission.
Doing a full-scale clean of your home can be a daunting task in itself. If you're someone who procrastinates and oftentimes resorts to one big clean up (like a "spring cleaning" session, for example), you might find yourself in a bit of a precarious position — especially if you procrastinated cleaning areas like the kitchen or bathroom. Those places certainly need a little more regular maintenance, and there's arguably no better way to do so than by using disinfecting wipes. Of course, these disposable wipes essentially eliminate half of the cleaning process, which would typically be grabbing some kind of cleaning product and using them in conjunction with a sponge, paper towel, mop, or any other cleaning device. But with a disinfecting wipe, it's essentially just grab and go. The best part about them, though, is their versatility — you use them to clean a variety of surfaces, ranging from countertops to sinks to the bathroom floor. If you're someone who needs something to quell their cleaning-induced procrastination, then perhaps investing in disinfecting wipes is a good call. So we'll go through some of the best deals available online, so that doing your routine cleaning won't constitute the labeling of a "nuisance." Or at least, that big of one.
Best Overall Disinfecting Wipes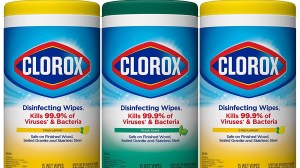 Certainly, you can't go wrong with anything made by Clorox, a staple of cleaning supplies for decades. Overall, this Clorox Disinfecting Wipes Value Pack is an absolute no-brainer. First and foremost, you're getting pretty great value here, as the whole package comes with three 75-count canisters that conveniently dispense your wipes for quick and easy cleaning. The scents — Fresh Scent and Crisp Lemon — are pleasant, yet not overbearing, which gives the room a fresh, clean odor. Each wipe is triple-layered to clean, disinfect, deodorize, wipe down messy areas, and remove allergens from your bathroom, kitchen, or any other area that requires a quick cleaning. They also contain no bleach, making it a safer alternative to other cleaning products. You can also use them in your child's room or on their toys without worry. These wipes truly live up to their "all-purpose" billing — they're great to use on a multitude of surfaces, ranging from granite, finished wood, stainless steel, and virtually any non-food-contact surfaces. So, yeah, basically, you can use these on anything that you don't have to eat.
Price:
Available from Amazon, BGR may receive a commission
Best Botanical Disinfecting Wipes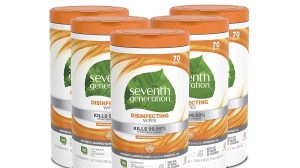 For something a bit more natural and, of course, beautifully scented, you'd be remiss not to try out a botanical iteration like these Seventh Generation Disinfecting Multi-Surface Wipes. These wipes are capable of killing 99.99 percent of cold and flu viruses botanically, giving you a fresher and more natural alternative to typical disinfectant wipes. These wipes are made with a variety of essential oils and botanical extracts, with the number one active ingredient being Thymol, which is a component of Thyme Oil. These versatile wipes can be used on virtually any hard, non-porous surface, whether it's a toilet seat, doorknob, kitchen counter, or even your child's crib. Not only do these wipes essentially mask any strong odor, but they can effectively remove germs, bacteria, and foreign substances with one swift wipe. And with the disposable Seventh Generation wipes, there's no need to waste paper towels or clean dishtowels to dry — just simply air dry for 10 minutes, and the non-toxic cleaning substances will do all the work for you. So if you're looking for a cleaning agent that will give your surfaces a natural-smelling, yet intense clean, this is the way to go.
Seventh Generation Disinfecting Multi Surface Wipes, Botanical Disinfectant, 70 Count, Pack of…
Price:
$33.99 ($0.08 / Count)
Available from Amazon, BGR may receive a commission
Best Value Disinfecting Wipes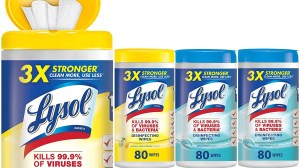 If you're looking for the best bang-for-your-buck — something that's both inexpensive and high in quality — this value pack of Lysol Disinfecting Wipes, Lemon & Ocean Breeze is a home run choice. First of all, for one low price, you're getting 320 wipes, which will certainly last you a while, regardless of how often you clean. These Lysol wipes can remove 95% of allergens and kill 99.9% of viruses and bacteria — including cold and flu viruses — so they're certainly effective throughout the house. They're also pretty versatile — you can, of course, use them in the kitchen and bathroom, but they're also ideal for wood furniture, floors, and even electronics. And what really makes them a no-nonsense cleaning agent is their unique micro-pocket pattern, which helps you quickly trap and lift tough messes. Any way you put it, you can't go wrong with these disinfecting wipes from Lysol.
Lysol Disinfecting Wipes, Lemon & Ocean Breeze, 320ct (4x80ct), Cleaning Wipes, Cleaning Suppli…
Price:
$24.99 ($0.08 / Count)
Available from Amazon, BGR may receive a commission