If you purchase an independently reviewed product or service through a link on our website, we may receive an affiliate commission.
Hitting up a barbecue joint can really be an awesome night out. If you're someone who loves meat, there's so much you can do at a restaurant like that. For those who have been to one before, you've probably seen an array of many different bottles of sauces that you can put on your ribs, burgers, wings, or any other foods sitting on your table. Rather than only being able to enjoy that kind of variety when you go out, you can buy condiment squeeze bottles for your home. Keeping various cooking oils, sauces, and items in a squeeze bottle makes it easier to grab them when you need them. This also makes it easier to store them, as you know exactly how much room each bottle will take up. Being stuck with different sized ketchup, mayonnaise, mustard, hot sauce, and relish bottles is a pain for organization. With any of the sets of condiment squeeze bottles we've highlighted below, you'll be able to top your meal with your favorite sauce or add-on in no time. Let's take a look.
Best Two Pack of Bottles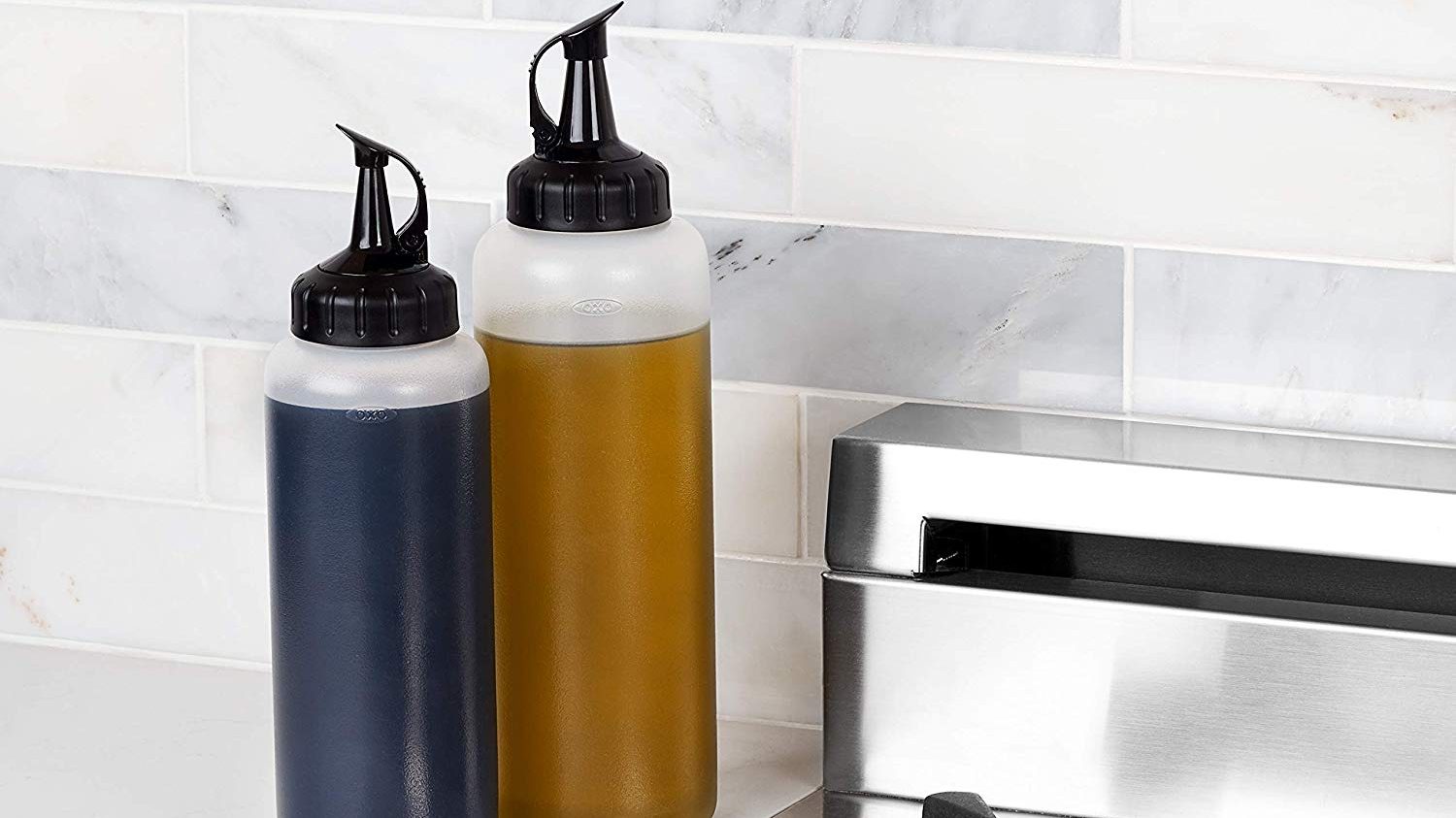 Allowing you to use your bottles for different consistencies of liquids, the OXO Good Grips Chef's Squeeze Bottle Set is a great kitchen companion. The reason this set is so great is because it comes with a medium bottle and a large bottle. The medium bottle has a thin tip and the large bottle has a thick tip, keeping your options for storage open. But these lids are interchangeable, so feel free to use them how you see fit. These tips are attached to the lids, so you don't have to take them off and potentially lose them when you do. They won't slide back over your top while you're using it either. When you do want to put them back on, they snap on, meaning you can shake and pour without worrying that they'll spray any juice anywhere. Each bottle is clearly marked, making measuring out your portions simple. You can measure in cups, ounces or milliliters. The bottles are BPA-free and can be put in the dishwasher, making them super easy to clean.
OXO Good Grips Chef's Squeeze Bottle Set
Price:
$11.95 ($5.98 / Count)
Available from Amazon, BGR may receive a commission
Best Set of Bottles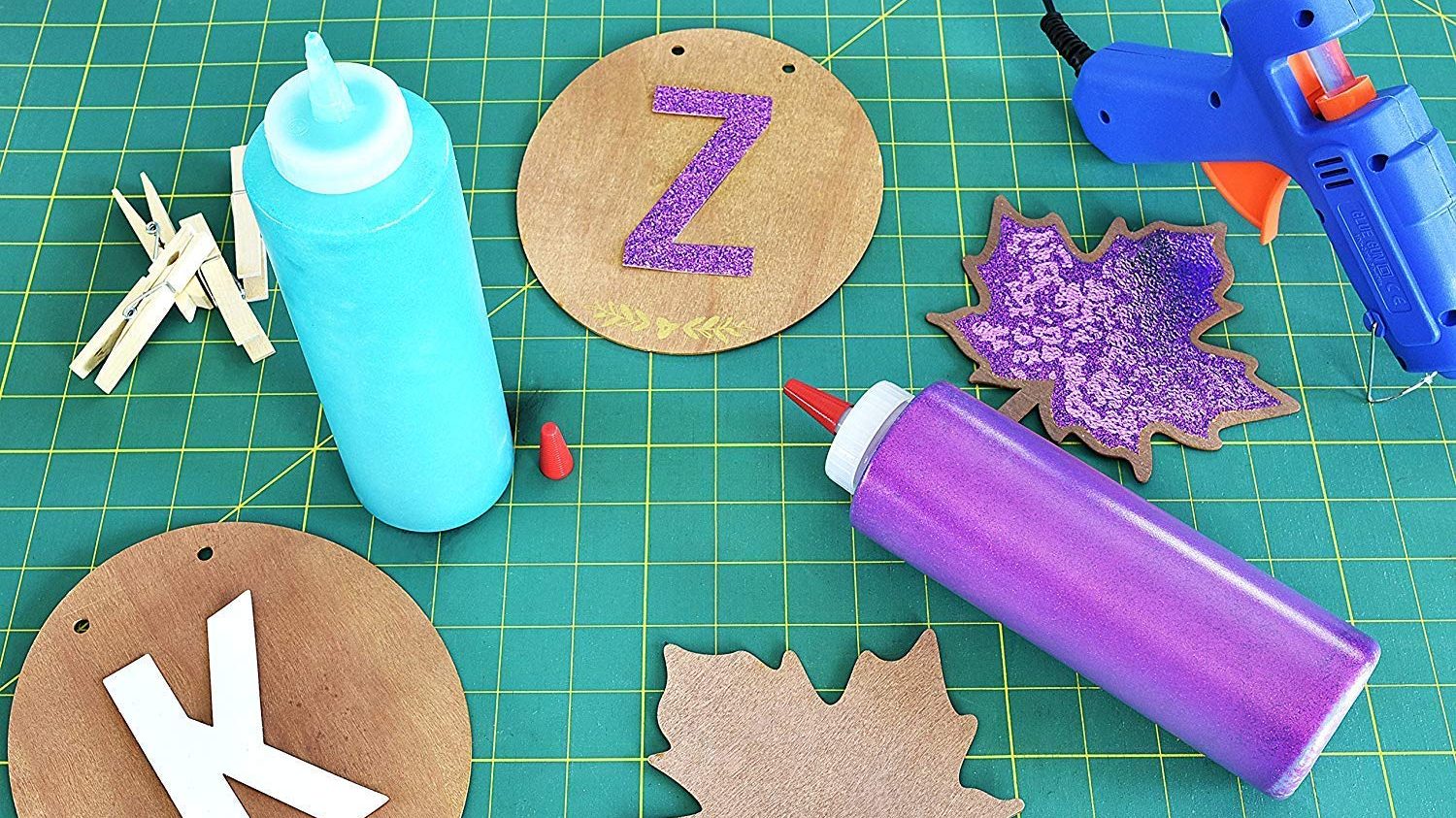 Whether you want to use them for cooking oils, vinegar, or condiments, you'll have plenty of choices when you own the Pinnacle Mercantile Condiment Bottles. This comes with six bottles that hold 16 fluid ounces, so you'll be able to stock your kitchen full if everything you want or like. These all have wide mouths, measuring 1 1/8″, so pouring your substances into the bottles won't cause a mess. This is great for salsas, dressings, vinaigrettes, and any condiment. Washing the 16-ounce bottle is super simple, as swirling around soap and water is easy with the wider opening. The red caps that adorn the tops prevent accidental leaking even if you cut down the nozzle for a more open flow. You can also use this for art projects, as it'll hold glues and other types of decorating materials. If you are in any way unsatisfied with this set of bottles, you can return it for up to 30 days for a full refund, guaranteed. Decorate your desserts by putting frostings or melted chocolates into these squeeze bottles. Make spelling things on baked goods a breeze.
Plastic Squeeze Condiment Bottles with Red Tip Cap 16-ounce Set of 6 Wide Mouth by Pinnacle Mer…
Price:
$14.99 ($2.50 / Count)
Available from Amazon, BGR may receive a commission
Best Large Bottles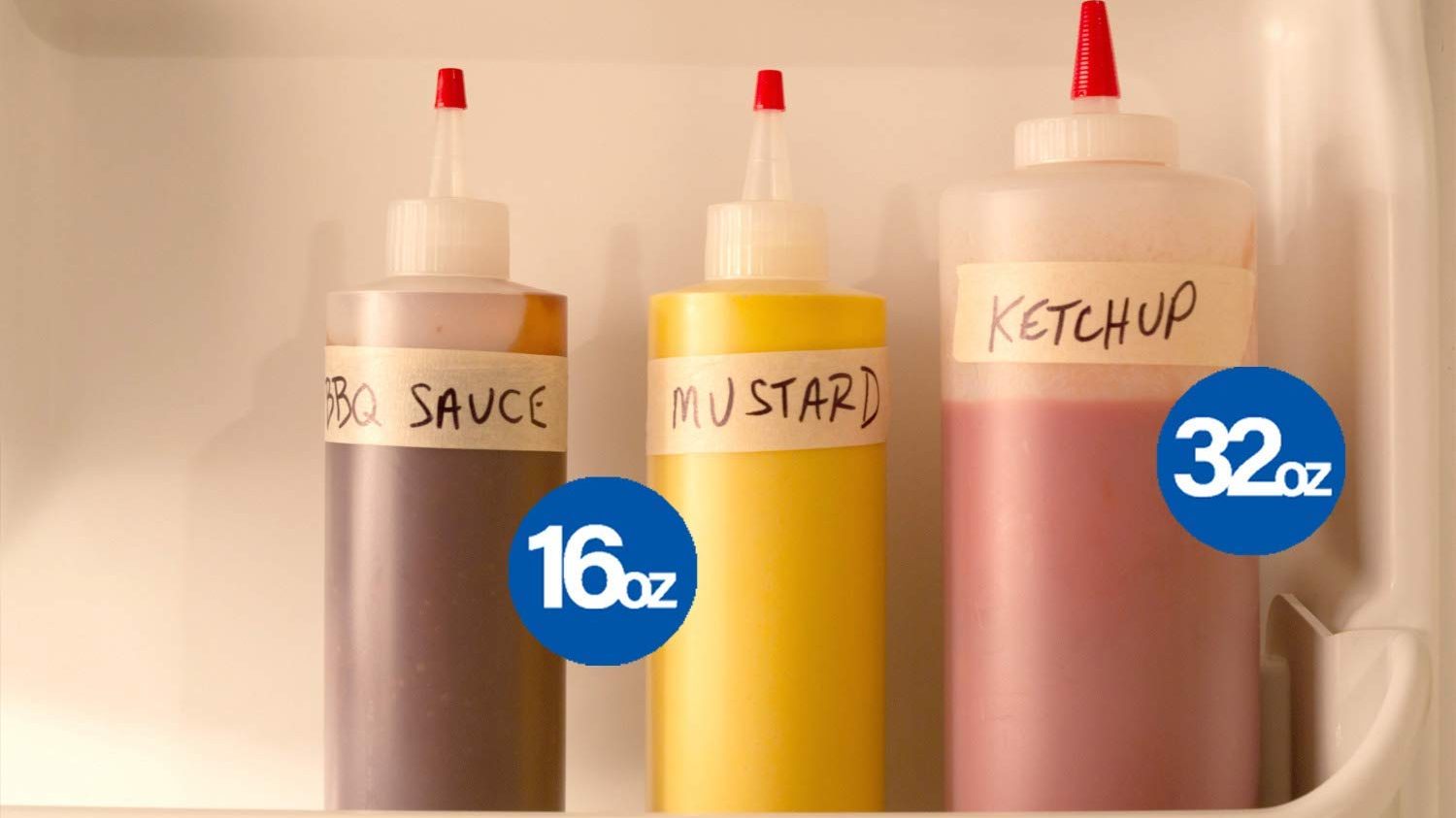 Providing you with a large capacity to hold your condiments, the Homestead Choice 3-Pack Plastic Squeeze Condiment Bottles lets you stock up on your favorite additions. These can each keep 32 ounces of liquids, perfect for ketchup, mustard, or barbecue sauce. They are made from food-grade, BPA-free materials and are easy to squeeze. You can use these on a daily basis for cooking, baking or for any liquids that need dispensing. These can be used in the kitchen, the garage, or for arts and crafts. They are translucent, so you'll always be able to see what's inside the bottles. The bottles are spill-proof, as they come with snap-on red caps that allow for a precise pour every time. You can trim the nozzles for thicker sauces and the cap will still stay on tightly. These also have wide mouths, which makes filling them up a breeze. You won't be able to microwave these, but you can wash them on the top rack of the dishwasher. This pack of three provides a great value for your home.
3-pack Plastic Squeeze Condiment Bottles - 32 Ounce with Red Tip Cap - Made in USA - Perfect fo…
Price:
Available from Amazon, BGR may receive a commission