There are plenty of reasons members of the general public have begun to sour on Facebook. It's not cool. Instagram is simpler. Privacy issues. That crazy uncle who won't stop sharing rants about Trump or Hillary and conspiracies and memes that raise your blood pressure and make you swear you'll deep-six your Facebook account the first chance you get.
About that last one, at least, Mark Zuckerberg's big blue empire is finally doing something. Facebook has begun a limited rollout of what will be a temporary keyword snooze feature, as Facebook's News Feed product manager Shruthi Muraleedharan explains in a company blog post published today:
"Located in a post's upper right-hand menu in News Feed, the feature gives people the option to temporarily hide posts by keywords, which are pulled directly from text in that post. If you choose to "snooze" a keyword, you won't see posts in your News Feed containing that exact word or phrase from any person, Page or Group for 30 days. In other words, fewer spoilers."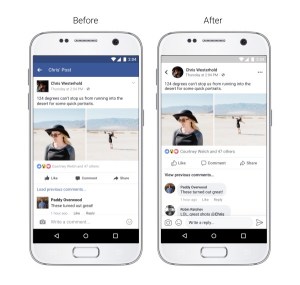 Don't necessarily look to see if the feature is available for you yet, because Facebook is rolling this out as part of a limited test now and will make it more widely available — to a few million users – by next week.
The applications of this, of course, are plenty and welcome to most Facebook users I know. You can choose whatever keyword you want — Trump, something related to a TV show you don't want to see spoilers for — and FB will keep those posts from anyone with those words in them out of your feed for 30 days.
Using this, admittedly, sounds clunky. You have to first go to a post in your feed that has the keyword you want to snooze, which — if it's something that upsets you — you're nevertheless going to have to see it anyway in order for Facebook to temporarily block it. Facebook told TechCrunch, though, that it's looking into some kind of preemptive snooze option.
Right now, this new feature will only work on text (keyWORD snooze). This being Facebook, the new feature also will not be able to be used to block ads that comprise the company's vaunted money machine.
"Even though we work to show you the most relevant posts on News Feed, we don't always get it right," concludes FB's blog post. "That's why we've designed features like See First, Hide, Unfollow, Snooze, and now, Keyword Snooze. We hope that with additional options to help tailor your News Feed experience, you'll be able to spend more time focusing on the things that matter."