By all accounts, the HTC Vive is already winning the war for VR supremacy amongst PC gamers. A combination of great build quality, room-scale tracking, and a partnership with one of PC gaming's gatekeepers — Valve, and its Steam marketplace — have helped make that possible. But if there's one area where the Vive could use a bit of improvement, it's in the audio department. HTC's new Deluxe Audio Strap is a vast improvement, and a must-have accessory.
The Vive comes bundled with a everything you need to have a high-end VR experience, except for headphones. A pair of earbuds comes bundled with the headset (and they're not terrible, which is a plus), but anyone who has a PC gaming rig and is willing to drop several hundreds of dollars on a VR headset is obviously determined to get the best experience possible.
Up until now, many Vive enthusiasts just used their own gaming headsets, but that means another wire headed from your body to the PC, which isn't ideal, and even if you own some high-end wireless cans, they're often still pretty bulky.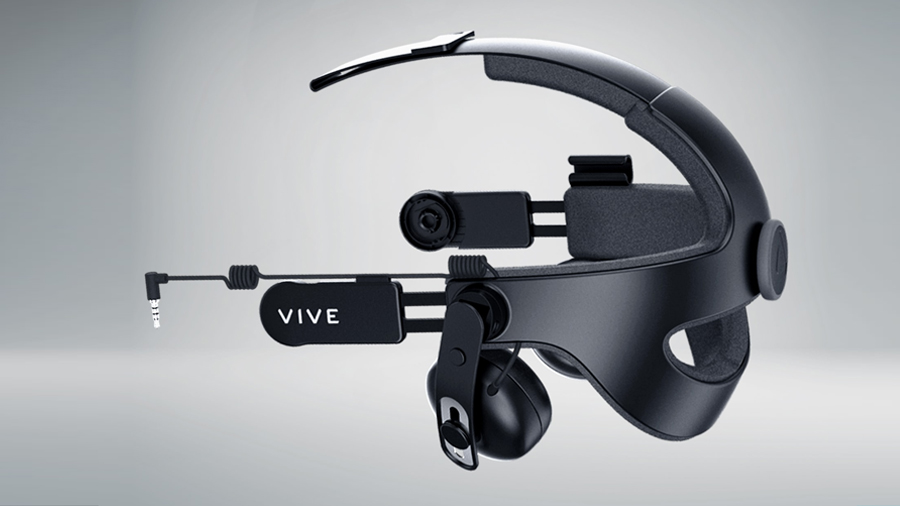 The Deluxe Audio Strap — odd name, given that it's much more than just a strap — is the best solution thus far. It replaces the rear headstraps of the Vive, making the headset not only more sturdy and comfortable to wear, but also offering integrated audio. A pair of adjustable on-ear headphones are built right in, eliminating the need for an additional tether to your PC, which is ideal.
All told, I have probably in the neighborhood of 150 to 200 hours of playtime with the Vive since its debut, and another 200 with the Oculus Rift (both development models and final retail version). The Rift's built-in headphones are a great addition to the headset, but they aren't enough to give it the edge over the Vive in terms of overall appeal, and the incredible wealth of Vive-exclusive titles is a big factor in that. The Deluxe Audio Strap brings the Vive's audio game into parity with the Rift, and in many ways surpasses it. In short, this is the Vive add-on that VR gamers have wanted from the start.
The on-ear cups are both larger and, at least to me, a good deal more comfortable. Unlike the Rift's mesh covering, the Vive's speakers are wrapped in faux leather, which has a nicer feel and has the added bonus of making them easier to clean — for anyone who find themselves sharing their VR hardware with friends and family on a regular basis, that's a huge plus on its own.
The audio quality of the Deluxe Audio Strap is very respectable. You're not going to mistake it for a audiophile studio headset, but if you're comparing it with other on-ear headphones, it holds its own. You'll hear solid, clear bass, and crisp high-end sound. It's more than enough for a gaming device, especially for the price.
Speaking of price, the Deluxe Audio Strap is tagged at an appropriate $99.99 and will be available starting June 6th. When you consider how much you might spend on a wireless headset that offers the same freedom of movement while playing VR, and add in the fact that the new accessory makes the entire headset feel more sturdy and balanced, it's hard to to imagine many Vive owners not jumping at the opportunity.