Regardless of the streaming platform, we spend way too much time choosing what to watch next when we don't have anything particular in mind. We might scroll vertically and horizontally through lists and recommendations for even longer than the time it takes to watch whatever we've settled on. And we might bail on something soon after it starts if it turns out that it's not what we wanted.
Artificial intelligence like ChatGPT might help with that once it can access the internet without plugins. But we don't have to wait that long to have ChatGPT-4 inside a streaming service. Tubi partnered with OpenAI to have GPT-4 power its new Rabbit AI service. And Rabbit might help surface shows and movies you want to watch faster than scrolling through lists. All you have to do is talk to the generative AI chatbot.
Fans of ChatGPT know that GPT-4 is the latest language model that OpenAI uses. It's the one that powers the premium ChatGPT Plus experience, or the free Bing Chat app that runs in your browser. Tubi's Rabbit AI using ChatGPT-4 is an exciting development, especially since Tubi is free.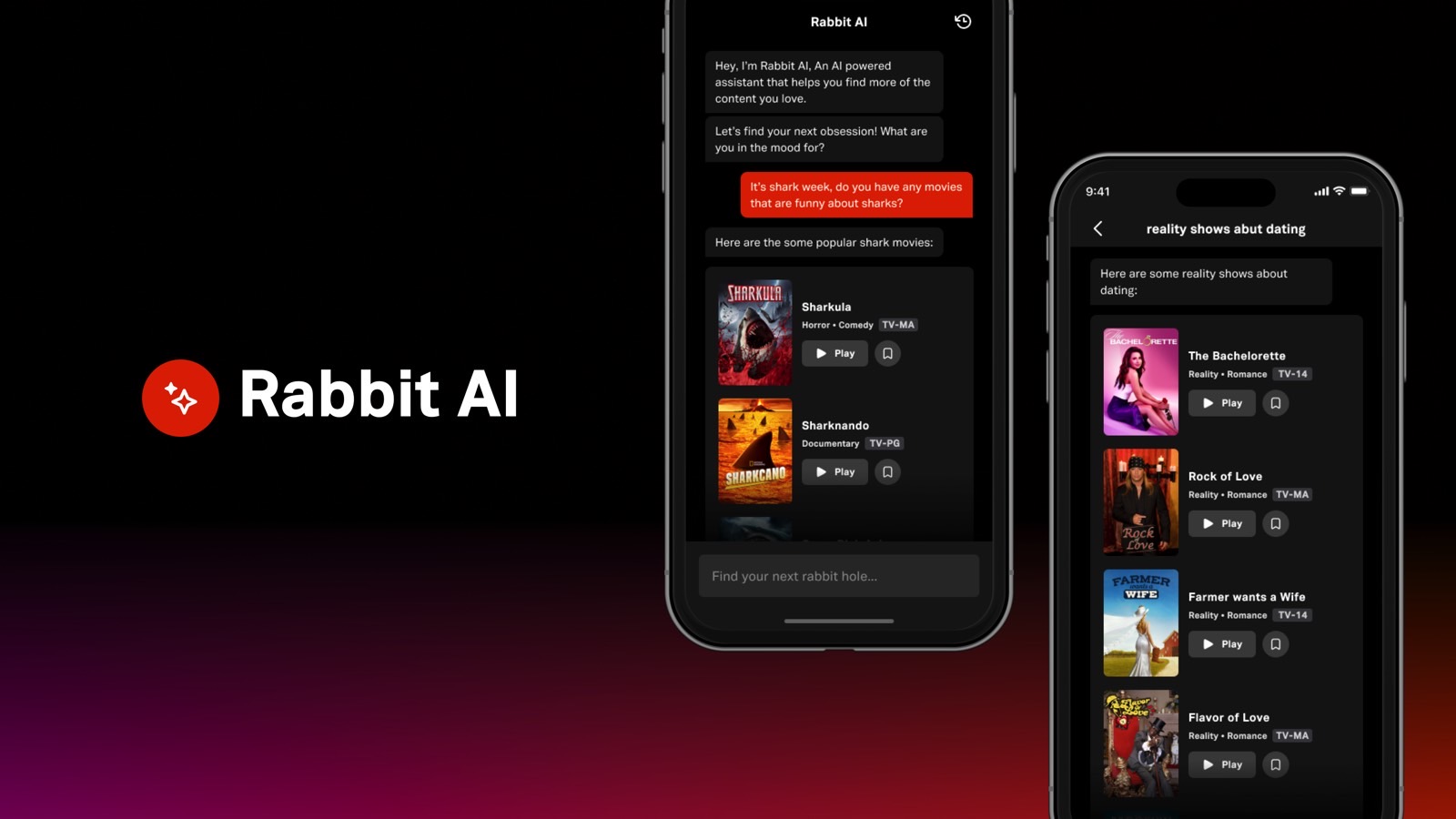 Tubi calls Rabbit AI a "first-of-its-kind mobile feature" that will help users navigate its massive content library. You won't have to know the title of a movie or TV show to find it. Just feed some prompts to Rabbit AI, as seen in these images, and it'll eventually surface the content you were looking for.
Rabbit AI fixing discovery on Tubi might also prevent you from starting new shows and movies that you're not really interested in. That's another advantage of having ChatGPT built into the Tubi app, per Tubi's Senior Director of Product Blake Basset.
"One in five streamers binge watch because it's convenient or easier than searching for another show as time spent looking is usually a mix of scrolling, maybe bickering over whether to watch a comedy or a horror movie," Bassett said in a statement.
He continued, "At Tubi, we're uniquely situated to find content for viewers that's specific to the moment they're in because of our large library and our personalization and machine learning algorithms. With Rabbit AI we're making the content discovery experience fun again."
Having ChatGPT handle your prompts also means that Tubi will improve its recommendations. That is, the streaming service will collect data about your viewing habits through Rabbit AI. That's the only way to make Rabbit AI better and get recommendations you might actually enjoy:
The power of Chat GPT-4 and Tubi's deep library of over 200,000 movies and TV episodes leads to results that unearth unique titles from the catalog, providing hyper-personalized recommendations based on the contextual meaning of the terms. When content surfaced by Rabbit AI is saved onto My List or watched, Tubi's home screen will surface similar content onto viewer's home screens.
Privacy concerns aside, you should also remember that ChatGPT-like bots can offer misleading information. So it might not always find what you're looking for.
The new Rabbit AI feature will be available in beta initially, rolling out to US customers who are also iPhone users. Separately, the RabbitAI plugin for ChatGPT Plus is available to OpenAI subscribers.