It's no secret that Tesla over the past few months has been working furiously to finish up work on a fully electric semi-truck. Just a few weeks ago, Elon Musk tweeted that Tesla is tentatively planning to hold an official unveiling event for the vehicle on October 26.
But why wait three more weeks when you can check out Tesla's latest EV right now? Earlier today, a photo purporting to show a Tesla semi-truck in transit mysteriously appeared on Reddit. While it remains unclear if the photo is authentic, it's worth noting that the sleek sloping design of the truck bears a strong resemblance to the teaser photo Tesla originally sent out a few months ago.
The Tesla spy shot can be seen below.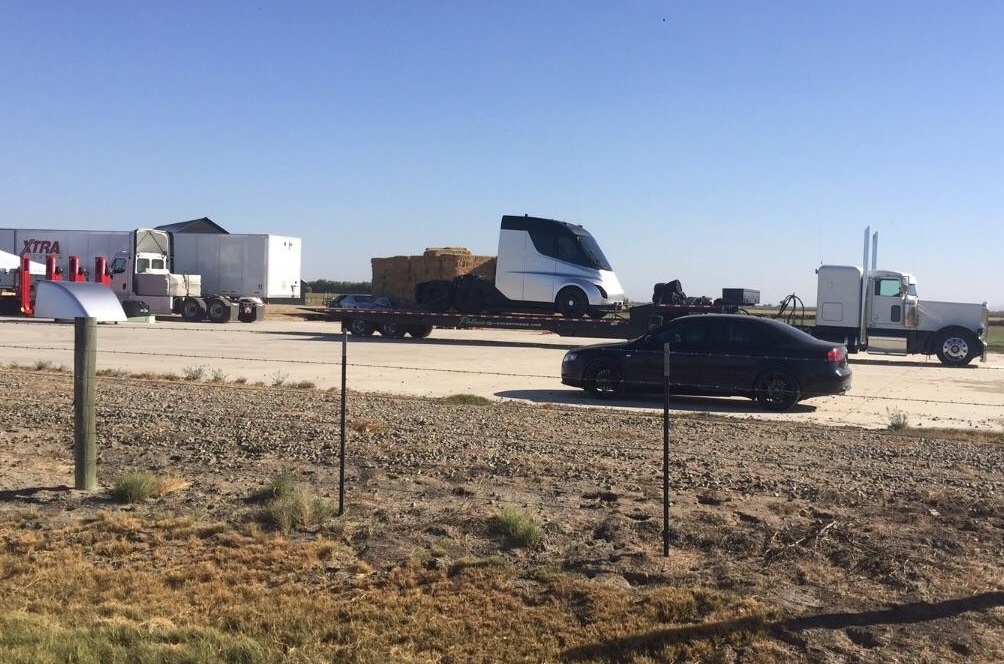 While nothing is official just yet, Elon Musk over the past few weeks has been characteristically effusive when talking about the company's semi-truck, noting a few months ago that it drives "like a sports car."
More recently, Musk said that Tesla's semi-truck is next-level and that the entire unveiling event is going to be "unreal." Notably, Tesla's interest in developing a semi-truck was officially laid out in the second installment of Musk's widely circulated master plan. Therein, Musk said that a Tesla semi-truck "will deliver a substantial reduction in the cost of cargo transport, while increasing safety and making it really fun to operate."
All that said, Tesla's forthcoming semi-truck may prove to be a huge money maker for Musk and co. To this point, Morgan Stanley analyst Adam Jonas anticipates that Tesla's semi-truck could help the company rake in billions in additional revenue.
In a research note issued to investors earlier this year, Jonas said a semi-truck has the potential to easily add $2.5 billion in revenue annually to the company's bottom line. Interestingly, Jonas added that Tesla would only need to sell 25,000 trucks a year in order to match the revenue from selling 70,000 Model 3 vehicles. More bullish projections have Tesla raking in upwards of $7.5 billion from its semi-truck business.
Of course, there's a very logical reason as to why companies would be interested in a Tesla semi-truck in the first place. Running solely on electricity, some speculate that operating a fully electric semi-truck from Tesla could be as much as 70% cheaper than a standard semi-truck due to lower maintenance costs and more.
Of course, a looming question Tesla can't seem to shake centers on how long it will take the company to boost its production capacity to such a level that it can sufficiently handle demand for the Model 3, Model S, Model X and its forthcoming semi-truck. Though the company maintains it will produce 500,000 cars in 2018 alone, that's a lofty goal to say the least.
While we'll have to wait until Tesla's rumored October event to learn more details, there is speculation that Tesla is aiming to launch the vehicle in 2020.