Microsoft's new Surface Studio is an intriguing, albeit incredibly expensive, new PC geared for creative professionals. Boasting an impressive 28-inch display, the Surface Studio's underlying appeal is a specialized hinge design that allows users to collapse the display to a 20-degree angle. In turn, users can more readily use the generously sized display for artistic endeavors like drawing or even seemingly mundane tasks like marking up documents.
Given the Surface Studio's expensive price tag — the entry level model starts at $2999 — and the fact that quantities will be limited at launch, we're not really expecting the Surface Studio to take the computing world by storm. If anything, the product is seemingly geared towards a very niche subset of users: creative professionals. In fact, with many people arguing these days that Apple has been actively ignoring its user base of creatives, some have even said that the Surface Studio is a machine that Apple should have launched. In turn, some have gone so far as to claim that Apple has been busy resting on its laurels, its creative and innovative mojo seemingly usurped by Microsoft, of all companies.
DON'T MISS: The iPhone 7 has an exciting new feature that Apple is keeping secret
The funny thing is, Apple isn't just blindly sitting on the sidelines letting the tech industry pass them by. In fact, Apple not only considered releasing a Surface Studio type with a dual iOS/OS X interface, it had such a design on its radar six years ago.
Exhibit A: An Apple patent filing from 2010 (via Patently Apple) lays out a touch-enabled desktop computer with a design that looks remarkably similar to what Microsoft introduced earlier this week.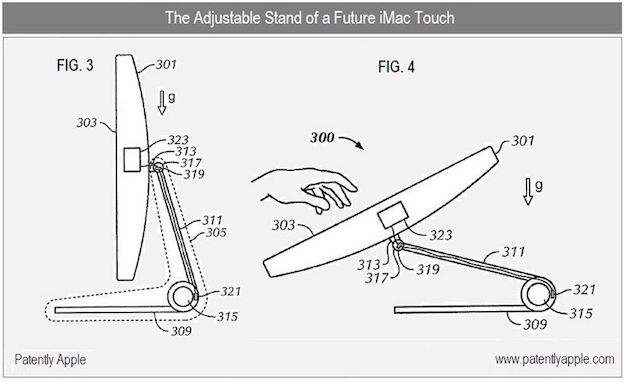 As detailed in the patent, when the computer recognizes a shift in orientation, it shifts the OS from OS X (now macOS) to iOS. Apple of course has an official policy of filing patents for any and everything its R&D team comes up with, no matter how outlandish, but Apple executives strongly considered developing a machine capable of running both a desktop and mobile operating system.
Touching on this in a must-read profile on the evolution of Apple's new MacBook Pro in CNET, Phil Schiller explains that leaning forward to touch your desktop screen just isn't a good idea.
"We did spend a great deal of time looking at this a number of years ago and came to the conclusion that to make the best personal computer, you can't try to turn MacOS into an iPhone," Schiller said. "Conversely, you can't turn iOS into a Mac…. So each one is best at what they're meant to be — and we take what makes sense to add from each, but without fundamentally changing them so they're compromised."
You might also remember rumors circa 2010 that Apple was even planning to hold a special media event where it would unveil a brand new iMac with a hybrid OS.
It's easy to critique Apple for not releasing every new product that comes to mind, but it's important to remember that Apple is so successful precisely because it carefully considers every new product it throws its weight and resources behind. And just because Apple doesn't release a product doesn't in any way shape or form suggest that said product wasn't thoroughly evaluated behind the scenes, as is the case with what people once called the iMac Touch.
To this point, Jony Ive told CNET that "doing something that's different is actually relatively easy and relatively fast, and that's tempting." Still, Apple ultimately concluded that a touchscreen Mac wasn't "particularly useful."
Incidentally, Apple CEO Tim Cook just last year same something similar in response to a question about a hybrid Mac/Tablet device.
"We feel strongly that customers are not really looking for a converged Mac and iPad," Cook explained. "Because what that would wind up doing, or what we're worried would happen, is that neither experience would be as good as the customer wants. So we want to make the best tablet in the world and the best Mac in the world. And putting those two together would not achieve either. You'd begin to compromise in different ways."