Whether you have an older iPhone, have already placed your preorder for the new iPhone 8 (or iPhone 8 Plus), or are planning to order the iPhone X in October, you'll want to protect your pricey device. As anyone who has shattered their phone screen can tell you, iPhones aren't exactly indestructible items you can toss around without a care. You're going to need a high-quality case to protect your iPhone, which is where Speck's Presidio iPhone cases come in.
Speck offers a variety of products designed to protect the gadgets you use every day, including MacBook cases, iPad cases, Samsung phone and tablet cases, backpacks, and screen protectors. But what really excites us is their latest Presidio cases for the iPhone 8, iPhone 8 Plus and iPhone X. The Presidio line includes the Ultra case, the Grip case, and the Clear case.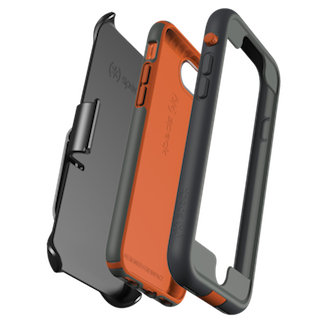 The Presidio Ultra cases are, as the name suggests, highly protective cases. They have four layers of protection with the Impactium Shock Barrier, which provides protection against drops from up to 15 feet. Ultra cases let you decide the amount of protection you want thanks to a removable Ultra Bumper that adds extra protection against drops, dirt, and dust when you need it. Remove the Bumper, and you get a Presidio case that protects against damage from drops up to 10 feet.
The Ultra Bumper is crafted out of Speck's Impactium Ultra rubber to give you a no-slip grip, and is compatible with glass screen protectors, such as ShieldView Glass. This heavy-duty rugged case is 16% slimmer than the leading rugged mobile cases.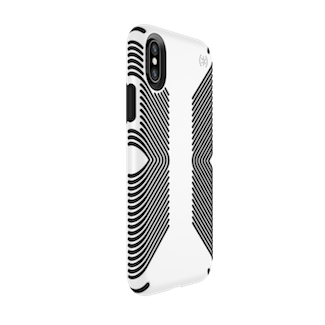 Presidio GRIP cases feature angled rubber ridges on the back to help stop drops before they happen. Those ridges create a no-slip grip, and because they're angled, they work no matter how you hold your phone. Presidio GRIP offers two layers of protection — an outer polycarbonate shell and Speck's innovative shock-absorbing Impactium rubber — which not only protect against drops up to 10 feet, but are also aimed at safeguarding glass-backed phones, like the newest iPhones.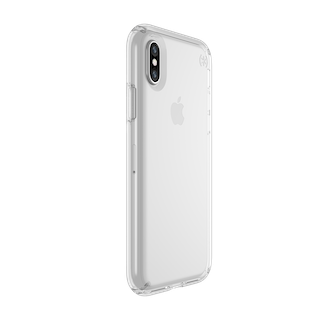 The Presidio Clear case is the only full dual-layer clear case on the market. This clear case features a polycarbonate shell and shock-absorbing Impactium Clear rubber for two layers of protection in a one-piece case. Passing UV testing with flying colors, these clear cases are crafted out of materials that do not turn yellow from the sun's UV rays.
Speck's top priority is to prolong the life span of your iPhone, and they make sure that happens with rigorous independent lab testing. First, they run their Presidio cases through environmental testing to confirm the cases can handle extreme temperatures and intense humidity. UV testing ensures you can take your case out in the sun without worrying about that all-too-common yellowing or clouding effect. Cases are then exposed to everyday chemicals, from skin lotion to mayonnaise, to make sure they won't cause the case to degrade.
Other tests include a camera flash test, scratch and hardness tests, and multiple impact drop tests on surfaces your case might come in contact with, including concrete, wood floors, and pavement.
Beyond protecting your iPhone against damage, Presidio cases also have a look and feel that make them stylish accessories you'll want to show off. All Presidio cases are backed by a limited lifetime warranty.
Shop Presidio iPhone 8, 8 Plus, or iPhone X cases now.
To learn more about our sponsored deals and sponsored posts opportunities, please email sponsored@bgr.com.