The days when the newest smartphone from OnePlus would cost significantly less than the best Android devices of that year while sporting same-or-better specs might be gone.
Last year's OnePlus 5 and 5T were already more expensive than their predecessors, and the OnePlus 6 might be even more expensive if the following rumor is accurate. But that's only if you buy the best OnePlus 6 version that OnePlus will make.
A leaked image posted on Chinese-language blog IT Home shows a spreadsheet that contains some of this year's flagship smartphones, including the iPhone X, the Galaxy S9+, the Huawei P20, and the OnePlus 6.
It's unclear where the image originates from, but it could be an internal OnePlus document that compares the best OnePlus 6 alternatives out there with the next #NeverSettle phone.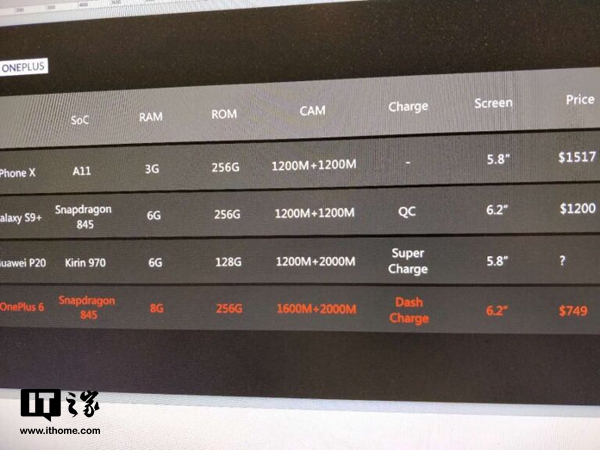 The spreadsheet above lists the specs of each of these devices, including the processor, RAM, storage, camera specs and screen size, as well as the price.
The conclusion seems to be that, at $749, the OnePlus 6 will be the cheapest flagship of the most expensive phones you can currently buy. Also, the phone will deliver more RAM, while matching top storage and screen size options. In the camera department, it's also boasting more megapixels than everyone else.
Though there is this leak that says the triple-cam Huawei P20 Pro, not shown in this list, has a 40-megapixel main rear-camera. Then again, few Android device makers battle in megapixels count when it comes to cameras.
Also, there's no price for the Huawei P20 in this leaked spreadsheet.
Assuming the leak is real, then it's also safe to assume that a cheaper OnePlus 6 might be available to buyers. Say, one with 6GB of RAM and 64GB of storage that might cost north of $499?