OnePlus will unveil the OnePlus 6 in just a few days, not that we expect any real surprises coming from the company's London-based media event. OnePlus has already revealed the main features of the phone as well as its iPhone X-like design. On top of that, we've had a bunch of OnePlus teasers for the phone, and plenty of other leaks offered us specs details, as well as pricing information and launch dates.
That doesn't mean we're done seeing OnePlus 6 leaks and teasers. And today's images show us what a white OnePlus 6 will look like, all courtesy of Pete Lau.
The OnePlus CEO sat down with Indian star Amitabh Bachchan, who posted images on Twitter of the event, in anticipation of the OnePlus 6 reveal. The company, of course, is very popular in India, where the phone will be available in a special Avengers-themed edition.
Bachchan posted on Twitter several photos from the meetup, including this selfie, which was taken with the OnePlus 6.
T 2798 – Always a pleasure meeting @petelau2007. Looking forward to attending the #OnePlus6 launch event on May 17 🤩

Launch Invites go live today on https://t.co/4u02gqa5nb at 10am sharp! Head to @OnePlus_IN for real time updates on the launch and the invites! pic.twitter.com/GrwBkvI4s4

— Amitabh Bachchan (@SrBachchan) May 8, 2018
He also tweeted the following pictures as well, which clearly show Lau holding what can only be the white OnePlus 6, while the actor has the black version.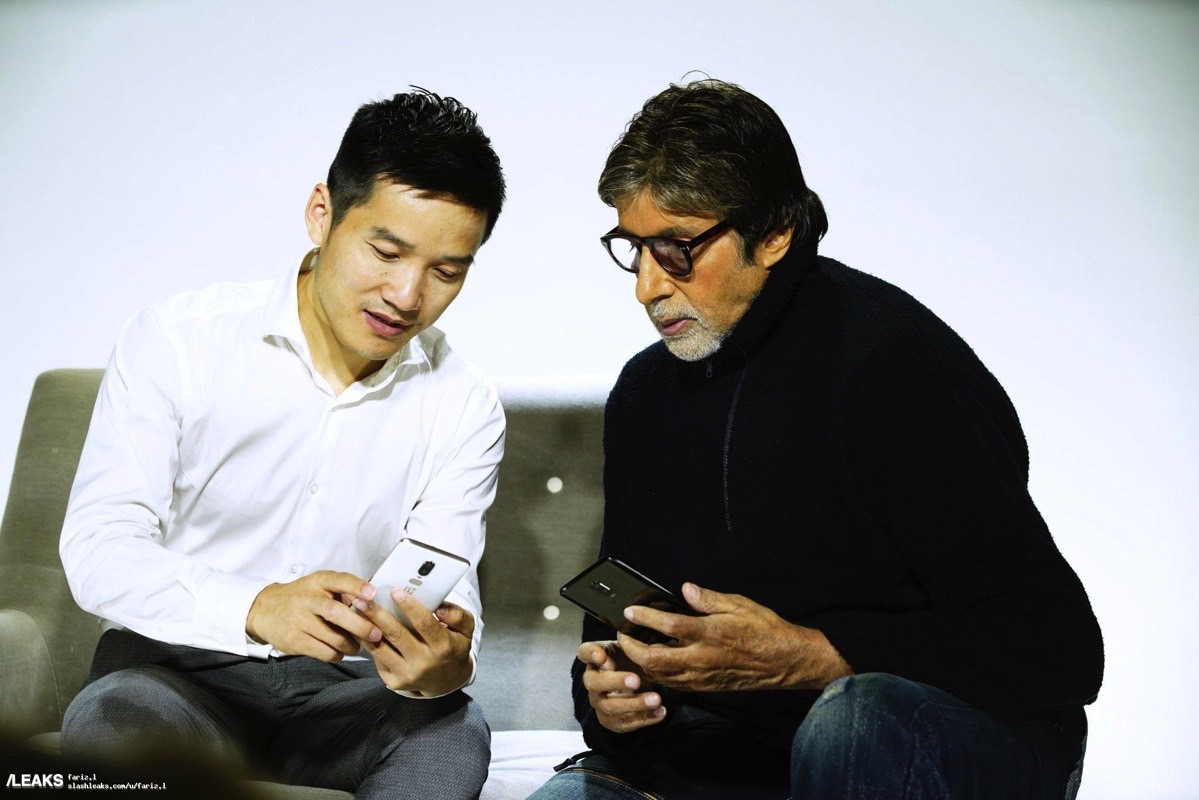 OnePlus 6 fans were quick to save the images before they were taken down from Twitter, which the actor did soon after posting them.
Lau also confirmed the selfie was taken with the OnePlus 6.
Thank you @SrBachchan the pleasure was all mine. Great to be in India again and take the first selfie on the #OnePlus6 together. Look forward to having you at the OnePlus 6 Launch in Mumbai next week! 🇮🇳😀 https://t.co/4BXhMDfjYx

— Pete Lau (@PeteLau) May 8, 2018
If that's not enough OnePlus 6 for you, then you should also watch the following slow-motion video, posted on the official OnePlus Twitter account, and recorded with the phone.
Let's slow down time! This poppin' teaser requires your full attention 😉 https://t.co/5TPq08B71n #OnePlus6 pic.twitter.com/fkmp1wXJzg

— OnePlus (@oneplus) May 7, 2018
Yes, that means the handset will come with slow-mo camera tricks of its own.