Google's start in the smartphone industry has taken a rocky turn this year. After last year's Pixel and Pixel XL were so well received by hardcore Android fans, Google's 2017 followups were two of the most hotly anticipated new phones this past fall. People didn't quite get the modern all-screen designs they were hoping for, but the Pixel 2 and Pixel 2 XL still appeared to be solid updates when they were unveiled in October. Unfortunately, it's all been downhill from there, as hardware and software issues continue to pop up on both phones, but mainly the larger and more desirable of the two.
Now, Google's Pixel 2 XL woes continue as OnePlus prepares to launch its new OnePlus 5T flagship phones. It features specs that are almost perfectly in line with the Pixel 2 XL and a near-stock version of Android that many fans seem to love, but it costs just over half of what Google charges for its flagship phablet.
OnePlus just announced its new OnePlus 5T flagship phone an hour ago, but I've been able to spend some time with it and so far I'm impressed. The phone is just as fast and smooth as the OnePlus 5 from earlier this year, which obviously makes sense since it has the same specs. It features some two big hardware design changes though, as well as some smaller ones and a handful of new software features.
Before we go any further, a quick note regarding the software: the "Engineer Mode" app that people discovered recently on OnePlus phones will not ship on the new OnePlus 5T. The app, which could allow someone in physical possession of a phone to gain root access, was left on phones by mistake, according to OnePlus. It will be removed from older phones in an upcoming update, and it has already been pulled from the OnePlus 5T's OxygenOS build, which is based on Android 7.1.1 Nougat.
On to the phone, the new design places the OnePlus 5T on par with other 2017 flagship handsets. The phone is only slightly taller than the OnePlus 5 — it's only noticeable if the two phones are held side by side — and yet it has a much larger 6-inch AMOLED display with an 18:9 aspect ratio. OnePlus says the screen-to-body ratio is just north of 80%, which is on par with most recent flagship Android phones.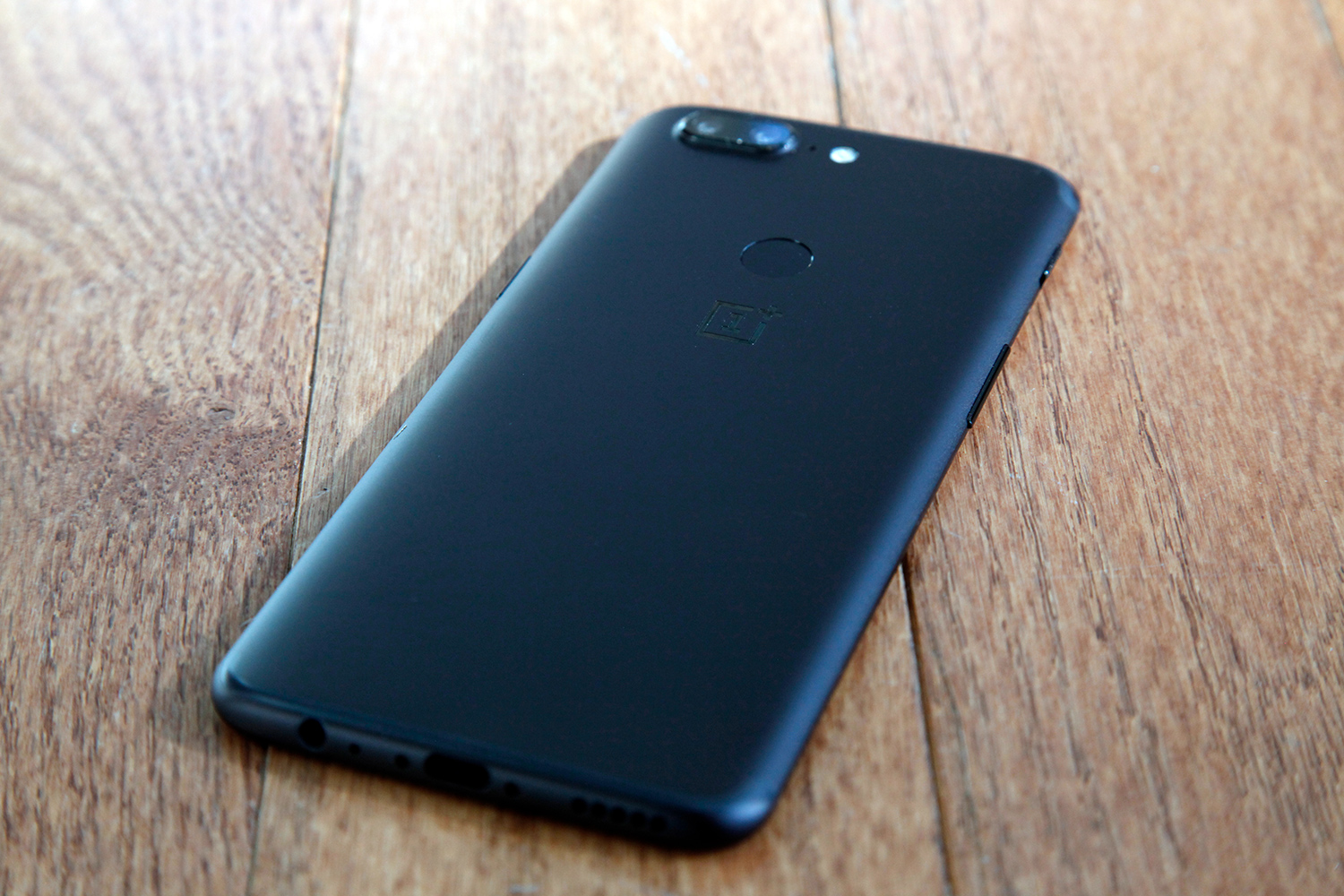 Like Apple, OnePlus had to remove the home button and fingerprint sensor from the OnePlus 5T's front side in order to enlarge the display. Unlike Apple, OnePlus decided to keep the fingerprint scanner, which is now on the back of the phone. The OnePlus 5T can also be unlocked with a new Face Unlock feature, which I found to be incredibly fast. It isn't nearly as secure as Face ID on the iPhone though, since it only uses the phone's standard front-facing camera. OnePlus knows this, which is why facial recognition cannot be used to authenticate payments or unlock secure apps.
The dual-lens camera on the back of the OnePlus 5T is also different from the dual-lens shooter on the OnePlus 5 from earlier this year. The secondary telephoto lens is gone, which means optical zoom is gone. A second wide-angle lens with an f/1.7 aperture replaces it, and OnePlus says it provides much better low-light performance and better portrait mode effects. There's also an enhanced digital zoom that OnePlus says is "similar" to the zoom on the OnePlus 5, but digital zoom will obviously never be as good as optical zoom.
I'll be spending plenty more time with the OnePlus 5T as I review it, but so far it feels just as fast and smooth as the OnePlus 5 from earlier this year. That also puts it on par with Google's $849 Pixel 2 XL, yet a OnePlus 5T with the same amount of storage and an extra 2GB of DDR4X RAM only costs $499. Move up to the 128GB tier, and Google's Pixel 2 XL jumps to $949 and still has 4GB of RAM. Meanwhile, the OnePlus 5T packs 8GB of RAM along with 128GB of space for $569.