Proving all the naysayers wrong, Tesla last month began delivering the Model 3 to early reservation holders. Though initial deliveries were made to only 30 people, the larger takeaway is that Tesla managed to meet its production schedule on time, a welcome change given the numerous delays that plagued both the Model S and the Model X. Of course, Tesla's biggest challenge still lies ahead, namely its ability to ramp up production and deliver cars to more than 500,000 reservation holders in a timely manner. If all goes according to plan, Tesla is planning to manufacture 20,000 Model 3's a month by December of this year. By 2018, Tesla is aiming to increase its manufacturing capacity to 40,000 units.
Deliveries aside, one of the more unique and interesting aspects of the Model 3 is the conspicuous absence of a traditional dashboard. Though there was speculation that Tesla might incorporate a HUD or something of the like, the bare bones interior we saw during the company's grand unveiling many months back has remained fundamentally unchanged.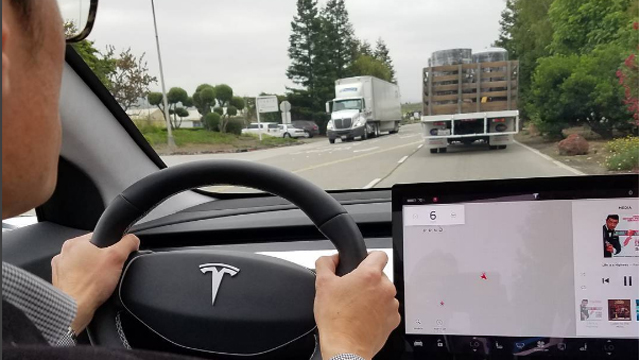 Essentially, the 15-inch tablet display on the center console (pictured above) is the only way for drivers to access information like speed, available range, and Autopilot information. Once the Model 3 begins shipping in larger quantities, it will be interesting to see how driver adapt to not having pertinent information right in front of their eyes at all times. Will glancing to the right make driving more challenging or might it be a complete non-issue?
That said, the website Back to Reality recently posted the first video of what the Model 3's Autopilot software looks like.
Incidentally, Autopilot won't ship as an enabled feature on all Model 3 vehicles. Rather, it's being positioned as a premium feature that buyers will have to pay $5,000 in order to unlock.