Apple is having an event later this week, and you won't be surprised to hear that it's finally going to update the poor, neglected MacBook Pro. But rumors have suggested we're getting three new computers rather than one, and new trademark filings from Russia appear to confirm that.
French site Consomac found documents from the Euraisan Economic Commission (EEC), the FCC equivalent for Russia and surrounding nations. The documents appear to show that Apple has received permission to sell three new portable computers, models A1706, A1707, and A1708.
DON'T MISS: Apple insider provides some tantalizing details about Apple's next-gen MacBook Pro
Details are nonexistent apart from those model numbers, but the real information here is the three new models of laptop. Hopefully, that means new 13-inch and 15-inch MacBook Pros, and (fingers crossed) a new MacBook Air.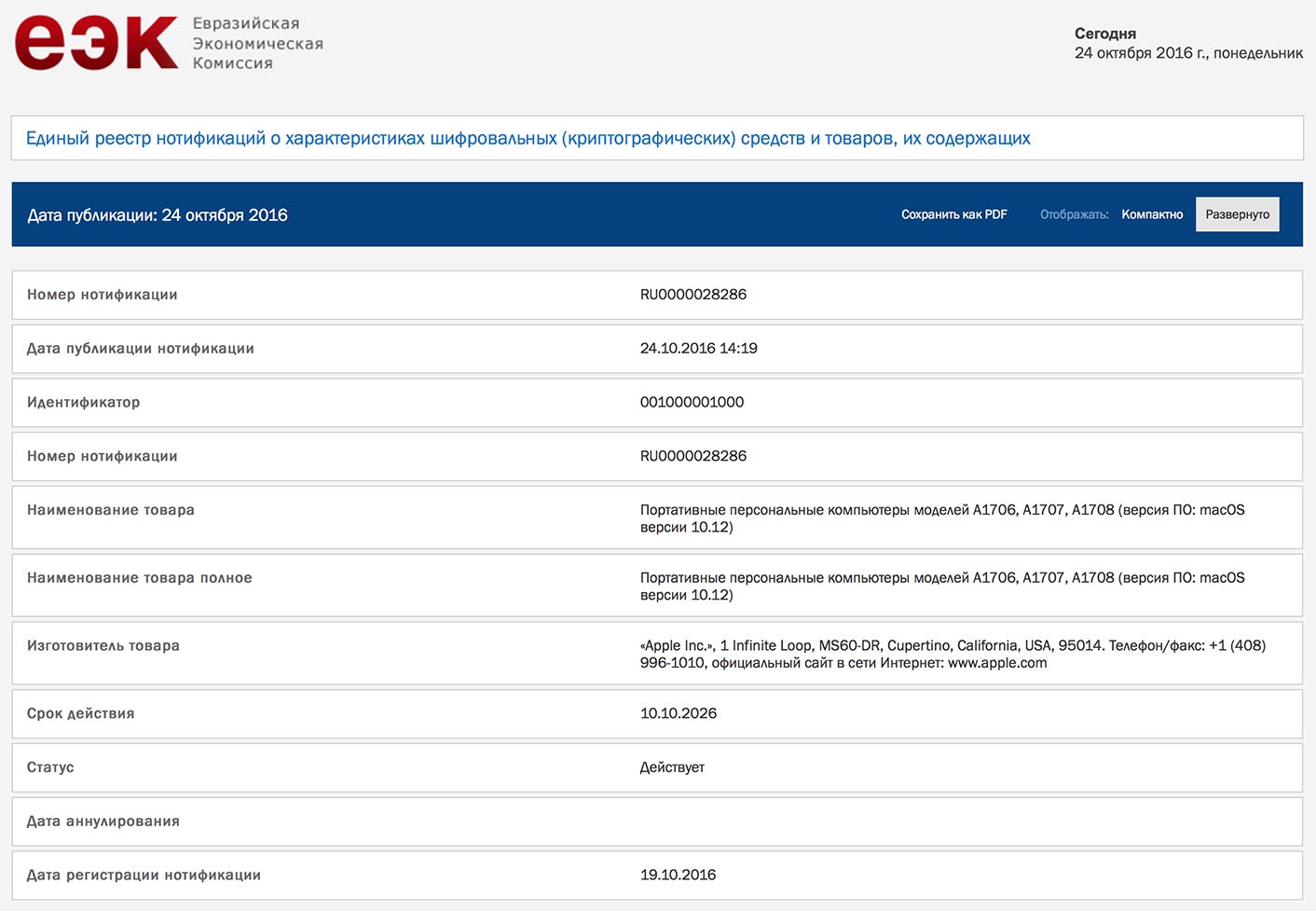 Screenshot via Consomac
It's also very possible that we'll see an updated Retina MacBook, although that would be a fast refresh for a laptop that was already updated earlier this year.
Apart from the model numbers, we also learned that the new laptops are running the latest version of macOS. That's not exactly a surprise, but it does confirm that these are new laptops, and not a weird new iPad made specially for Russia.
While details on a new MacBook Air are virtually nonexistent, we do have a very good idea of what the new MacBook Pro will look like. The function keys will apparently be replaced by a touchscreen OLED strip, which will offer different functions depending on what app you're in. Supoort for always-on Hey Siri and a Touch ID sensor is also possible.
Other than the new features, you can also expect the updated MacBook Pros to be a little thinner and a little lighter than current versions. With updates to graphics technology, a discrete GPU in the 13-inch Pro could also be an option at a higher price point. Microsoft's year-old Surface Book manages to fit a discrete GPU in a convertible laptop that's thinner than the current 13-inch MacBook Pro, and Apple doesn't like losing spec wars that badly.