In the wake of the iPhone 7 shipping without a traditional 3.5mm headphone jack, many have wondered how the controversial design decision might impact other devices in Apple's product lineup.
While removing the headphone jack on a relatively small and tightly packed device like the iPhone can be justified as a means to make room for other components, it's hard to make a similar argument for removing the jack on larger devices like the iPad and Apple's Mac lineup.
DON'T MISS: 8 cool iOS 10 features you probably haven't found yet
All the same, it appears that Apple is at the very least contemplating a future where the company's popular MacBook Pro may ship without a headphone jack. According to a report from MacRumors, Apple a few weeks ago began sending out surveys to select users asking them, among other things, if they ever use the headphone jack on their MacBook Pro machines.
The question verbatim reads, "Do you ever use the headphone port on your MacBook Pro with Retina display?"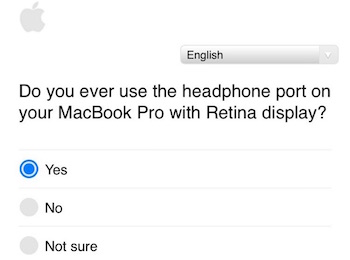 "There are several other reports on Twitter from users who have been asked similar questions about the headphone jack," MacRumors adds, "suggesting Apple is exploring the removal of the headphone jack in a future version of the MacBook Pro."
For what it's worth, there's no indication that Apple's upcoming MacBook Pro revamp will ship without a headphone jack. With an unveiling date rumored for October, various rumors and product leaks suggest that Apple's new MacBook Pro will feature an OLED touch panel in place of the function key row, will come in a thinner form factor, and will have four USB-C ports.
The headphone jack, meanwhile, as evidenced by the leaked chasis below, doesn't appear to be on its way out the door just yet.