With Apple already trying to withstand the brunt of declining iPhone sales, recent data from both Gartner and IDC suggests that Apple now has to contend with a worrisome decline in Mac sales.
According to IDC, Mac sales during the June quarter checked in at an estimated 4.4 million units, representing an 8.3% decline year over year. In turn, Apple's share of the PC market also took a hit, dropping from 7.4% down to 7.1%.
Top Prime Day deals:
Amazon Fire TV Stick for $25
Xbox One Bundle for $270
Nexus 6P for $404
What should be particularly concerning for Apple is that other PC manufacturers experienced surprising growth during the quarter gone by. HP and Dell, for instance, saw unit sales increase by 5.1% and 4.2%, respectively.
Further, every PC vendor in the top 5, save for Apple, saw their share of the PC market increase, as evidenced by the chart below.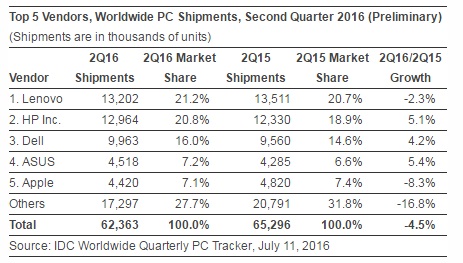 Historically, the Mac has been something of an anomaly within the broader PC market. Even in quarters where Windows-based PC sales experienced significant declines, the Mac has proven to be exceptionally resilient to overarching market trends. If IDC's data proves to be accurate (Apple will release earnings data later this month), perhaps it will compel Apple to step on the gas just a little bit more.
Indeed, part of the problem is that Apple has been extremely slow to update its Mac lineup with anything worth getting excited about. Hopefully, though, the impending release of a new MacBook Pro, which may feature an OLED display on the keyboard, might help turn the tide before 2017.