When Apple announced that there would be a gap between the launch of the iPhone 8 and the iPhone X, there was some concern over whether or not customers who were anxious to upgrade would be willing to wait an extra month. But those concerns appear to have been unfounded, as new data from analytics firm Mixpanel shows that iPhone X adoption has rapidly overtaken both the iPhone 8 and the iPhone 8 Plus as of late November.
According to the chart shared by Business Insider, iPhone X adoption is currently at 4.76%, while the iPhone 8 Plus is lagging behind at 3.59% and the iPhone 8 brings up the rear with 2.78%. So while the iPhone 8 and 8 Plus appear to be holding their own, it took the iPhone X less than a month to become the top iPhone this generation.
As Business Insider notes, the data provided by Mixpanel doesn't measure actual sales figures, but rather the number of users who are using iPhone apps integrated with the firm's software development kit. Apple has yet to provide any concrete information about the pace of iPhone X sales, simply saying that demand was "very strong."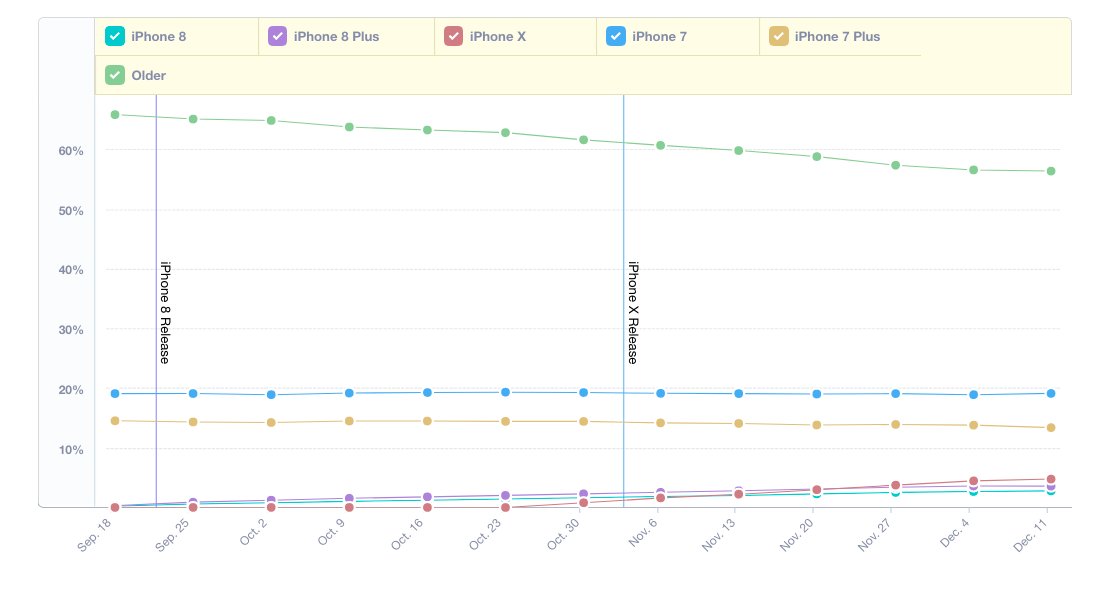 In the chart above, we get a more complete picture of the current iPhone market share (based on Mixpanel's data). While the iPhone X is making steady gain, the iPhone 7 and 7 Plus are still holding steady as 2017 comes to a close. And while the percentage is dropping, a vast majority of iPhone users are still using devices from 2015 and earlier. As the iPhone X supply continues to stabilize, it will be interesting to see how far down that line drops.