According to comments made during yesterday's shareholder meeting by Apple CEO Tim Cook, the iPhone X has a customer satisfaction rating of 99%. He didn't elaborate on exactly where that figure came from, but it's safe to say that Apple's tenth-anniversary iPhone is a hit with Apple fans. The iPhone X is by far the most impressive iPhone Apple has ever released, both in terms of power and design. The glass and stainless steel housing is stunning, and the "notched" OLED display started a trend that at least a half-dozen Android phone makers have already begun to copy.
If the iPhone X is so great, why doesn't every Apple fan have one? Why buy the iPhone 8 or iPhone 8 Plus instead? The answer to those two linked questions is twofold. One reason is many people don't want to lose Touch ID, which has been replaced on the iPhone X by Apple's often-fickle Face ID solution. The second reason is price, plain and simple. While Apple's 2018 iPhone lineup isn't expected to bring back Touch ID, a new report from the world's top Apple insider says that the problem of price will indeed be addressed.
The iPhone X is among the first in a new breed of ultra-premium, ultra high-priced smartphones. It's built using premium materials, it's packed full of premium technology, and it's priced at $1,000 and up. Even with the many financing options out there in big markets like the United States, that's still a whole lot of money to cough up for a smartphone. Meanwhile, the iPhone 8 starts at just $699 despite offering nearly identical performance and features.
Of course, the reason for the price discrepancy is fairly obvious: the iPhone 8 costs far less because it doesn't feature the same premium materials and components. It doesn't have the iPhone X's pricey OLED display, it's made of aluminum rather than stainless steel, and it doesn't have several expensive internal components from the iPhone X like the dual-lens camera, additional RAM, a stacked board, or an L-shaped battery setup.
In 2018, Apple will apparently drag its least expensive flagship iPhone into the future. In a note to clients on Wednesday seen by MacRumors, KGI Securities analyst Ming-Chi Kuo offered new details on the third new iPhone X successor Apple supposedly plans to release in 2018.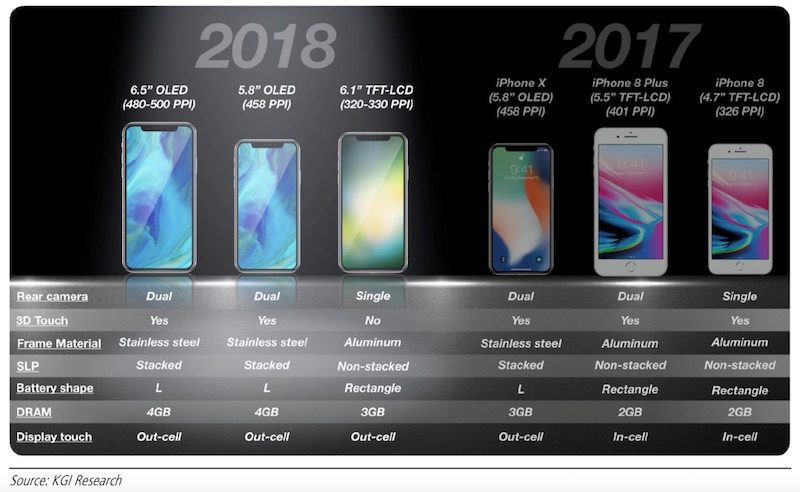 In addition to a new version of the 5.8-inch iPhone X, Kuo says a larger Plus model will be released with a 6.5-inch OLED display. On top of that, Kuo has reported that Apple will release a third new model to lower the cost of entry to its modernized iPhone lineup. The third model will feature the same almost-all-screen design as two OLED models, but it will feature a "notched" 6.1-inch LCD screen and less expensive components.
On Wednesday, Kuo added one more important detail to the puzzle: price. According to the analyst, the 6.1-inch iPhone X successor Apple releases this coming September could start at just $699, in line with the current iPhone 8. Despite having a larger display than the sequel to the iPhone X, the 6.1-inch version will apparently have an LCD screen instead of OLED, an aluminum mid-frame instead of stainless steel, less RAM, a smaller battery, and a conventional non-stacked SLP. It also won't support 3D Touch, according to Kuo.
All three of the new iPhone models covered in Kuo's note on Wednesday morning are expected to be released in September.