When it comes to sweeping redesigns, compromises are inevitable. It's impossible to push a product forward without taking a few risks, some of which will pay off, and some of which won't. For the 10th anniversary of the iPhone, Apple opted to mix things up with a brand new Face ID system, the death of the home button and an all-screen design.
While the display of the iPhone X does stretch to meet all sides of the phone, the infamous notch (which contains all of the sensors and cameras necessary for Face ID to work) keeps the flagship device from being truly bezel-less. In all likelihood, the notch is here to stay for at least a generation or two, but a newly published patent from Samsung appears to detail an alternative design that could eliminate the need for the notch.
Uncovered by LetsGoDigital this week, the patent describes a flexible OLED display with holes in it for the cameras, sensors, speakers and other vital components. This would allow for a truly all-screen design without having to slice out a segment at the top of the display, as we see on the iPhone X as well as the Essential Phone.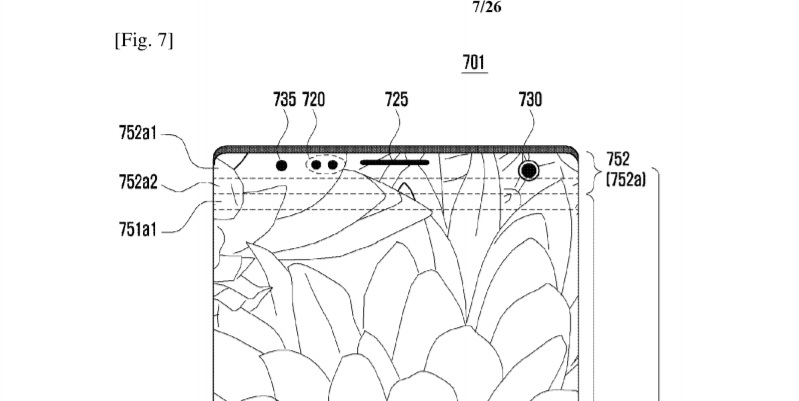 Photos and videos would benefit the most, as the dead area on the display is decreased significantly. The patent also shows how text would wrap around the holes, though users would have the option to shrink the viewing area so as to avoid the hole altogether (something that is also possible on the iPhone X).
This sounds like a viable solution, and probably a preferable one to those who dislike the notch. But Apple is already working on a solution of its own — one which appears to basically be a more advanced version of this idea.
Last January, we were made aware of an Apple patent detailing a method by which the display of an electronic device would feature perforations so small as to be imperceptible to the human eye. Beneath these tiny holes (and under the display) would be the cameras and sensors that are currently contained within the notch.
Of course, the viability of Samsung's plan may be higher, as it appears to be somewhat less complicated, but if Apple is going to mess with the design of the iPhone X, it's hard to imagine the company taking half measures. Some might see the notch as an eyesore, but millions of iPhone X owners have already gotten over it. That said, it's interesting to think about how the design of the iPhone and other major flagships will evolve in the coming years.