The new iPhone 8 and iPhone 8 Plus are both fantastic phones, but the iPhone real Apple fans are waiting for is finally on the verge of being released. That's right, the hotly anticipated iPhone X launches this Friday.
Apple's new iPhone X represents the most radical shift in design since the original iPhone was released 10 years ago. The phone's iconic home button is gone to make way for a new but equally recognizable design feature — the controversial "notch" at the top of the iPhone X's display — and Apple's beloved Touch ID fingerprint scanner is gone as well, replaced by Face ID. Also gone is the metal back Apple has used for a decade, with glass replacing it in order to enable wireless charging.
That last change is an important one. The iPhone X starts at a hefty $1,000 and iPhones were already pretty fragile before. Now that the front and back of the iPhone X are both made of glass, you have absolutely no choice but to protect your pricey new iPhone with a case. That's where Zizo comes in.
Zizo is known for making high-quality smartphone cases and other accessories, and now the company is ready for Apple's biggest launch in a decade. The company has three iPhone X cases in particular that you're definitely going to want to check out, including the BOLT, the ION, and the STATIC. All three models offer a sleek look as well as best-in-class protection, and they're also available to order right now so you have them in time for Friday's iPhone X release.
Shop Zizo's entire iPhone X case collection right here or check out each model below.
The BOLT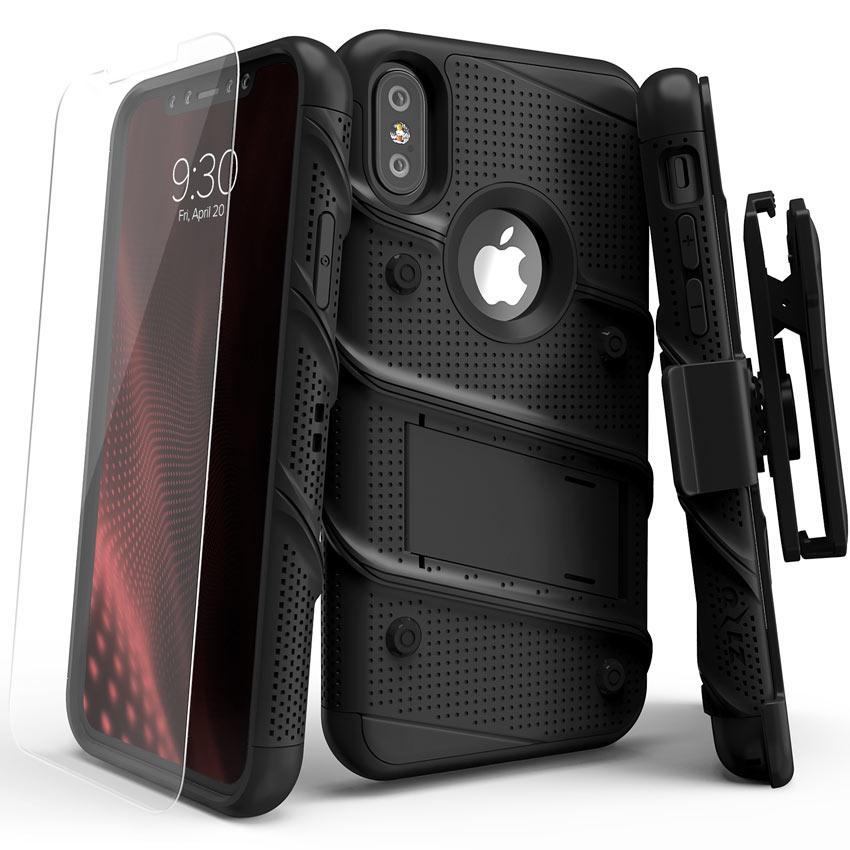 The Zizo Bolt case is designed perfectly to suit all of your needs in any adventure. It is carefully structured to become the ultimate phone case. Additionally, the Bolt is 12 ft. military grade drop-tested (810-G Compliant), so you can adventure on, knowing your precious Note 8 will be protected.
The BOLT case for iPhone X [Amazon | Zizo Shop]
The ION
The crystal clear Zizo ION case is designed to accentuate the already elegant features of your phone. The case fits snugly to provide protection and durability up to and beyond that of military standards. This minimalist styled case provides that excellent protection you're looking for without adding bulk or extra weight.
The ION case for iPhone X [Amazon | Zizo Shop]
The STATIC
The Zizo Static case is engineered to protect your phone without adding bulk. It is made to absorb shock force when you drop your phone and it implements impact-dispersing technology so your phone doesn't take a beating.
The STATIC case for iPhone X [Amazon | Zizo Shop]
About Zizo
We believe style and protection shouldn't break the bank.
We strive to provide innovative products of the highest quality with our latest line of Zizo branded products. Our team dedicates countless hours towards design, production and product testing in order to deliver optimal products to our #ZizoFamily. Great quality products, competitive pricing, and immediate customer service are our top priorities. Our cases are engineered for adventure. With a Zizo case, you won't have to compromise your mobile and rigorous lifestyle. We design rugged, yet lightweight military grade products that surpass your expectations. Our cases are made to disperse impact force evenly with shockproof technology. #Zizofamily
To learn more about our sponsored deals and sponsored posts opportunities, please email sponsored@bgr.com.