All three 2017 iPhones support wireless charging out of the box. The feature has been available on Android for years, while iPhone users had to wait or purchase bulky contraption to use wireless charging on previous models.
The incoming iOS 11.2 update will improve wireless charging for the iPhone X, iPhone 8, and iPhone 8 Plus, allowing 7.5W charging speeds. That's a remarkable bump compared with the current 5W top speed, but nowhere near close to the theoretical 15W wireless charging top speed for the Qi standard.
In fact, a new report says that the iPhone charger that comes in the box with the iPhone is actually better than fast wireless charging. It also proves that you're doing wireless charging wrong.
Matt Birchler looked at charging speeds for both wired and wireless options and came to the conclusion that "fast" wireless charging is terribly slow compared to wired charging, even the slow wired charging.
Here's the graph that explains it all: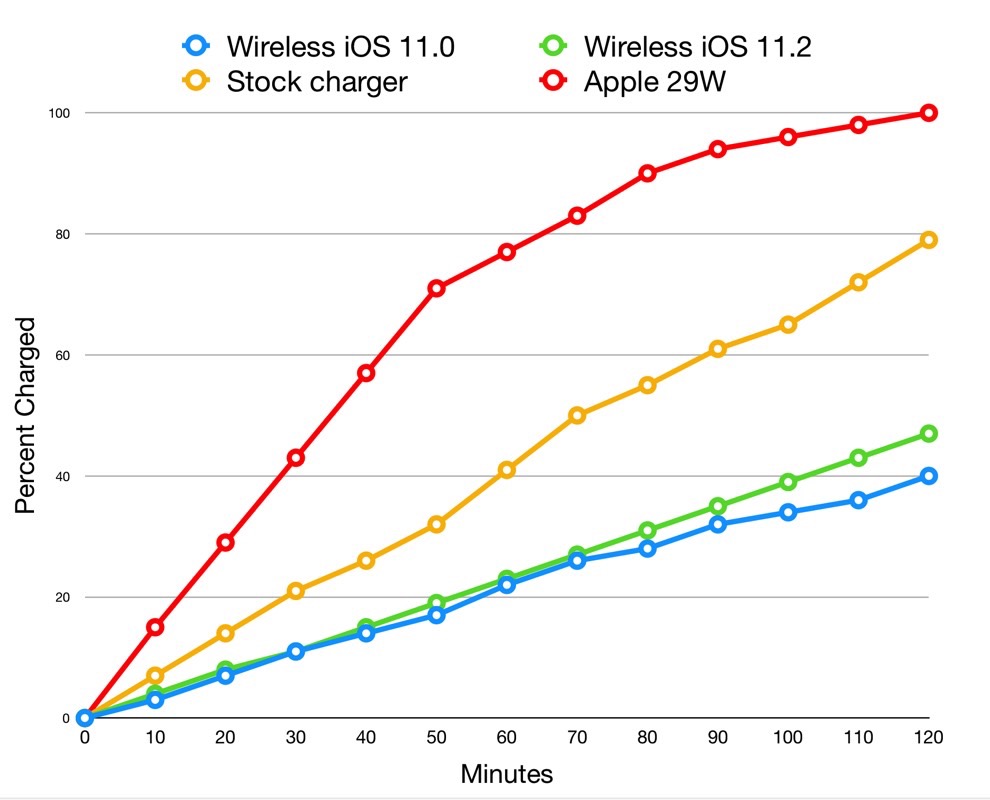 Birchler correctly argues that "wired charging remains the fastest way to charge the iPhone in 2017, and it's not even close." Yes, that's the way to recharge an iPhone that has low battery life, especially if you don't have enough time to do it. That's why you should — still — pack with you a wired charger in your bag, preferably one that does fast charging. Or an external battery pack.
Now, if you recharge your phone overnight, it doesn't really matter what option you choose, but the wired option is still the safer one, as long as wireless charging still requires us to place a device directly on a charger.
I did say you might be doing wireless charging wrong and I'll explain. Rather than rely on wireless charging to completely replenish your iPhone's battery in one full sitting, you should use it continuously throughout the day when you're not on the phone. At home or the office, just place the iPhone on the wireless charging pad and go about your business. Those small recharge sessions will make a world of difference once you get used to doing things this way, and at the end of the day it won't really matter that fast wireless charging is actually even slower than slow wired charging. But don't be afraid to use the good old iPhone charger whenever you need to quickly boost battery levels.