Navigating life isn't particularly easy for people with disabilities, but this is where technology, including mobile devices and apps, can come in handy. Like eBay's HeadGaze invention, which tracks head motion to navigate apps on the iPhone X. The tech was developed by an eBay intern and can be used to shop eBay items by merely moving your head. But the code can be added to other iPhone apps that could benefit from this head tracking technology, and developers can already access it on Github.
Ph.D. Candidate at the University of California Muratcan Cicek created the app for eBay, but the tech behind it sounds like something we should have on most smart devices going forward, since it would allow people with disabilities to use smart devices even more easily than they can today.
"As someone with extensive motor impairments, I do not have full control of my limbs,"Cicek said. "Consequently, I am unable to walk or grab anything with my hands. These limitations hinder my ability to perform everyday tasks, like going to the grocery store and shopping independently— even though I have my own income."
Cicek's team used Apple's ARKit and the iPhone X's TrueDepth 3D camera to track head motion and translate it into actions on the screen. The software creates a virtual stylus that follows head movements, "taking the head's 3D information from ARKit and applying 3D geometry mapping to get the location of the 'cursor' on the screen."
By simply moving your head, you can swipe up and down, scroll through pages, and even tap virtual buttons. In the eBay app, the HeadSwipe feature lets you scroll both vertically and horizontally between eBay products.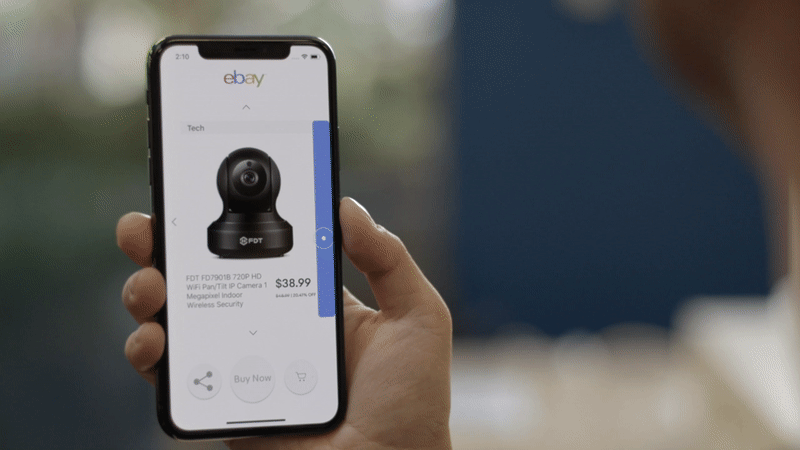 While people with disabilities would benefit the most from apps that integrate HeadGaze technology, regular smartphone users can also take advantage of it in situations where tapping a screen isn't handy.
HeadGaze enables you to scroll and interact on your phone with only subtle head movements. Think of all the ways that this could be brought to life. Tired of trying to scroll through a recipe on your phone screen with greasy fingers while cooking? Too messy to follow the how-to manual on your cell phone while you're tinkering with the car engine under the hood? Too cold to remove your gloves to use your phone?
In addition to tracking head movements, the team is exploring the possibility of tracking eye movements as well. Meanwhile, HeadGaze and HeadSwipe are available right now to developers on Github.
https://www.instagram.com/p/BnljR3Sg7zM/?taken-by=ebaynewsroom