As is the case every year, Samsung and Apple launch new smartphone models in 2018 that are better and more sophisticated than their predecessors. Samsung's handsets are coming first, with the Galaxy S9 and Note 9 set to launch in March and September, respectively. Apple, meanwhile, is expected to release three new iPhone X successors this coming September. But a new report says that it's Apple's iPhone that will win when it comes to market share gains this year.
TrendForce issued a new research note outlining its forecast for the 2018 mobile market. The company says the growth momentum will remain weak in 2018 due to lower demand and fewer upgrades. Global smartphone production for 2018 should reach around 1.5 billion units, which represents a 2.8% growth compared to last year, reduced from the previous 5% growth forecast.
Samsung will remain the top smartphone vendor, shipping an estimated 300 million units in 2018. But that's a 5% decrease compared to 2017.
Apple, meanwhile, is expected to retain the #2 position. But unlike Samsung, Apple will gain 6% market share, according to projections. "Apple is set to launch three new flagship models in 3Q18 and will expand the adoption of Face ID and all-screen technology in these new iPhones, along with upgrading their existing functions and increasing the memory content as well," TrendForce writes. Improved iPhone specs and the expansion in India should help Apple sell more iPhone, the report notes, though stronger than expected iPhone X sales during the first and second quarters will also have to play a role.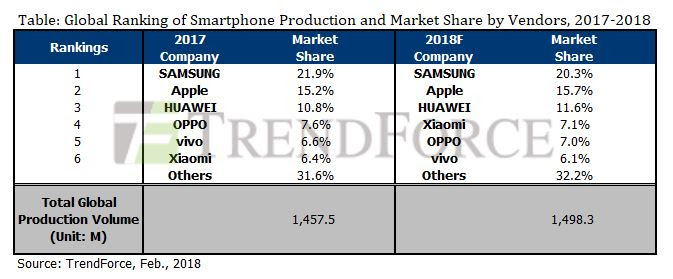 Huawei is also expected to see a notable gain in market share, growing from 10.8% of the market in 2017 to 11.6% this year. 
Other Chinese smartphone makers including Xiaomi, Oppo, and Vivo will contend for the remaining spots in the top-five, with Xiaomi and Oppo seen edging out Vivo.
LG will probably rank seventh followed by Lenovo. Asus and HTC smartphone sales will continue to decline, the report notes. Nokia will see ship 70% more Android handsets this year than in 2017 — that's an increase to over 20 million units from 11.5 million last year. Google's smartphone estimates for 2018 aren't even mentioned in the report.