The latest research numbers from Gartner reveal that iOS and Android are inching ever closer towards completely owning 100% of the entire global smartphone market. According to the latest figures, sales of Android and iOS handsets during the recent June quarter accounted for 99.1% of all smartphone sales worldwide. Broken down by platform, Android devices accounted for 86.2% of sales while iPhone sales accounted for 12.9% of sales.
DON'T MISS: The Galaxy Note 7 has a big problem, and it might also affect the iPhone 7
As evidenced by the chart below, sales of Windows and Blackberry devices have effectively been reduced down to mere footnotes. The share of Windows devices, for example, dropped down from an already unimpressive 2.5% during the June 2015 quarter to just 0.6% during the most recent quarter.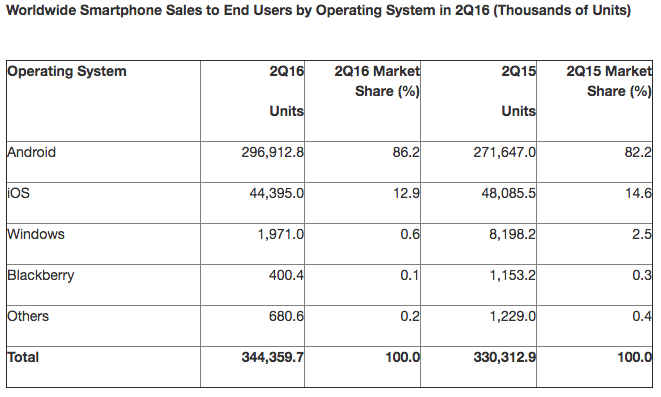 If we look more closely and divide up marketshare across individual handset manufacturers, it's no surprise that Samsung is still the big name to beat. Indeed, three out of the top five handset manufacturers enjoyed year over year growth during the last quarter, with Apple being a notable exception. That, of course, shouldn't come as too much of a surprise given that Apple over the past two quarters has posted two year-over-year declines in iPhone sales.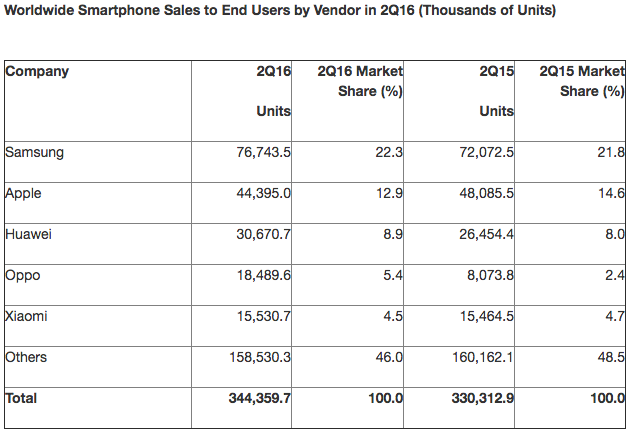 For some historical context, it's interesting to note that both Samsung and Apple's share of the smartphone market have fallen off over the last few years, primarily due to the emergence of brands like Huawei and Xiaomi. For example, Samsung and Apple's share of the smartphone market in 2013 checked in at 31% and 15.6% respectively.