I'm not sure what's going on with JPMorgan these days, but the financial services firm over the past few weeks has published a number of bizarre research reports concerning Apple's upcoming iPhone 8. Not too long after analyst Rod Hall issued an analyst note claiming that Apple will unveil the iPhone 8 at WWDC, the firm recently published a new research report alleging that everything we thought we knew about the iPhone 8's edge-to-edge display has been completely off base.
In a note first spotted by 9to5Mac, JPMorgan analysts claim that the iPhone 8's 5.8-inch edge-to-edge OLED display will only be edge-to-edge horizontally, not all across the device. In other words, JPMorgan believes that the final iPhone 8 design will not feature a display that takes up the entire front of the device. On the contrary, there will be discernible bezels located on both the top and bottom of the device. This of course is at odds with any number of leaked schematics and rumors which point to a sleek iPhone design with minimal 4mm bezels surrounding the entirety of the display.
To date, most iPhone 8 rumors we've seen claim that the device will look something like this, with the Touch ID sensor embedded into the display itself.
JPMorgan, meanwhile, anticipates that the iPhone 8, upon its release, will sport a design that looks something like this.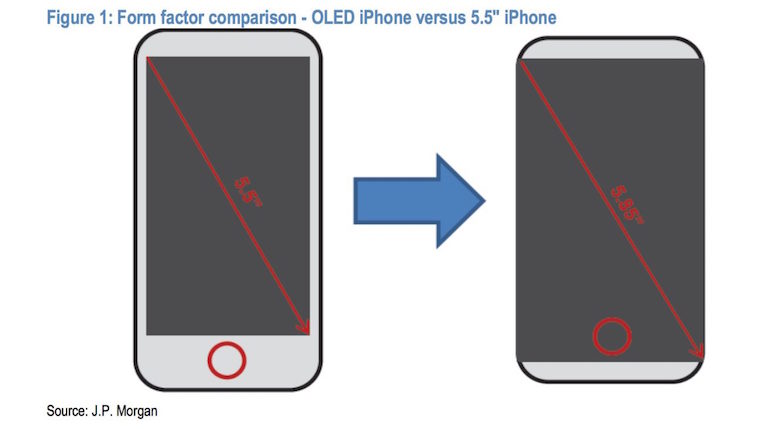 Now to be fair, it's more than plausible that the final iPhone 8 design will look similar to the design featured above. And while it's hard to ignore that this particular iPhone design flies in the face of every single iPhone 8 rumor we've seen to date, it's worth noting that Apple typically experiments with any number of varying iPhone prototypes before deciding which model will actually go to mass production. Nonetheless, JPMorgan doesn't exactly have a lengthy or impressive track record with respect to Apple rumors, so you might want to take their most recent analyst report with the requisite grain of salt.
Even more bizarre, though, is the JPMorgan claim that Apple may include free AirPods inside of every new iPhone 8 box. This seems beyond unlikely for a number of reasons, one of which is that Apple didn't amass a quarter-trillion dollars in the bank by literally giving money away. AirPods have proven to be a surprise hit for Apple, so much so that the company still can't manufacture enough of them to meet swelling demand. Consider this: AirPods became available in mid-December and there's still a 6 week shipping delay — per Apple's website — if you put in an order today. The idea that Apple will give away $159 headphones for free with every iPhone 8 purchase — when it still can't satisfy demand from customers all to happy to pay for them — seems beyond far-fetched, to say the least.
As far as other iPhone 8 rumors are concerned, JPMorgan says that the iPhone 8 will feature 3D cameras, a feature that will reportedly be used for facial recognition and advanced augmented reality functionality. As a point of interest, we've seen rumblings that the iPhone 8's advanced 3D cameras may be the reason behind the delayed iPhone 8 release date. Recall, it's believed that the iPhone 8 has a slim chance of actually launching in September, with a more realistic launch window likely set for October, or in a worse case scenario, November. Specifically, Apple component supplier STMicroelectronics will reportedly not have enough 3D camera modules ready in time to support an iPhone 8 release date in September.
Regardless of when the iPhone 8 actually launches, the larger takeaway is that the device will help spur what many analysts believe will be the largest iPhone refresh in history.