The iPhone 8 will by all accounts mark the biggest iPhone upgrade we've seen in years. After a few years of incremental improvements to the iPhone, the iPhone 8 is poised to introduce a number of exciting new innovations, along with some features that users have demanded for years. Without question, the most intriguing aspect of the iPhone 8 will be its edgeless OLED display, with the surrounding bezels said to be as thin as 4mm. For some context, the iPhone 8 display is said to be as large as the iPhone 7 Plus, albeit in a form factor that's just a hair bigger than the iPhone 7.
Over the past few weeks and months, we've encountered a seemingly endless stream of iPhone 8 mockups and renders. The most recent entrant comes via Carved Blog which posted new photos of an iPhone 8 dummy model — purportedly based on genuine schematics — aligned next to existing iPhone models. This is particularly helpful as it gives us a better sense of what the iPhone 8 form factor will look and feel like.
Pictured below is an iPhone 8 sandwiched between an iPhone 6s and an iPhone 7 Plus. Note the vertical orientation of the iPhone 8's camera module, a design reportedly rooted in Apple's AR and VR plans. Additionally, note that the iPhone 8 does not have a Touch ID sensor on the back, seemingly corroborating previous reports claiming that Apple will either embed the Touch ID sensor into the iPhone 8 display or abandon it in favor of a facial recognition scheme.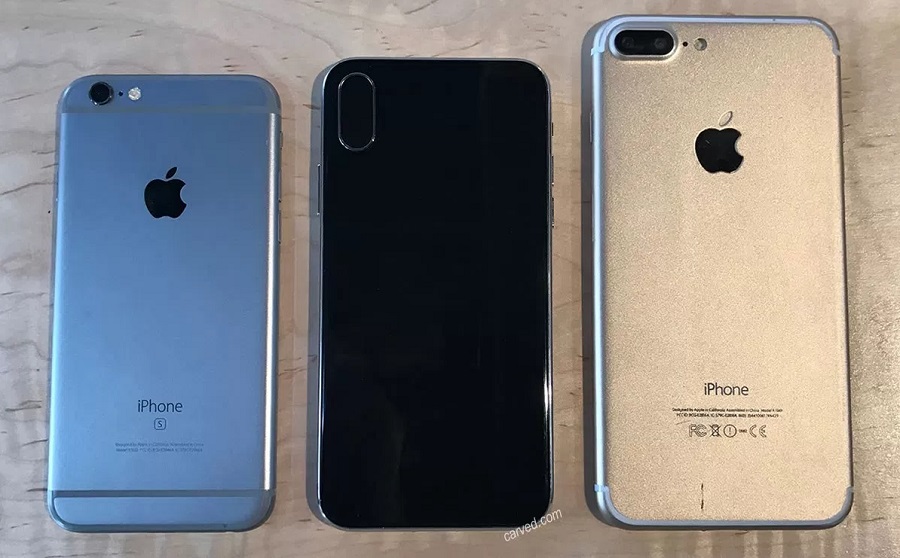 Here's a shot of the same iPhone models from the front. The image here gives us a better idea as to the size of the iPhone 8 display.
As far as the overall dimensions are concerned, the iPhone 8 will be slightly thicker than Apple's iPhone 7 lineup. Further, the iPhone 8 will be slightly wider than the iPhone 7 design, as evidenced by the photo below. Once again, the iPhone 8 appears in the middle. You'll also note that the iPhone 8 still features a lightning port, if we assume the dummy model is an accurate representation.
The iPhone 8 form factor aside, Apple's next-gen device will come packed with a number of compelling features, including wireless charging, improved battery life, improved water resistance, facial recognition technology, and last but not least, a 3D laser system designed to enhance augmented reality apps. Incidentally, the iPhone 8's wireless charging accessory may ship a few weeks after the iPhone 8 actually launches.