Apple's iPhone 8 Plus might be boring, but it's still the best smartphone in the world right now by a wide margin. There are plenty of wrinkles in iOS 11 that need to be ironed out, but even as it stands now, the 8 Plus has no equal. It's lightning fast, it's ridiculously powerful — as in, practically off the charts — and it has the best smartphone cameras of all time. And now, the iPhone 8 Plus can add another feather in its cap, since a new test found that no flagship handset from a major phone maker has ever have better battery life.
Smartphone blog Phone Arena puts every new flagship phone that comes out through the same extensive battery life test. This past weekend, the blog published the results of its most recent battery test, which focused on Apple's new iPhone 8 and iPhone 8 Plus.
Despite its small size and comparatively low-capacity battery, the new iPhone 8 actually did quite well in Phone Arena's test. In fact, the iPhone 8 outperformed almost every other smartphone the blog has tested. But the champ is Apple's 2017 flagship phablet.
The iPhone 8 Plus actually has a smaller battery than last year's iPhone 7 Plus, but a more efficient A11 Bionic chipset and other improvement have brought huge gains where battery life is concerned. In Phone Arena's tests, the 8 Plus topped the iPhone 8's battery life by a whopping 25%. In fact, it lasted 10 hours and 35 minutes, outperforming every other high-end flagship phone the blog has ever tested. The #2 phone is the HTC U11, which lasted for 9 hours and 14 minutes.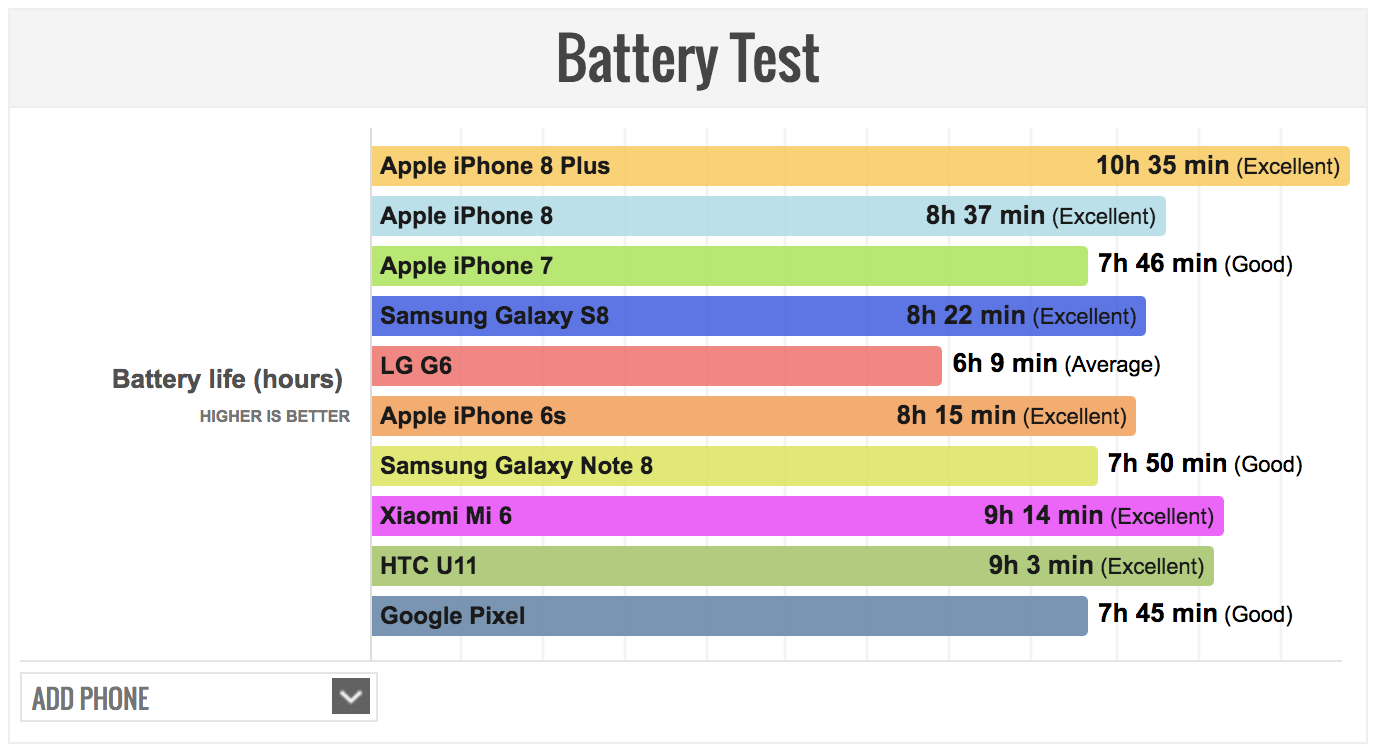 Battery life represents yet another reason the iPhone 8 Plus is a better option than the smaller iPhone 8. It's also a cause for concern among some people holding out for the iPhone X. Apple's completely redesigned tenth-anniversary has a smaller battery and a higher-resolution display than the iPhone 8 Plus, though Apple does claim that the two phones have comparable battery life.
Updated with clarifications.