While iPhone camera quality has improved by leaps and bounds over the past few years, Apple's Android rivals haven't exactly been sitting idly by. On the contrary, a number of Android handset manufacturers in recent memory have devoted more and more engineering resources towards improving camera quality on their own devices. These days, nearly any high-end smartphone you buy will perform exceedingly well, but there are still some distinct differences between rival devices worth paying attention to, especially if camera quality is the most important feature you're looking for in a smartphone.
With that in mind, Tom's Guide recently put together an all-encompassing camera shootout that pits Apple's recently released iPhone 8 Plus against the Google Pixel 2. This shootout battle was particularly intriguing given that the iPhone 8 Plus builds upon the incredible photo quality delivered by last year's iPhone 7 Plus, adding improved low light performance, faster autofocus, advanced pixel processing, and more. The camera on the Google Pixel 2, meanwhile, was widely praised from all angles.
With the iPhone 8 Plus and Google Pixel 2 both delivering the goods, which device managed to come out on top? We won't keep you waiting, so we'll go ahead and tell you that the iPhone 8 Plus managed to outpoint Google's own flagship device. It is worth noting, though, that the Pixel 2 did best the iPhone 8 Plus in a few specific shooting environments.
There were some instances, though, where the difference in photo quality between the iPhone 8 Plus and the Pixel 2 were jarring, as evidenced by this shot below.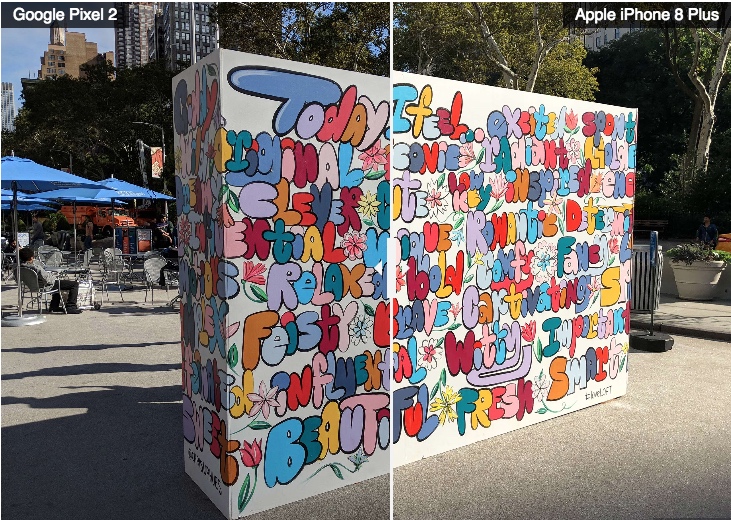 The Pixel 2 was the winner when looking at outdoor flash performance.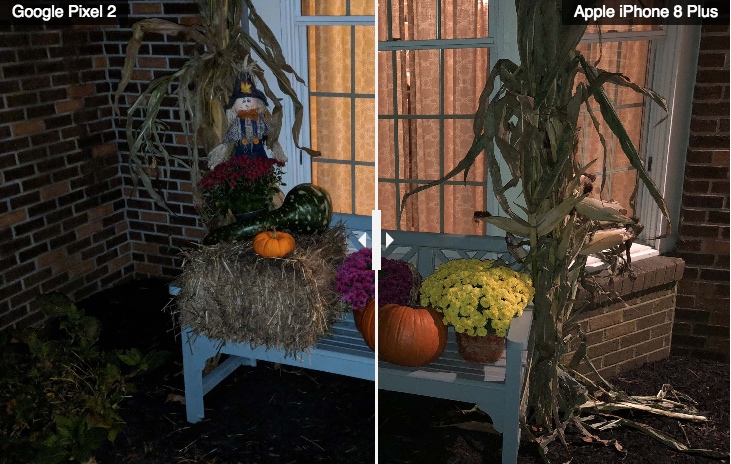 "The flash on the iPhone 8 Plus is too subtle, at least from about 5 feet away," the report notes. "On the plus side, the colors are a bit more accurate with the iPhone's image; the Pixel 2 gave the gray bench a bluish tint, and it looks more true to life in the iPhone's shot."
All in all, the iPhone 8 Plus managed to score wins in more categories. Still, you'll definitely want to check out the full series of iPhone 8 Plus vs Google Pixel 2 photos over here.