We're still a few months out from the official unveiling of the iPhone 8, but the countless leaks that have poured on to the internet in recent weeks have given us a pretty good idea of what Apple has in store for the 10th anniversary of the iPhone. Those leaks were backed up once again on Friday as a listing for an iPhone 8 tempered glass screen protector appeared online, complete with a mock-up of the phone.
"This ultra-thin full cover curved tempered glass screen protector for the iPhone 8 from Olixar offers toughness, high visibility and sensitivity all in one package," reads the product description of the screen protector on MobileFun. "Features complete edge to edge screen protection for black phones."
This is the image that MobileFun included in the listing to showcase the product: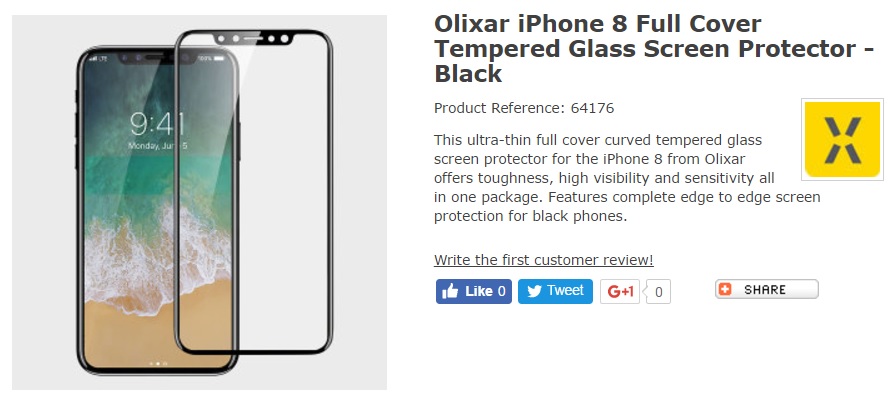 The only cutouts in the screen protector are at the top, where the speaker and the camera sit. As expected, there's no cutout for the Home button, which presumably won't migrate to the iPhone 8. The bezels have also basically vanished, giving the display far more real estate than it's ever had in previous iPhone designs. All in all, it lines up perfectly with the iDrop News leak from late May.
Unfortunately, the image above also includes the one design flaw that has Apple fans up in arms — the cutout for the camera, the speaker and the sensors. It's a terrible solution for a nearly bezel-less design, providing this is the actual design of the iPhone 8. Let's hope that Apple sees some of the completely acceptable alternatives before finalizing the look of its next flagship smartphone.