In just a few days, Apple will unveil the most anticipated smartphones of the year. The iPhone 7 and iPhone 7 Plus should offer almost the same design as their previous two predecessors. But make no mistake, some major changes are coming that will make the phone one of the best mobile devices you can buy. Some of the new features include more built-in storage, an upgraded camera experience, and a bold move towards the future. A brand new photo that shows the purported text that will go on the back of the iPhone 7 Plus retail box, and it might just be the best leak we've seen so far because it indicates Apple will finally do right by its customers.
DON'T MISS: There are still two big problems with Apple's iPhones, but the iPhone 7 will solve one of them
Apple often says it makes decisions in an effort to offer customers the best possible experience. And that's true in many cases. But there's an unwritten addendum to that statement: Apple does everything it does to offer customers the best possible experience… as long as it's profitable.
With that in mind, we can only hope this new leaked photo is authentic, because it suggests that Apple has finally decided to listen to its iPhone customers.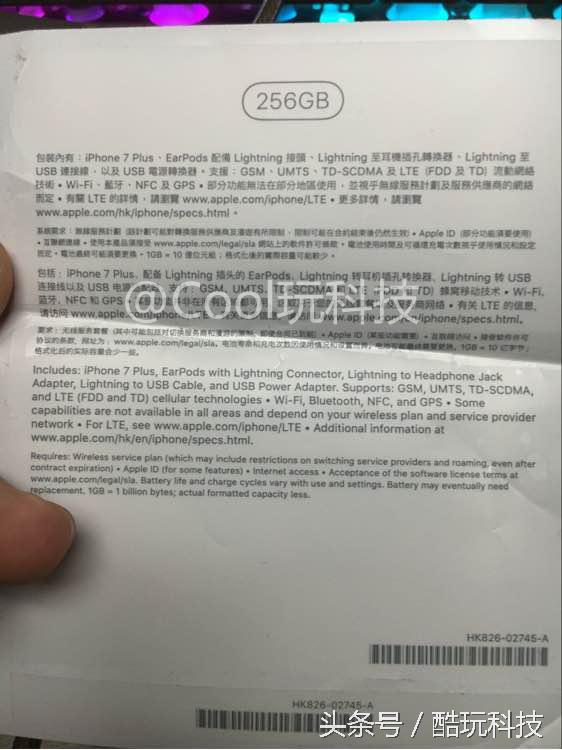 Discovered by cnBeta, the photo above features the kind of text you'd expect to see on the back of an iPhone box, complete with formatting and verbiage for the Hong Kong market.
What's in a name?
The iPhone 7 Plus will apparently indeed be released as the "iPhone 7 Plus," according to this leak. Let's never speak of a possible "iPhone 6SE" again, at least not while referring to Apple's 2016 flagships.
The storage fix we wanted
The first thing you see on the back of an iPhone box is the memory capacity. The image above indicates the iPhone 7 Plus will come with as much as 256GB of internal storage, just as previously rumored. That's great news considering that Apple stuck with its 16GB iPhone for two years, even though it was clear that's not enough for most users. A 256GB iPhone 7 indicates that the lowest memory tier can't be 16GB, which is exactly what many other leaks have claimed.
The adapter we never wanted but deserve
The actual text that follows is even more interesting. The box purportedly includes "iPhone 7 Plus, EarPods with Lightning Connector, Lightning to Headphone Jack Adapter, Lightning to USB Cable, and USB Power Cable" (emphasis ours).
In one phrase, Apple explains that there's no 3.5mm standard audio jack on the phone, but it has two solutions for you — both of them readily available in the box. There's a new type of wired headphones, the Lightning EarPods, but also an adapter that will let you use your older 3.5mm headphones.
Some might wonder if that's something Apple would actually do. Why add an adapter in the iPhone 7 box if you're pushing towards a wireless future? Would Apple pack external floppy or DVD drives with computers that shipped without them? No, it wouldn't. But everybody in the world uses headphones. Many people have purchased expensive headphones, some having bought them directly from Apple. So adding an (easy-to-misplace) adapter in the box would make plenty of sense.
Is it fake?
This leak does come from China, and it almost looks too good to be true. But considering we're so close to the iPhone 7 launch, we wouldn't be surprised to learn that this is indeed the real text headed to the iPhone's retail box.