With all of the media coverage leading up to and following Apple's big iPhone 7 and iPhone 7 Plus unveiling, just about everyone on the planet knows at this point that Apple ditched the standard 3.5mm headphone jack. Instead, its latest iPhones include only a Lightning port on the bottom. Apple suggests that iPhone 7 and iPhone 7 Plus owners use either wireless headphones or wired headphones with a Lightning connector, like the EarPods Apple included in the box. Of course, there's also a 3.5mm-to-Lightning adapter included with the iPhone 7 series that lets you connect your old 3.5mm headphones with no problem.
Despite all the steps Apple has taken and despite the popularity of wireless headphones, people still have a number of complaints about Apple's decision to do away with the 3.5mm audio port on its latest iPhones. Some complaints are valid while others are a stretch, but now it looks like a new issue may have been uncovered that no one even realized until now.
DON'T MISS: iPhone 7 vs. Galaxy Note 7 speed test: This is just embarrassing…
A German magazine has run extensive tests on the audio adapter included in the box with Apple's new iPhone 7 and iPhone 7 Plus. The magazine's goal was to determine whether or not there is any sound degradation when using the adapter as compared to the standard 3.5mm audio port on last year's iPhone 6s. While the article is in German and translations have varied a bit on Reddit and on the gadget forum where we the article was first linked, it looks like the tests did in fact find that sound quality is degraded when the adapter is being used.
A translated quote from the article:
The results are clear: with an iPhone 6S, the dynamic range worsens by 4.5 dB(A) for 24-bit music files. For the iPad Air, it worsens by 3.8 dB(A). The signal also gets worse for 16-bit music files, even if they aren't that drastic: the dynamic range worsens by 1.8 dB(A) and 3.1 dB(A) for the iPhone and iPad, respectively.
And here's a chart that shows the full results from the tests: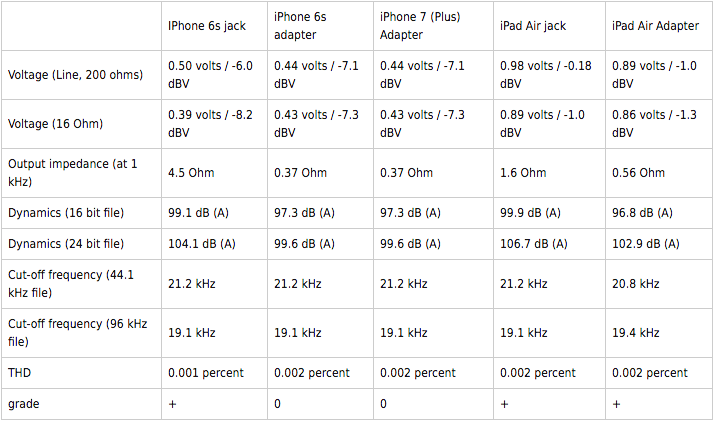 Now, before rage overcomes you and you smash your new iPhone 7 against a wall, you should know that these results aren't terribly troubling. Without diving into a technical explanation, the bottom line is that the difference is going to be completely imperceptible to most people. Even audiophiles with an incredible ear for sound won't notice the difference unless they're listening to high-quality 24-bit audio files. While streaming music through services like Spotify, or while listening to compressed sound files in popular formats like MP3, not even the snobbiest sound snobs out there will be able to tell the difference.