The iPhone 7 is already a massive hit with consumers — even if it's boring, and even if it lacks a headphone jack. However, some buyers aren't happy about Apple's decision to kill the headphone jack. There are fixes for it, including the adapter that Apple put in every iPhone 7 box. But there is still one audio jack issue that some iPhone 7 owners may complain about: There's no easy way to charge the phone and use wired headphones at the same time.
If aesthetics don't matter to you, then there is one solution to fix your iPhone 7 headphone hack problem, a new case that brings back the 3.5mm port back from the dead.
DON'T MISS: Yup, now the iPhone 7 is exploding
The Fuze case, now raising money on Indiegogo, is anything but pretty. Or better said, the bulky case will make the iPhone thick again. And that's not a good thing. The case has to be bulky to accommodate that 3.5mm headphone jack, of course. Thankfully, the case at least packs a battery that gets you an additional 2,400 mAh of life on the iPhone 7 and 3,600 mAh on the iPhone 7 Plus.
Fuze does make the case — pun intended — that it's not only headphones that use the headphone jack. If you have some accessories that need the port, then you'll need to find a way to make them work on the iPhone 7. Fuze is an option.
The alternative is getting a second dongle that would let you connect two Lightning cables to the iPhone so that you can charge it and listen to music at the same time. But that doesn't address the issue with accessories like Square card readers.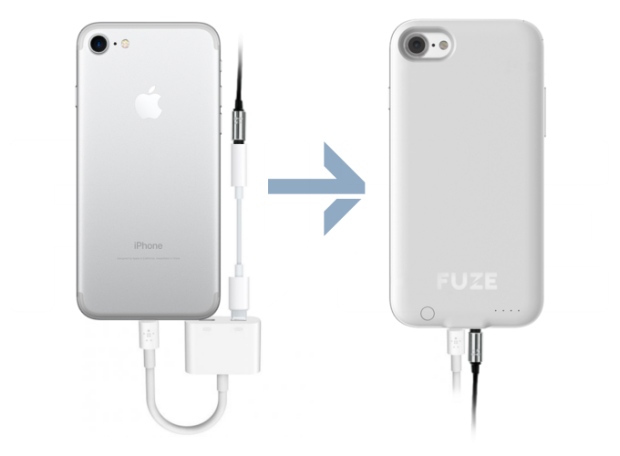 The campaign has a $60,000 flexible goal, and so far it collected more than $9,500 from 174 backers. The cheapest Fuze case costs $49 on Indiegogo (super early bird) and ships at some point in December. Maybe.
The following video will tell you more about the Fuze case if you can make it past the annoying introduction.