Some people have already made up their mind about the iPhone 7 – or whatever Apple ends up calling its 2016 iPhone series. It's going to be "boring" because it'll have the same design as the iPhone 6s. It's also going to be annoying because it'll come without the standard 3.5mm audio jack. But that's far from being completely accurate. The iPhone 7 will be the best iPhone money can buy this fall, likely featuring substantial under-the-hood improvements that include the all-new iOS 10 software.
But is Apple shooting itself in the foot with an iPhone 7 that marks a departure from Apple's well-known tick-tock iPhone upgrade cycle? Yes and no.
DON'T MISS: As iPhone sales stall, Galaxy S7 is even hotter than Samsung expected
Some analysts don't see the 2016 iPhones setting any new records for Apple, but the company is still expected to ship a tremendous number of new iPhones this year, likely above and beyond what its competitors can muster when it comes to flagship devices.
People who have followed Apple for years know better than to discard the iPhone 7 as boring. The device itself sets the tone for the iPhone of the future – the removal of the iPhone jack and the introduction of a new home button design are two such examples. But it also sets up Apple for potentially record-breaking sales next year.
Cowen & Co. analyst Timothy Arcuri said in a note to investors seen by Business Insider that Apple is deliberately going forward with this "boring" iPhone upgrade. Accepting "flat" sales is okay for Apple this year, as it might be getting ready for a super-cycle of upgrades next year.
Currently, some 33% of existing iPhone owners would be eligible for the iPhone 7 upgrade, a number that has been consistent for the last six quarters. But through the next five quarters, that number will go up to 43%. Arcuri said that a "powder keg is forming in the installed base" and that "a 'super-cycle' is setting up for iPhone in 2017."
"iPhone 7 is simply a 'bridge' to get to a 'super-cycle' for iPhone launch a year from now. iPhone 7 is clearly more 'evolutionary' than a normal tick/tock version (force-touch home button, no headphone jack, waterproof, bevel-less full screen, no wireless charging), but the old iPhone/iPhone S tick/tock design paradigms are breaking down," Arcuri wrote.
He continued, "Maybe the reason WHY the iPhone 7 is not a big design innovation is BECAUSE it realizes the aging dynamics of the base and saw this coming years ago, choosing to save the true cycle of innovation for when the base would be incredibly ripe. Ergo, we conclude that either 1) iPhone 7 sells better than expected due to this aging base, or 2) iPhone in 2017 will be a super-cycle, especially if we are right about a new innovative OLED-enabled form factor."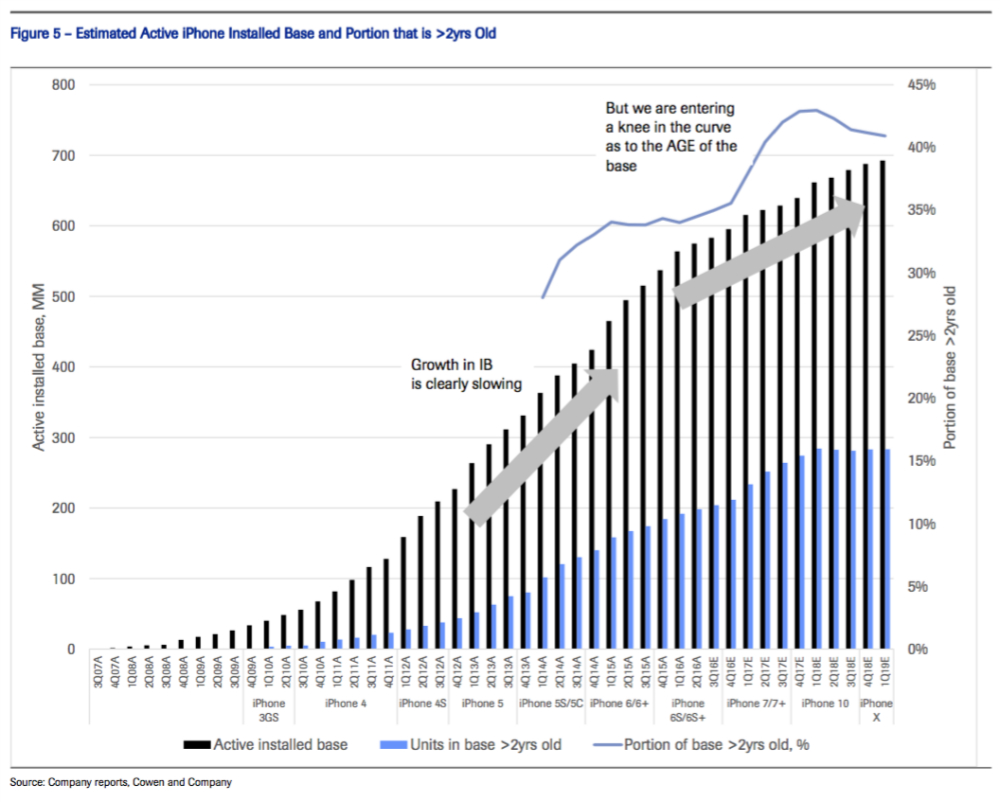 With some 575 million iPhone currently in use, a super cycle of upgrades next year would imply that around 275 million iPhones will be replaced through next year (see graph above).