Apple on Tuesday released its earnings report for the June quarter, revealing strong sales across its lineup. But what we were really interested in was Apple's guidance for the September quarter, which practically confirmed that's when the iPhone 8 and iPhone 7s will be launched. There's absolutely no question in my mind now that the iPhone 8 will be shipped to buyers next month.
As we already told you, Apple guidance for Q4 FY2017 was between $49 billion and $52 billion. If Apple hits that target, it means it'll make anywhere between $2 billion and $5 billion more money during the September quarter than last year.
In the September 2016 quarter, Apple reported earnings of $46.852 billion. Out of that, more than $28 billion came from iPhone sales, of which Apple sold 45.5 million. That's the quarter when the iPhone 7 series launched. Compared to the September 2015 quarter, Apple sold 2.5 million fewer iPhones during the period. So the "boring" iPhone 7 did not deliver a better launch quarter than the iPhone 6s.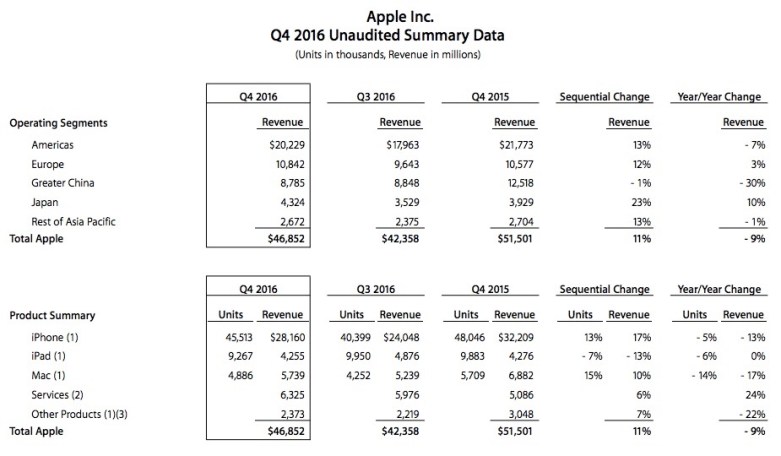 The June 2017 numbers revealed strong iPad and Mac sales. But these devices won't be enough to power a September 2017 that Apple already sees as topping last year's performance. That means new iPhone sales must be accounted for in Apple's forecast. And I'm fairly certain that the iPhone 8 will be available for purchase in September and ship to buyers by the end of the month.
Tim Cook admitted once again that iPhone 8 rumors are hurting iPhone 7 sales. "We believe there is a pause, but that probably bodes well for the future," he told The Wall Street Journal in an interview.
Would the "boring" iPhone 7s and iPhone 7s Plus be good enough to push September earnings well over last year's iPhone 7 performance during the same period? The iPhone 7s will be anything but boring. It'll deliver the same iPhone 8 performance, but it'll have an iPhone 7 design. With that in mind, it's likely to assume that the same people who don't want to buy an iPhone 7 right now because the iPhone 8 is coming soon will probably also avoid the iPhone 7s like it's plagued.
Sure, some of them will choose the cheaper iPhone 7s series when the iPhone 8's price is revealed — and by that, I mean millions of them. They may even go for the iPhone 7 instead, which will be $100 cheaper when the new iPhones are introduced. But diehard iPhone enthusiasts who want the iPhone 8 will buy the iPhone 8. They will pay the $1,000+ price for the iPhone 8, and they'll do so in September. And that iPhone 8 price will drive up the iPhone's average selling price during the period, which should help Apple hit its numbers.
One report said that Apple might only have anywhere between 3 million and 4 million iPhone 8 units ready for a September launch. That's not enough to meet demand, but, if accurate, it might be enough to make up at least $3 billion to $4 billion in revenue for the quarter.
Now, Apple's guidance tells us that the iPhone 7s and iPhone 8 have to be unveiled in September and go on sale by the end of the month. That's the only way for these iPhone 7s and iPhone 8 sales to be included in Apple's earnings report for the period. But for Apple to hit its September target, the iPhone 8 has to ship during September too. It's not enough for Apple to only take iPhone 8 preorders in September and ship the phone in October or later because Apple will only charge credit cards once shipping is imminent.
So better get your cash ready and wait for that first Friday after Apple's September iPhone event to place your iPhone 8 order.