HTC made two of the best smartphones money can buy, but the company can't talk about them. The Pixel and Pixel XL are Google's phones even if they're actually made by HTC. Aside from the Pixels, HTC isn't doing very well in the mobile business, but it's not ready to throw in the towel. The company came forward with a couple of new phones which have new branding and novel features (for HTC phones).
HTC avoided the early January CES show and didn't want to wait until late February to unveil the U Ultra and U Play. It announced the pair of phones very early on Thursday in what looks like the company's latest Hail Mary in the smartphone business
Neither the HTC U Ultra nor the HTC U Play are flagship handsets by 2016 standards — but the price on the higher-end HTC U Ultra will tell you otherwise. Even so, they come with a few distinctive features, including a brand new design, a second display, and the adoption of artificial intelligence. There's no 3.5mm headphone jack on either model.
Design-wise, the company is boasting a new Liquid Surface glass design. In practice, we're looking at a glossy surface that reminds us of Apple's Jet Black color for the iPhone 7. It's likely these scratch just as easily.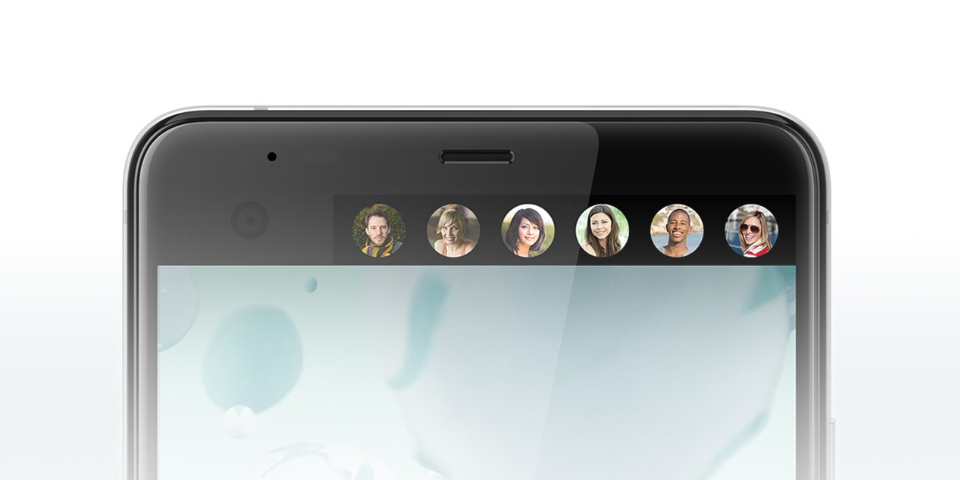 On the front, you'll notice the second screen right at a top, just like LG did it with its V10 and V20 smartphones. It's mostly a tiny strip that will show notifications, contacts, reminders, and other shortcuts. The feature is exclusive to the U Ultra.
HTC's Sense UI that sits atop Android also includes HTC's own AI. The Sense Companion will do for you a bunch of things, as long as you're comfortable letting the phone learn details about you. The Companion will give you contextual suggestions, including hints to charge your battery, and the assistant comes with always-on support, meaning it'll be listening to your voice at all times.
The HTC U Play (above) features a 5.2-inch Super LCD screen with Full HD resolution and Gorilla Glas, MediaTek Helio P10 processor, 3/4 GB of RAM, 32/64GB of storage, microSD card support, 16-megapixel rear camera with optical image stabilization (OIS), 16-megapixel front camera with UltraPixel mode, Wi-Fi 802.11ac, Bluetooth 4.2, USB 2.0 support, USB-C connectivity, 2,500 mAh battery and Android 7.0 Nougat under the hood.
The HTC U Ultra is similar in many regards, but it also has distinctive features that make it clear it's the better version of the two including a 5.7-inch Super LCD 5 display with QHD resolution (2,560 x 1440), a secondary 2-inch display with 160 x 1040 resolution, Qualcomm Snapdragon 821 processor, 4GB of RAM, 64/128GB of storage, microSD card, 12-megapixel UltraPixel main camera with OIS and 4K video recording, 3,000 mAh battery with Quick Charge 3.0, USB 3.1 support (USB-C), and one-touch fingerprint sensor.
The phones will launch in Taiwan initially but should be available in other markets after that. The HTC U Ultra is available for preorder from HTC.com for $749, while the HTC U Play will see a more limited release.
HTC's press event follows below.