For years, Google has been dying to come up with an iMessage equivalent, a key iPhone feature that's probably responsible for stealing plenty of users from Android. It took a while, but Google settled on RCS, a new standard that replaces SMS on Android devices. Now Google is dying for Apple to add RCS support to the iPhone Messages app, so iMessages and RCS texts can coexist.
Ever since Google began its attack ads, I've said that Apple shouldn't do it. The messaging problem is blown way out of proportion, as plenty of apps bridge the gap between Android and iPhone. WhatsApp is the best example of that.
Fast-forward to late May and Google just shot itself in the foot when it comes to RCS. It turns out the Magic Compose AI feature that Google is building into Messages breaks encryption by sending messages back to Google's servers. That's a big problem, and it's a perfect example of why Apple should keep RCS away from the iPhone.
When talking about RCS, Google wasted no time at I/O 2023 to make fun of Apple. Google touched on all the RCS features, including end-to-end encryption, before taking thinly-veiled shots at Apple, the iPhone, and iOS.
Sending high-quality images and video, getting typing notifications, and end-to-end encryption should all work. That's why we've worked with our partners on upgrading old SMS and MMS technology to a modern standard called RCS that makes all of this possible.

And there are now over 800 million people with RCS on our way to over a billion by the end of the year. We hope every mobile operating system gets the message and adopts RCS so we can all hang out in the group chat together, no matter what device we're using.
Then, Google demoed Magic Compose, a generative AI feature coming to Google Messages in the future. We didn't necessarily need AI features in messages, but Google did its best to throw AI into everything at I/O 2023.
And we didn't have to wait long to test it. Generative AI is available inside Google Messages right now, and Magic Compose is available as a beta. Android Police points to a Google support page that says Magic Compose is available only for RCS conversations in the Messages app. That's not a surprise or a problem. It makes sense for Google to upgrade RCS, especially considering the rivalry with Apple's iMessage.
However, as Android Police points out, Magic Compose breaks end-to-end encryption (E2EE). That's one of the tentpole features of iMessage, Signal, WhatsApp, and other chat apps. A feature that Google struggled to bring to RCS. But let's not forget that Google made a point to mention E2EE during the Messages segment at I/O 2023.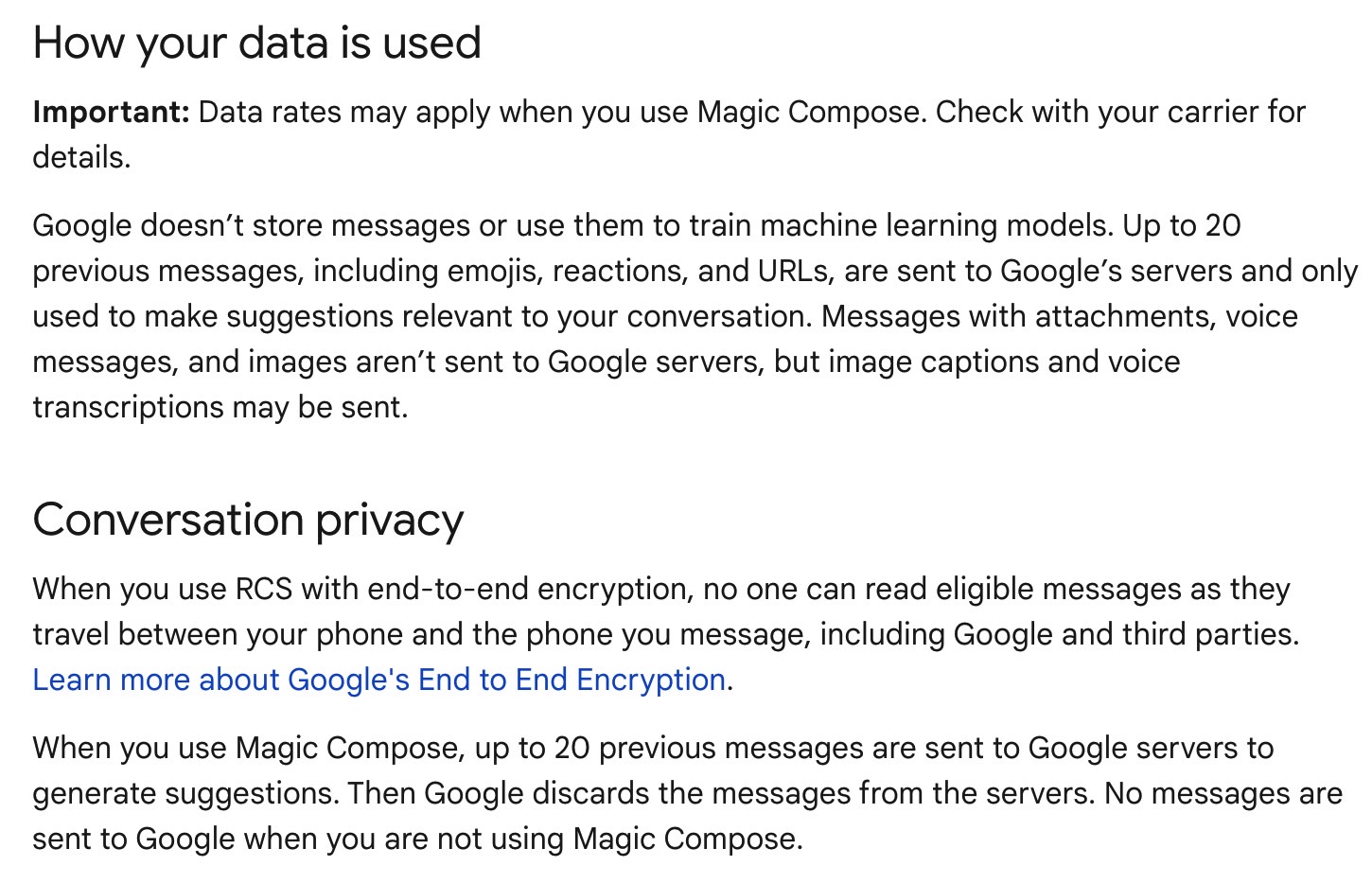 Unfortunately, Magic Compose can't run on-device to generate responses. The Messages app will send up to 20 of your last messages to Google, so Magic Compose can do its thing. Google didn't mention this glaring issue during I/O, but it does disclose the problem in the support document:
Google doesn't store messages or use them to train machine learning models. Up to 20 previous messages, including emojis, reactions, and URLs, are sent to Google's servers and only used to make suggestions relevant to your conversation. Messages with attachments, voice messages, and images aren't sent to Google servers, but image captions and voice transcriptions may be sent.
Sure, you can avoid enabling Magic Compose, as the Google Messages feature is optional. But I worry many will just enable the feature without considering the privacy implications.
That is a big problem, I don't care how many excuses you make. Private messages are no longer private. There should be no way for a company to break E2EE on its messaging platforms. Even if it's for next-gen generative AI features. And this is just one more reason why Apple should not add RCS support to its iMessage app.