One "problem" with Android smartphones is that they don't receive major software updates forever. The Pixel is no different, and no matter how happy you might be with Google's new phone you should know it won't always receive the latest Android releases.
Released last fall running Android 7.0 Nougat out of the box, the Pixel phones will get Android O later this year, and they'll be eligible for the Android P upgrade that should follow in 2018. But come October of next year, they might not get any other Android updates.
When it comes to security updates, you get one extra year of coverage — that means Google will still push out security patches until October 2019. That's hardly a surprise, considering that Google made this update policy official a while ago. But, as Android Police notes, Google just updated the end-of-life information for the Pixel phones listing these deadlines, as seen in the screenshot below.
There's always a chance for Google to keep upgrading the Pixel phones even after they reach their end-of-life. Even still, considering the new doc that was just published, you probably shouldn't get your hopes up.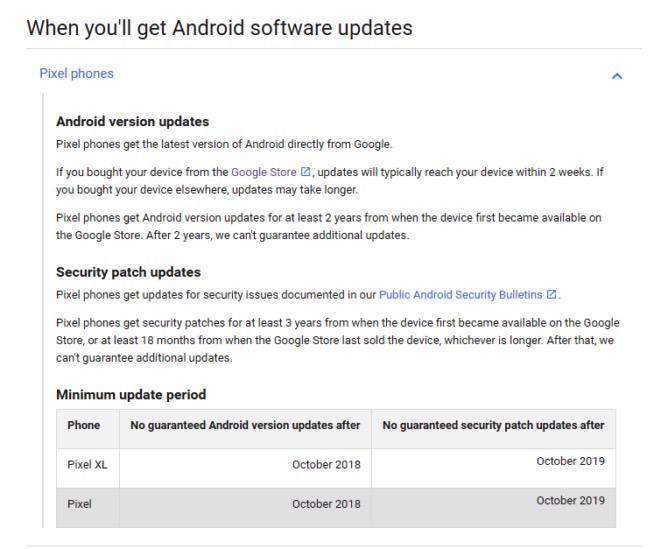 Google says it can guarantee Android version updates for two years, while security patch updates are guaranteed for at least three years after the device was first sold on the Google Play store, or at least 18 months from when the store last sold the phone, whichever is longer.
Android O is already available for the Pixel and Pixel XL as a beta version and should roll out at some point this fall, right around the time Google will launch its Pixel 2 handsets.