For a few weeks now, a steady stream of leaks reveal the new design coming to Samsung's 2018 flagship tablet, as well as its specs sheet. That's why the Galaxy Tab S4 is the only Samsung tablet you should consider buying this year, especially if you're hunting a new high-end tablet.
The best thing about the new tablet is probably the design. Samsung reduced the bezels significantly, and eliminated the home button, giving the tablet an all-screen appearance. But that might be the worst thing about it as well.
Samsung is doing exactly what Apple did with the iPhone X. Well, almost. This is a tablet, not a smartphone. Samsung is removing the hardware buttons and replacing them with more screen real estate.
But just like the iPhone X, the Galaxy Tab S4 will sacrifice the fingerprint sensor, a feature many people love on a smartphone or tablet.
Apple replaced Touch ID with Face ID, a secure 3D facial recognition system that's a first for the industry. Samsung doesn't have that luxury, however.
In lack of a 3D front-facing camera, Samsung will employ the Intelligent Scan feature that's already available on the Galaxy S9.
In case you're not familiar with that, that's a mix between the iris scanner and facial recognition system that Samsung has had for years. SamMobile discovered a video from the official Galaxy Tab S4 firmware that plays when you're configuring Intelligent Scan on the tablet. Here's an image from that video: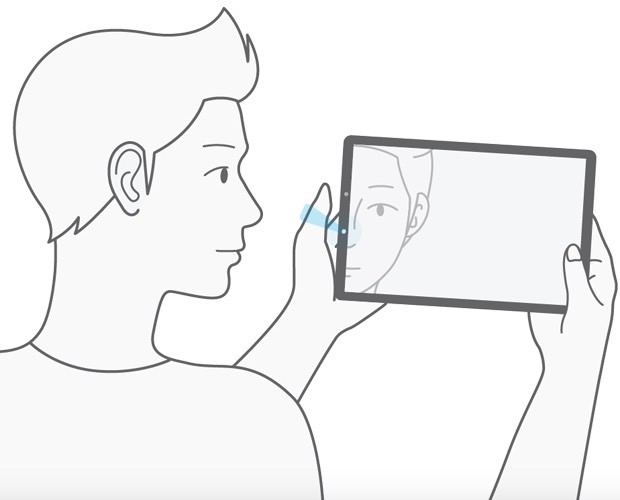 The clip shows you that facial recognition might be used to unlock the tablet in bright light, while the iris scan feature might take over when the device is used in the dark.
The new iris/face recognition system should be a convenient way to unlock your tablet. But if you're worried about data security and privacy, then you might want to use a password instead. Again, this isn't Face ID, so it can't provide the same level of security.
The Galaxy Tab S4 should be unveiled soon, maybe in early September at IFA 2018.